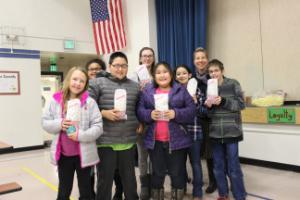 Our PTA is made up of parents, guardians, and teachers who have a sincere desire to help provide enriching experiences in our educational community here at Eagle River Elementary. Some important areas the PTA contributes to are:
Bus fees for field trips (each bus costs approximately $350 and is not covered by the Anchorage School District). Without our PTA our students would not be able to go on educational field trips to the salmon hatchery, museums, and many more. The PTA also assists with field trip scholarships for students who cannot afford performance or museum admission fees.
Student and family activities such as our annual Field Day, Bingo Night, Gingerbread House Night, Halloween Carnival, Science Fair, I-Did-A-Read program, Picture Day, Teacher Appreciation lunches, and Book Fair.
The PTA welcomes new members in whatever capacity and time they are able to contribute. There are opportunities to volunteer both during and outside of school hours. Above is a link to our PTA membership form. Please consider joining, and bringing your own personal talents and interests to enrich our students' education.