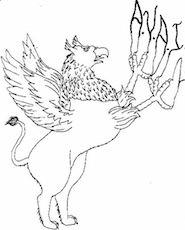 The 1992-93 student body selected the griffin as the AVAIL logo or mascot. They chose the school colors of purple for royalty and black for power.
After researching the meaning of a griffin, they found that it symbolizes, to the ancient Chinese, courage and change. For students attending AVAIL, the griffin continues to hold the same meaning today, symbolizing the "spirit" of the program. Students have had the courage to cross a bridge to begin their journey and are in the process of claiming personal power through change.
The Griffin mascot was designed by AVAIL student Alayna Cuddy in 1993.
In 2013, AVAIL students voted to redesign the mascot.