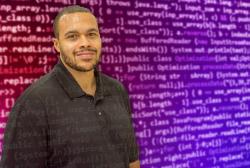 Phone:
Email:
Degrees and Certifications:
Hasaan Herrington

Director, IT Technical Services

Hasaan Herrington is an ASD graduate who first entered the information technology field while attending college. Ultimately, he wanted to pursue a position which afforded him broader experience. His search brought him back to the Anchorage School District, where he's worked for the past eight years. Hasaan is currently the supervisor of the IT techs servicing ASD schools and departments. "The best part of my job," he says, "is knowing that providing great service directly correlates to the Anchorage School District mission of educating all students for success in life."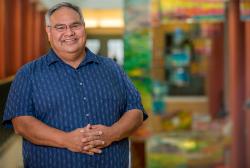 Phone:
Email:
Degrees and Certifications:
Michael Jerue

Title VI Counselor, Begich Middle School

Michael Jerue worked for nine years at Safeway before being told he couldn't rise any higher in the company without a four-year degree. It was at that point Michael made the decision to go back to school. He explains that while he was a student, he offered to open a snack bar in the cafeteria. "I was working with a lot of kids, being so much older than the other students," he remembers. "At that point I said to myself that for the rest of my life I wanted to work with kids, and I never went back to work for Safeway." Michael has been with the Anchorage School District for over 10 years. "My grandpa has always said, 'We need to get an education so we can better our lives, for our community, family, and our people.' My goal is to assist in the next generation in reaching for and acquiring their highest potential." Michael's favorite part about working for ASD is the kids. "Whenever I'm down I just go see the kids and they make me smile."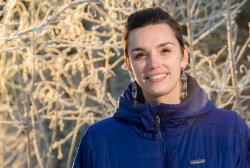 Phone:
Email:
Degrees and Certifications:
Jessie Salway

Math and Science, SAVE High School

Jessie Salway began working for the district as a long term sub at Benny Benson after college, and fell in love with the idea of teaching math and science in a small alternative setting. This was the driving factor in her decision to pursue her master of arts in teaching at age 23. "After completing my student teaching in Oregon, I came to the realization that ASD is an exceptional district," she recalls. "The supports given to staff, paired with the diversity of programs means that every student and teacher has many opportunities to thrive." Jessie says that the best part of her job is helping shepherd students to the next phase of their life and education. "Seeing students becoming productive members of society is incredibly rewarding. I couldn't imagine working anywhere else."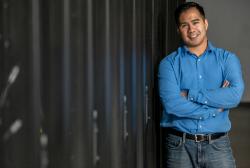 Phone:
Email:
Degrees and Certifications:
Flor Malto

Systems Analyst, IT

Flor Malto began working for ASD after graduating from college in 2006. He had worked in a few technology positions and internships during school, but was looking for something a little different. "Since ASD has one of the biggest infrastructures in Anchorage, I thought it would be a great place to learn how to develop and maintain efficient applications and systems," he explains. One of Flor's main responsibilities is creating applications that support staff, students, and parents across the entire district. "I get gratification from knowing that when I complete a project, I've created something that helps our end users complete their tasks more efficiently," he says. "This helps keep their focus on doing the job they were meant to do instead of worrying about the tools they use to complete it."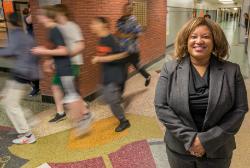 Phone:
Email:
Degrees and Certifications:
Nikki Hodge

Principal at Hanshew Middle School

Nikki Hodge began working for ASD after college as a substitute teacher in 2001, then decided to pursue graduate school in order to become a full-time teacher and now administrator. "I decided to work for ASD because I had received an amazing education as an ASD student," she says. "The best part of my job is being able to help students realize their potential and be successful academically and behaviorally." Nikki is currently the assistant principal responsible for student services at West High School. "I have never experienced a dull moment or day in any position I have had with ASD," she recalls. "The students and staff become a community of learners together."