Anchorage School District Homepage
Return to Headlines
ASD Wellness Initiative Looks at Benefits of Extended Lunch and Recess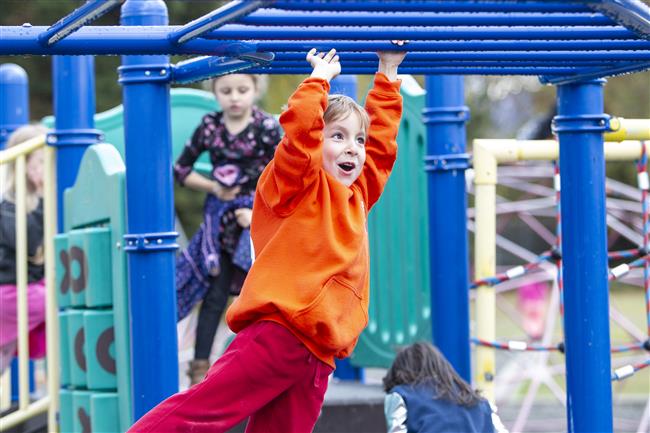 A Rogers Park Elementary Student plays on the playground. (Robert DeBerry/ASD)
The Anchorage School District along with the parent organization ASD60 created the Wellness Initiative, a pilot program that is looking at the benefits of increased physical activity throughout the day and increased time for students to eat. There are 21 schools in the voluntary pilot program.
According to the World Health Organization (WHO) guidelines on physical activity, sedentary behavior and sleep for children under five years of age, "children under five must spend less time sitting watching screens, or restrained in seats, get better quality sleep and have more time for active play" if they are to grow up healthy.
In their 2018 Physical Activity Guidelines, the U.S. Department of Health's Office of Disease Prevention & Health Promotion recommends children and adolescents engage in 60 minutes or more of moderate-to-vigorous physical activity daily. The Center for Disease Control (CDC) recommends that students have at least 20 minutes once they are seated to enjoy their meal and socialize.
ASD60 parent advocates Carey Carpenter and Kelly Sisson-Lessens initially wanted to see the school lunch and recess go from 45 minutes to 60 minutes with 20 minutes of that time dedicated to eating. The District took it one step further and incorporated Alaska Statute AS14.30.360, which states that school districts shall establish guidelines to provide opportunities for 54 minutes of physical activity each full school day in grades K-8. The 54 minutes may include a combination of physical education, recess, school-wide activities, and in-classroom activity.
Students sit at lunch at Rogers Park Elementary. Part of the Wellness Initiative aims to give students more time to eat their school lunch. (Robert DeBerry/ASD)
For Carpenter and Sisson-Lessens, starting at the school level was important. Both agree that activity can happen at home before and after school but as a National Center for Chronic Disease Prevention and Health Promotion, Division of Population Health (NCCDPHP) study points out, schools are some of the most effective settings in a community to address preventable health problems, such as obesity among children and adolescents.
Carpenter also said there is an equity aspect to it. She said there is a portion of the population that doesn't have a home schedule, the funds or resources to be able to sign their kids up for after school sports.
"Sometimes the only activity they get is during the school day, and sometimes the only calories they get is during the lunch period. So, when we're cutting lunch and when we're cutting recess, we're really hurting those kids that already need the most help," explained Carpenter. "When you're talking from a public health perspective, you do that within the school day because we can help everybody across the city, all kids in the public-school system should be get the same opportunity to eat their lunch and get exercise."
The amount of time additional physical activity takes away from learning has been a concern, but Sisson-Lessens said that more physical activity does not necessarily correlate to less learning or declining test scores. "In fact it is just the opposite," she said. "I think what happens is people get this idea that butts in seats really is the way to get kids to learn, but what we were finding is all the research says your brain is most functional when you get blood flow to it."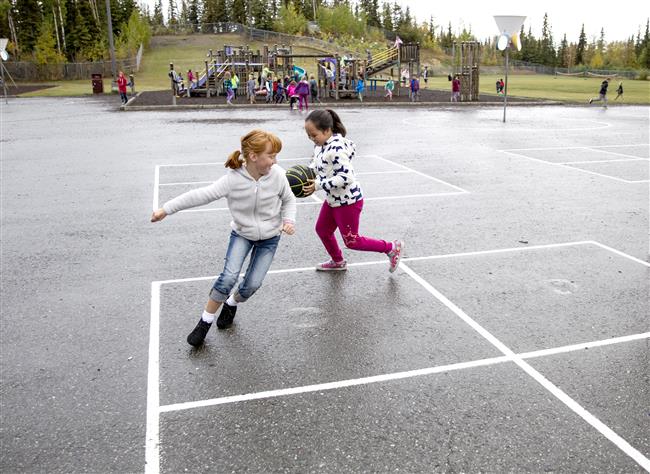 Two Trailside Elementary students play a game during recess. (Robert DeBerry/ASD)
NCCDPHP found that researchers have linked healthy eating and physical activity with better academic performance and classroom behavior, such as concentration, attentiveness, and time-on-task.
"Academics are, of course, super important. That's why we're here," said Rogers Park Principal Nuri Johnsen. "We want to teach these kids to read, write, do math, science, social studies, all of it, and if we can fit in more of that physical activity, hopefully we can see more proficiency in those areas."
A 2010 report to the CDC, "The Association Between School-Based Physical Activity, Including Physical Education, and Academic Performance," found several policy implications.
The review highlights substantial evidence that physical activity can help improve academic achievement, including grades and standardized test scores. It suggests that physical activity can have an impact on cognitive skills, attitudes and academic behavior, all of which are important components of improved academic performance.
In all, the study looked at a total of nine studies using academic achievement or cognitive development as an outcome. Eight out of nine studies showed a positive association between an increase in physical activity and an increase in academic achievement or cognitive development. All nine studies concluded there were no negative academic associations to more physical activity.
In a large randomized control trial of 1,527 participants, academic lessons that are physically active, including 10 minutes of moderate to vigorous physical activity nine times per week, increased academic achievement scores.
Johnsen said getting kids up and moving is important. "The more movement you have, the more your brain turns on. Even though it might be a shorter amount of time that we're in academics. Hopefully, it's more focused time that we're in academics."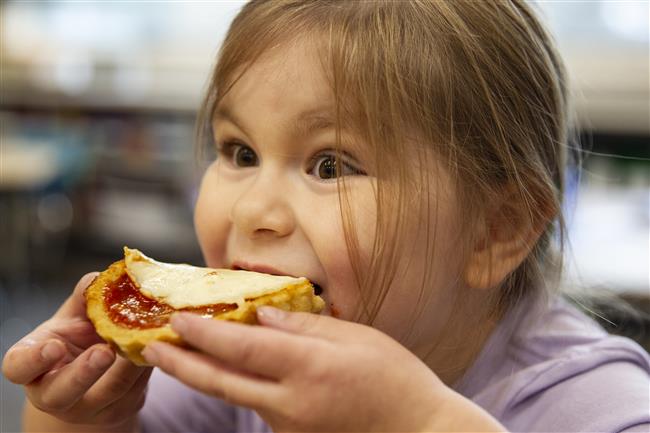 A Rogers Park kindergartner eats her school lunch with other students in the classroom. (Robert DeBerry/ASD)
Finding the time to increase physical activity and longer lunch without sacrificing academics is a balancing act.
"That part is not easy," expressed Heather Jones, principal at Trailside Elementary. "We're expected to get 90 minutes of reading, 40 minutes of language arts and 40 minutes of what I need, (or WIN time). Plus 60 minutes of math, science, social studies, and some social emotional learning."
Jones said if you have kids that can't sit, because they have energy they need to release, they're not learning anyway. "So, you have to find that balance either way."
She said all those pieces play together, and teachers are taking bits and pieces of time where they can. "They are just using their discretion, looking at where their kids are, then deciding where those minutes are going to come from."
Kasuun Elementary Principal Tarlesha Wayne developed the master schedule for her school but said each schedule depends on the grade level. "In our younger grades, we shaved off five minutes here and five minutes there in ELA or reading. So instead of 90 minutes, it is 85 minutes and instead of 40 minutes, it is 35 minutes."
Trailside Elementary is also getting a few minutes of time from the reading and language arts block said Jones. "The majority of the teachers are finding time in language arts and in reading. You can't pull much back from 60 minutes of math, that math instruction is tough. Science and social studies are already so limited that we don't want to pull back from that either."
Trailside Elementary third-grade teacher Letticia Cragen agrees it is hard finding the time during the day. "We can't fit all the curriculum in already the way it was, and now we're losing an hour and 15 minutes every week of instruction time which ends up being like seven or eight full days of instruction by the end of the year. If you add all that up, it's just hard to fit it all in."
Cragen said even though finding time is hard she can see the benefits of additional activity, especially in the afternoons. "On the days that we don't have P.E., we take an extra brain break in the afternoon, and that really helps to get their energy out and get them some fresh air and get them to refocus."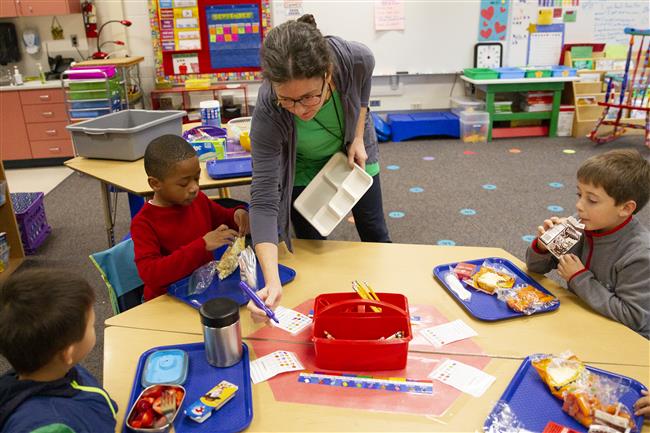 Rogers Park Elementary first grade/Kindergarten teacher Sarah Stone in her classroom at lunch. (Robert DeBerry/ASD)
For the 21 schools participating in the pilot project, finding that time and scheduling throughout the day requires thinking outside the box. Including physical activity within a lesson or incorporating math, social studies, or science into the reading block.
Incorporating movement in lessons has worked well for Rogers Park sixth-grade teacher Kaiya Kaltenborn, especially in math. Kaltenborn said math is a subject that is hard to take time away from, so she and her students have a math dance they usually start the day with. She said using a song also helps the students remember the different rules of math they are learning.
Melanie Sutton, ASD's Health and Physical Education Curriculum Coordinator, said all the data is being collected and studied throughout the year. She said the District will be looking at how added lunch, recess, and physical activity is affecting reading scores, classroom and student behaviors, classroom management and scheduling.
Sutton said once all the data is collected, there will be two different evaluators looking at the information. "We have internal evaluator—Mike Scott from Mears Middle School, he's an assistant principal, going through his doctorate program—and then an outside evaluator from Harvard University is also coming in to assist with that kind of programming and then a national comparison."
If the data comes back and shows extending lunch and recess and more physical activity has a positive effect on our students, then ASD will look at implementing the initiative Districtwide said Sutton. "Bottom line," she explained, "we want to do what is best for our students and make sure we are giving them the education and learning environment so they can succeed in life."