Return to Headlines
Bartlett High School Teacher Returns from Her Research Voyage with NOAA's Teachers at Sea Program
Teachers at Sea Program Offers Teachers and Students Impactful Educational Opportunities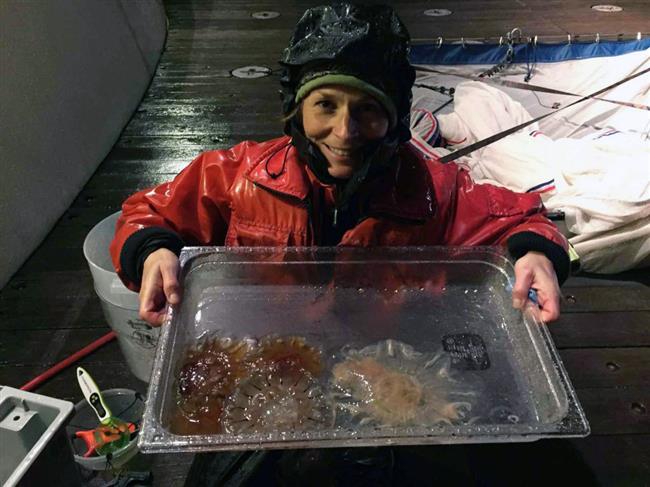 Bartlett High School science teacher Cara Nelson proudly shows off her first collection of jellies: two Lion's Mane, one albino Lion's Mane, one Sea Nettle, and oneCrystal jelly. (From Cara Nelson's blog)
"Did you get seasick?!" was the first question students asked their science teacher when she returned from a two-week long research opportunity on a ship in the Gulf of Alaska.
Each year, a number of high school science teachers are selected to participate in an amazing research opportunity though the National Oceanic and Atmospheric Administration (NOAA) Teacher at Sea program. According to their website, the mission of NOAA is, "to provide teachers hands-on, real-world research experience working at sea with world-renowned NOAA scientists, thereby giving them unique insight into oceanic and atmospheric research crucial to the nation."
Cara Nelson, Bartlett High School science teacher, was chosen to be included on the 2019 fall research trip in the Northern Gulf of Alaska along with 19 other teachers from around the nation.
Ms. Nelson was excited for the opportunity to inspire and teach her students about the importance of oceanic research, "I am in awe of the vastness of the ocean and the fortitude of life that survives upon and within it. We know so little about the ocean and therefore how we are truly impacting it. Oceanographic research is challenging work but also so important. I hope to share my knowledge and learning with my students so they too can appreciate the value of scientific research and understanding the interconnectivity of life in the oceans."
Ms. Nelson dedicated her participation in the program to Mark Van Arsdale, a science teacher at Eagle River High School, after attending one of his presentations on his trip. Mr. Arsdale was selected as one of the 35 NOAA Teachers at Sea for the fall 2018 voyage. He went out on a ship last fall in the Gulf of Alaska and assisted with science research for two weeks. He blogged about his experience, wrote original lesson plans for his classes based on his experience, as well as presented about his experience.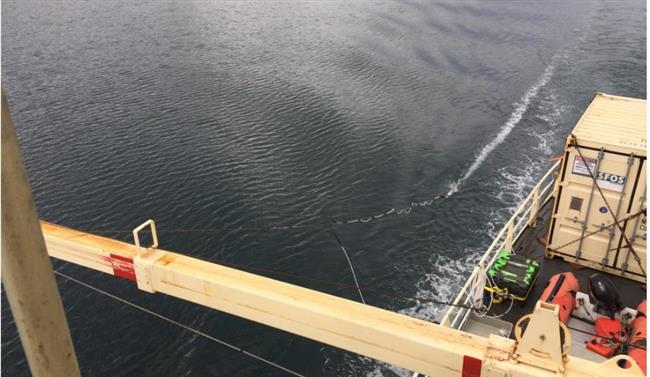 "The iron fish being towed while underway and sending samples into the van on the deck" of U.S. Fish & Wildlife Service's ship R/V Tiglax. (From Cara Nelson's blog)
Ms. Nelson's amazing nautical experience began on September 11, 2019 when she departed Seward on U.S. Fish & Wildlife Service's ship R/V Tiglax (Aluet word for 'eagle,' pronounced TEKL-lah). Cara explains, "My primary mission is to assist on the night shift with the collection of zooplankton at each station. In addition to this, I look forward to learning as much as I can about the other work being done, including water chemistry, nutrient sampling, phytoplankton collection and analysis, and seabird and mammal surveys. As a NOAA Teacher at Sea, I am tasked with creating lesson plans that connect this science research to my classroom."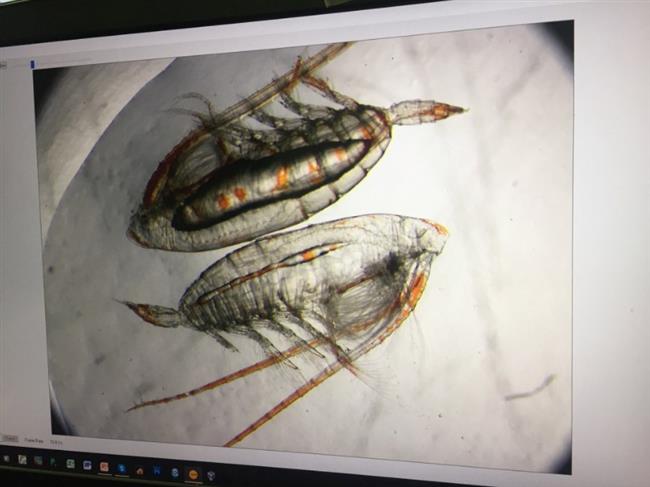 "Two Neocalanus with their lipid sacs visible down the center of the body. Note the difference in the size of the lipid storage between the two." (From Cara Nelson's blog)
Upon Ms. Nelson's return to her classroom after September 25, her biology and chemistry students were interested in hearing about her adventures and wanted to see her photos of the research, and of life at sea. With the help from Oceanography teacher Samantha Matsuoka, Ms. Nelson's and Ms. Matsuoka's oceanography classes did blog presentations on each of the fascinating blog posts that Ms. Nelson wrote. She said, "It was a great way for them to take the time to learn about the trip and the research without me just standing in class and telling them."
Ms. Nelson made almost daily entries in her blog where she vividly describes the research they compiled during their voyage. Visit her NOAA Teachers at Sea blog to read more about her exciting journey. You can also view Mark's blog from his 2018 fall voyage.