Return to Headlines
Wish List Strums Up Eight Ukuleles for Fairview Elementary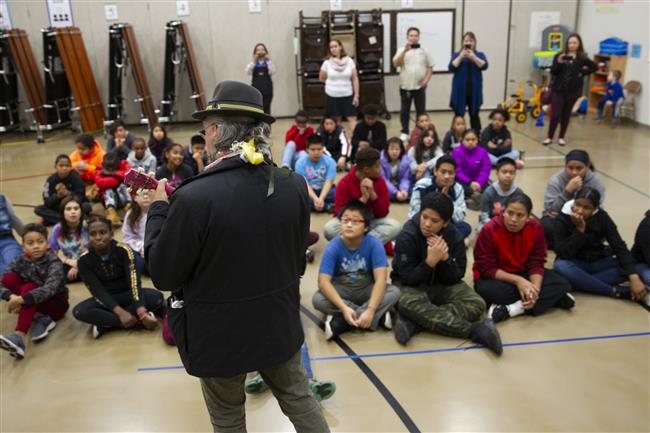 Alaska State Senator Tom Begich plays the ukulele for students at Fairview Elementary Monday, October 21, 2019. (Robert DeBerry/ASD)
What started as a wish list for the Fairview Elementary music program turned into a ukulele orchestra, or at least the beginnings of one. The donation of eight ukuleles to the elementary school will enable the music class to begin playing and learning because now there are enough ukuleles for the whole class to play together.
"This is great because we had 22 ukuleles and our classes have grown so much that I could no longer do it without having students take turns and sit out," said Fairview Elementary music teacher Frederick Brosius. "Now we have enough ukuleles to accommodate the larger classes."
The donation of eight ukuleles from Petr's Violin Shop and Porter Incorporated started as a conversation between Brosius and Fairview Elementary 21st Century Program Coordinator Monica Ratliff.
"Monica asked if there was anything I needed and what was I wishing for," said Brosius. "I told her I wish I had enough ukuleles for the whole class."
From there Ratliff took that wish list to Anchorage School District School Board Member Margo Bellamy.
Bellamy said Fairview Elementary is one of 15 schools she works with and part of that is identifying some of the needs for the school. "I request a list from each of my schools and on Fairview's list was eight ukuleles. I just shared the list of what the needs were to the Fairview Community Council," said Bellamy.
At that point people were very excited she said, and two of those people were Anchorage Assembly member Chris Constant and State Senator Tom Begich's legislative aide Löki Tobin.
"They got right on it," said Bellamy.
Constant reached out to Porter Incorporated who does some bookkeeping for Petr's Violin Shop. "My sister is with Porter Incorporated so I asked if she would check with Petr's and see if he had some ukuleles to share, and he of course said yes and so my sister split the cost with him."
Assemblyman Constant said the donation of these ukuleles is just another piece of the puzzle for the arts at Fairview Elementary.
"There's long been a conversation among the Fairview Community Council about figuring out a way to make Fairview Elementary a magnet School for the arts'" said Constant. "This is just one more plug for that long effort to specialize the school and provide these kids with a very valuable opportunity, which is great."
On Monday, October 21, at 9:30 a.m. the eight Ukuleles were delivered to Fairview Elementary School. They were presented in front of one of the classes with an impromptu ukulele performance by Senator Tom Begich.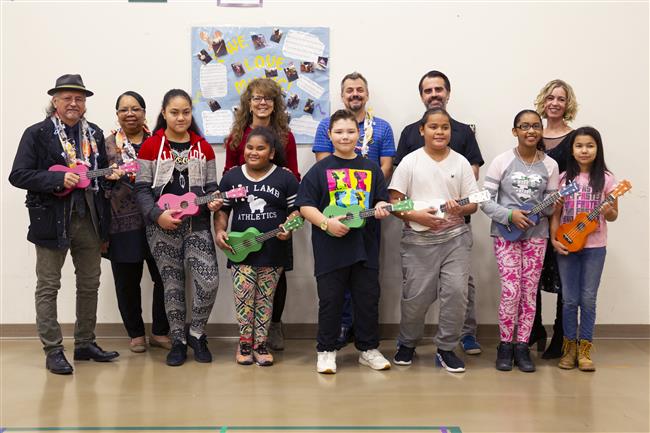 Students pose for a photograph with, from left, Senator Tom Begich, Anchorage School Board member Margo Bellamy, Fairview Elementary Principal Diane Teekell-Opitz, Anchorage Assembly member Chris Constant, Fairview Elementary music teacher Frederick Brosius and Fairview Elementary 21st Century Program Coordinator Monica Ratliff. (Robert DeBerry/ASD)