Return to Headlines
ASD Looks to Strengthen Computer Science Across District
Ravenwood Elementary Computer Science teacher Ross Johnson explains part of the project during the sixth-grade 3D-modeling class. Students are designing a tool that will cut the top off a used Keurig cups and scoop out the inside so they can be recycled for use in the school's hydroponic garden (Robert DeBerry/ASD)
Ravenwood Elementary Computer Science teacher Ross Johnson sees the benefits of starting at the elementary level with computer science and coding.
"It's pretty amazing how fast the kids catch on to it," said Johnson. "Last year with kindergarten, it was really hard just getting them to use a Chromebook because they've never done a trackpad or anything. Once they are used to it, it's just amazing how fast they go."
Johnson said as the students move up through the grades, he tries to change things up, so they are doing harder coding. He said his first and second graders are writing code to move robots in a particular sequence which they are "really excited about."
A Ravenwood Elementary student works on his coding assignment in Ross Johnson's sixth-grade computer science class. (Robert DeBerry/ASD)
Service High School, which has an information technology cluster, has seen the benefit of starting students early. Information technology teacher Devon Roberts said one of the things they were finding was that more students were coming into the Service High program with a stronger background and more knowledge in computer science.
"We're seeing, as a result of the elementary and middle school exposure from our feeder schools to computer science, that we could move our starting point up to something a little more rigorous than just a survey course that we were offering," said Roberts.
Roberts sees the computer science pathways within ASD as an integral piece of the puzzle to our student's success and reaching an underserved population.
"I tell students whether you're going into agriculture or zoology or anywhere in between, you're going to intersect with technology," said Roberts. "Our AP Computer Science Course is probably one of the most valuable courses, because, you may not need to know about data visualization, but you might need to know about cyber security and how to keep yourself, your computer and your network secure. You may enter into a field where you're not necessarily on a computer, but the algorithmic thinking helps you with whatever it is that you're doing. Explaining something correctly in a logical step by step way is a valuable skill."
Service High School computer science teacher Devon Roberts work with a student during his Computer Science Principles class. (Robert DeBerry/ASD)
According to Anchorage School District Senior Director of Information Technology, Andrew Chlup, teaching kids these skills is important, because a lot of jobs are going to be replaced by robots and automation.
"Alaska is growing up and eventually we're going to have to be weaned off resource extraction so what does that mean," asked Chlup. "Some of these jobs that are the bread and butter of our economy are actually ripe for automation. We know this is going to be disruptive to jobs, it's going to be disruptive to industries. So, what can we do to prepare for that?"
Chlup said there are four rationales for computer science in education that we can use to guide learning and students toward a path of success and preparation. Those are labor, computational thinking, computational literacy and digital equity.
As for labor, says Chlup, we know that computing occupations are the best-paying, fastest growing and largest source of new wages in the United States. In Alaska, according to the Conference Board, National Science Foundation, College Board, there are 728 open computing jobs, 33 computer science graduates to fill those jobs and eight high schools in Alaska that teach AP Computer Science.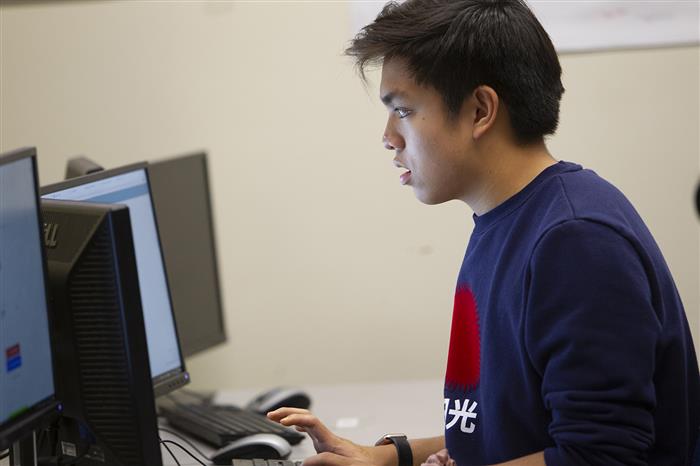 A student at Service High School works on his coding during the Computer Science Principles class. (Robert DeBerry/ASD)
For Chlup the big question is what we can be doing to address an evolution in the workforce.
"It's easier right now to learn all of these skills as it relates to computational thinking than it's ever been," said Chlup. "You can go online to Code Academy and go to code.org, there's 200, different places that you can go for free, and learn all of these things from a very technical standpoint of the actual coding."
Chlup also points to edX, which is a massive online course provider where you could learn about project management, business process analysis or any number of programs. Many of which are free.
Can you break problems down into smaller discrete problems? Do you understand things like algorithms? Do you understand the way that computers actually work, asks Chlup.
"That you can break problems down in a way that a machine can help you solve and figure out and analyze the information," says Chlup, "is part of the computational thinking piece."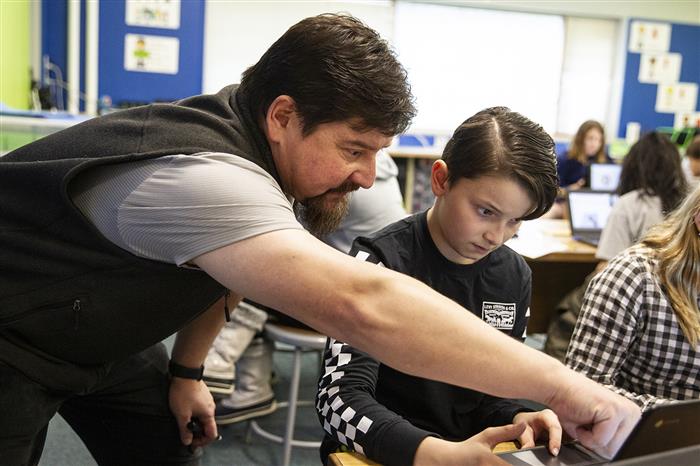 Ravenwood Elementary computer science teacher Ross Johnson works with a sixth-grade student during computer science class. (Robert DeBerry/ASD)
He says it is really interesting because you can apply that to just about any field. Whether a small business owner needs to understand data that helps them know if they are scheduling employees to work in their shop at the time when sales are high and is that actually driving sales. "That's computational thinking on a completely non computer science basis."
The third piece of this puzzle is computational literacy, and according to Chlup, the hardest to explain.
Basically, said Chlup, when you look at jobs, industry and automation and the way labor will change, we need to look at what other new jobs there will be supporting that change and how can we use "technology to our advantage" whether it is in the medical field, publishing or even the retail sector.
Chlup points toward social media as a baseline example. "A lot of times that can be the social media platform plus technology tools on top of it that are creating echoes of your message. Understanding how do I use Twitter to magnify my voice? Some of that is computational literacy. Which platform is going to work the best to make it go viral?"
Chlup said once we understand those four rationales and integrate them into our curriculum, we can start building a foundation for success within the computer science fields.
Chlup said he sees this happening all over the country. "That's part of the shift where some of the really interesting innovative, school districts in the country are actually turning education on its head a little bit and trying to make more opportunities for that kind of stuff."
We're starting to get there too with Project Lead the Way (PLTW) and the different pathways we have throughout the District, he said.
The last piece of the puzzle is digital equity.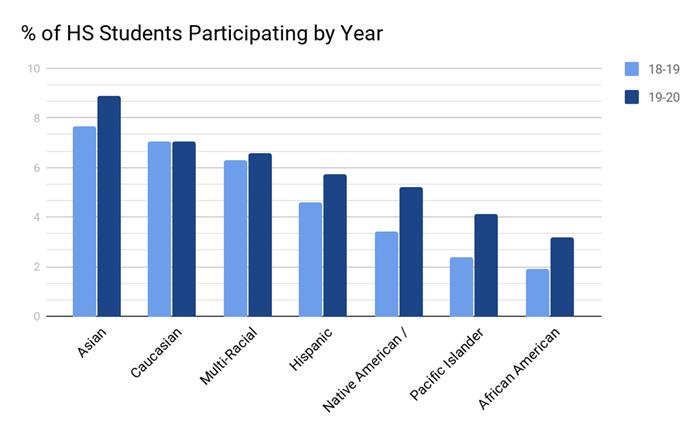 ASD has seen an increase in students taking computer science classes between the 2018-19 and 2019-20 school year across all ethnicities except Caucasian which is at 7 percent. Seeing an increase across all ethnicities is good, the problem is that the percentage of participation remains low among Hispanic, Native American Pacific Islander and African American. The lowest participation is among African American at just below 4 percent.
"We have to be as a community very aware of the disparities we have in our programs and who's participating in them if we want everybody to have access to these new things," said Chlup, "it's important for this to be equitable which is why we need it in schools. Schools can be a big equalizer."
Chlup said ASD is in unique position where they can actually solve some of these big issues around equity and access to this type of information, learning, experience and opportunity. He said community engagement is the key. Parents, students, community leaders and educators need to create a collaborative vision for the future.
"We need to teach kids these skills, because these basic jobs are going to be replaced by robots and automation so what are we doing to build the skills for kids? There's more access than ever before and as an organization we're responsible to make sure that everybody is at least given the opportunity," said Chlup.
New programs for ASD include PLTW Design and Modeling at Clark Middle School, Hanshew Middle School, Goldenview Middle School, Gruening Middle School and Romig Middle School. PLTW Computer Science at Central Middle School, Mears Middle School, and starting spring semester at Begich Middle school and Wendler Middle School. PLTW Aerospace at South High School.