Return to Headlines
ASD Offers Expansive Pathways Program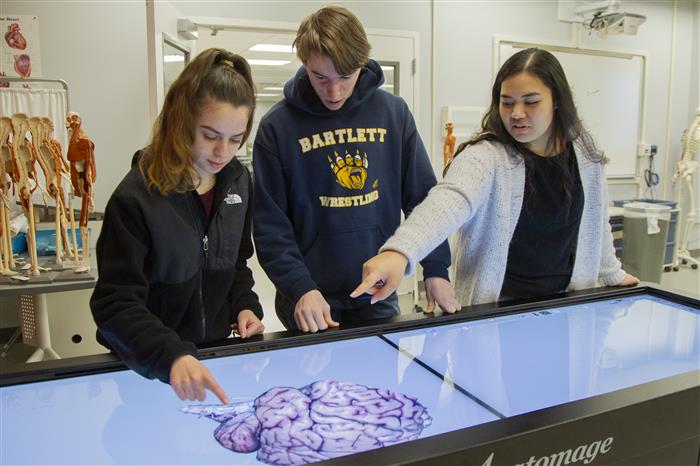 Students in the Bartlett Medical Academy look at a 3D Model of the brain on the Anatomage Table at Bartlett High School. (Robert DeBerry/ASD)
Students' graduation rates are 94 percent for those who are taking at least two Career and Technical Education (CTE) Courses in a career pathway. That is 13 percent higher than the overall district graduation rate. The Anchorage School district offers 14 different industry clusters with 40 career pathways within their CTE Program.
"You can think of a cluster as an industry," said Missy Fraze, director of Career and Technical Education for the Anchorage School District. "We have agriculture and natural resources as an industry, which would be a cluster, but within that you have multiple careers pathways you can choose from such as Veterinary Assisting."
She said the 14 different industry clusters offered at ASD are a great way to introduce students to the different fields. Once they start in a particular industry cluster, such as Information Technology, students can narrow their focus and dive deeper into different career pathways such as Computer Programming or Network Systems.
"Coming in to learn welding, doesn't necessarily mean you're going to be a welder," said Fraze. "You could work in heavy machinery, you could work in commercial construction, you could work in mining, you could work in oil and gas and a variety of jobs."
ASD offers industry clusters in Agriculture, Food and Natural Resources, Architecture and Construction, Art /AV Technology and Communications, Business Management and Administration, Education and Training, Engineering Technology, Finance, Health Science, Hospitality and Tourism, Human Services, Information Technology, Law and Public Safety, Manufacturing, and Transportation, Distribution and Logistics.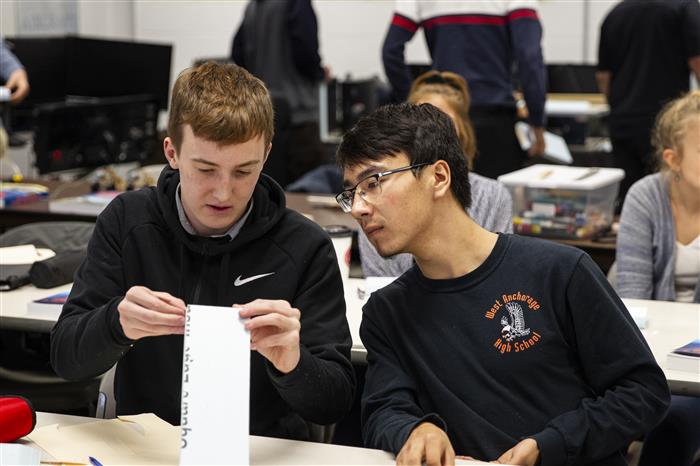 Students in the King Tech High School Aviation Technology class work on wing design. (Robert DeBerry/ASD)
"Typically, when people talk to a student about their future they ask where are you going to school? What is your major, and finally what do you want to be," said Fraze. "We want to flip that conversation and ask what do you want to be, what do you need to study to gain those skills, and where are you going to go to find that kind of training."
By changing the conversation Fraze says we can begin to help the student make educational decisions based on what they want to be and where they want to end up in life.
"We are helping them put together their high school education in a way that's going to put them on that career pathway. We are going to help them put together their science courses, math courses, language arts courses, all the way into the junior year CTE courses," said Fraze.
By aligning their core academics and CTE courses, ASD builds in more of the experiences that help students understand whether or not they want to go down a certain industry cluster or career pathway.
In a 2018 career and technical education survey among ASD students, 93 percent said there needs to be more career planning. For Fraze this was an "aha" moment. She understands for a student in ASD it can be hard because there are only a few counselors at each school that sometimes have close to 400 students they are working with. "That is an immense responsibility they have."
Planning a student's educational direction is a key part to the career pathways. If a student doesn't have the right requirement to graduate or did not take the correct classes based on their chosen career pathway they could find themselves at a disadvantage moving on to advanced training or post-secondary education.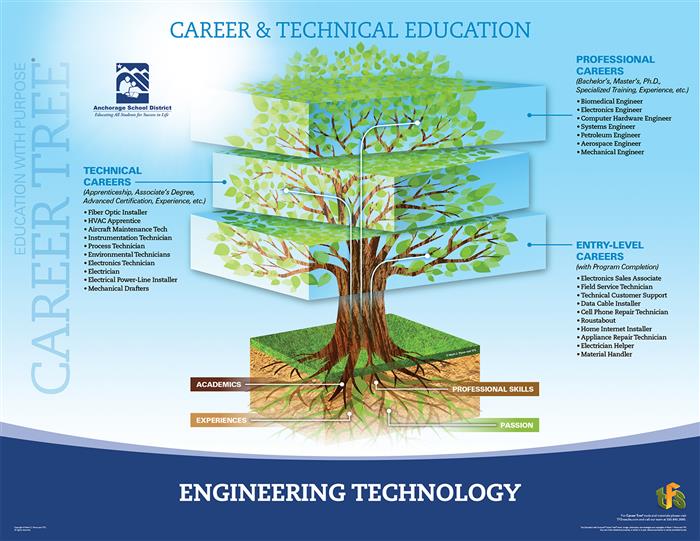 Engineering and Technology Career Tree.
Fraze said to help with planning they implemented Career Trees®, which is a tool that helps students understand the variety of career options with the industry cluster. It's a way for students to visualize the path they need to take. They can look at the different branches of the Career Tree® to make sure their educational plan is the right one for their career pathway.
"That's the advising piece for students," said Fraze. "Not only do we have to make sure they have enough math credits and enough science credits and enough language arts credits, but we have to ensure they have the right math, science and language arts classes that aligns to their career goal."
All of ASD high schools have CTE programs in place. Chugiak, East and Service High School have Construction, Culinary/hospitality, Health Sciences and Information Tech. Bartlett High School has Construction, Engineering Tech and Health Sciences. West High School has Arts/AV Tech, Communication, Engineering Tech and Health Sciences. Dimond High School has Culinary/Hospitality, Engineering Tech and Information Tech. South High School has Arts/AV Tech, Communication, Engineering Tech and Culinary/Hospitality. Eagle River High School has Engineering Tech. King Technical High School has all 14 career clusters.
Students begin their pathway in high school, but ASD is using middle school and some elementary schools to start those conversations.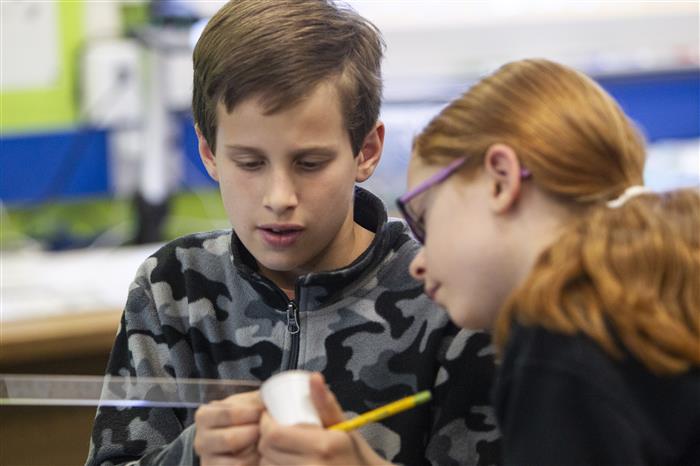 Students at Ravenwood Elementary measure the top of a Keurig Cup for a project incolving 3D-Modeling in Ross Johnson's Computer Science class. (Robert DeBerry/ASD)
Fraze said a lot of students start thinking about what they want to be in middle school, because beginning in fifth grade they've already decided what they don't want to be.
"I believe in middle school we should be talking to students about their career interests. If they know construction is their career interest do they know programs are available in high school and which school offers them? Are we helping their families figure out where they can access construction classes," said Fraze.
ASD Science Department Coordinator Jennifer Witter agrees. She sees middle school as that important transitional period. She said it is important to get the students looking at the pathways early on so they are not at a disadvantage when they reach high school.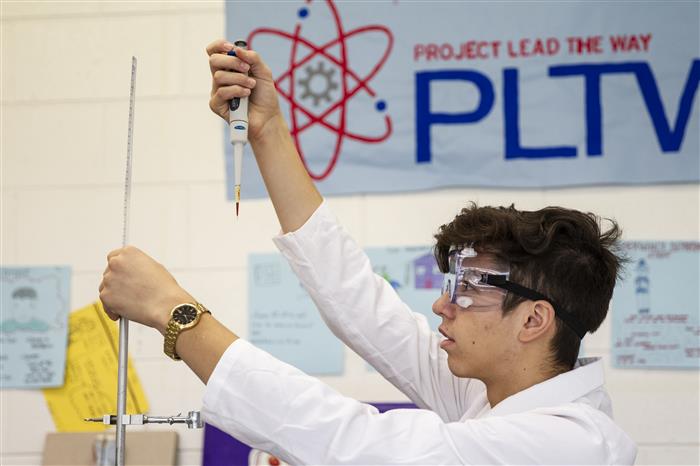 A student in the Project Lead the Way Bio Medical class at East high works on a blood splatter experiment. (Robert DeBerry/ASD)
Witter points to Project Lead the Way and the various STEM Programs throughout the district at both the elementary and middle school level as an example of what the district is doing to set students up for success and introduce them to the different clusters and pathways available.
"Getting that little bit of exposure and realizing coding is really boring, or wow, I have a brain for this and I really like it or what other options are there for the students is really important," said Witter. "Doing these kinds of things that expose our students is really critical and taking that exposure and applying it in elementary school so that when they get to middle and high school they can start making choices."
"We need to develop a planning culture among kids so they know they're part of that planning and it's not just adults telling students what to do," said Fraze. "We want to work with students and do career inventories, helping them to understand what their skills are, how those skills play into their passions and how those passions play into their career goals."