Return to Headlines
Gladys Wood Elementary is Visited by Pararescuemen
Before writing their letters for Mail for Our Military, second grade teacher Colette LeVasseur wanted her students to learn first-hand what it might be like to be a military service member deployed away from home.
LeVasseur reached out to her brother, Senior Airmen Paul DuClos who works as a Pararescuemen in the Air Force at the 212 Rescue Squadron on the Joint Base Elmendorf-Richardson (JBER), to see if he would be willing to do a presentation for her students and get them inspired for their letters. Pararescuemen (also known as PJs) are elite members of the Air Force focused on emergency trauma and search and rescue.
DuClos enlisted the help of his friend and coworker Staff Sergeant Chris Krebs to bring photos, stories, and a tactical military vehicle to the second-grade classrooms. LeVasseur knew they would be a great resource for her students as DuClos and Krebs were both recently deployed to Iraq and have had experience on numerous search and rescue missions both overseas and in Alaska.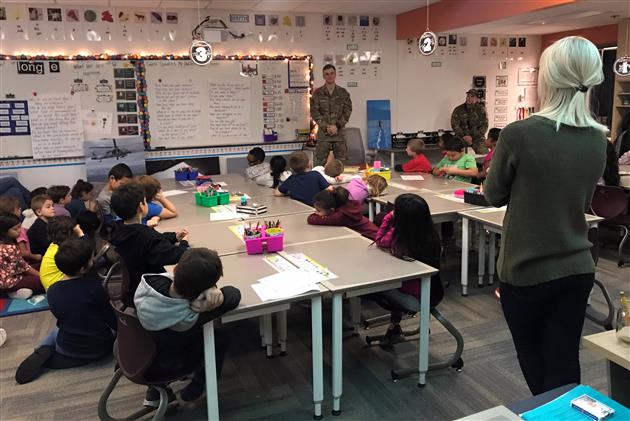 Two Pararescuemen present to the Gladys Wood Elementary's second grade classrooms.

The pair shared thrilling photos depicting missions by the personnel of the 212 Rescue Squadron. One photo showed a pararescuemen being hoisted out of a helicopter over the ocean, another depicted a pararescuemen ice-climbing a bright blue glacier, and the last photo had three people geared-up, jumping out of the back of a plane into the clouds.
Ecstatic about the images, the second graders immediately wanted to know more about what PJs do.
LeVasseur, first year teacher, began the project with the assistance of Gladys Woods' other second grade teacher, Kimberly Weaver, who has been teaching at Gladys Wood since 1997. The two teachers planned for the visit by talking with students about what questions to ask military personnel.
"I was really impressed by the questions our students had," LeVasseur explained. "They had the forethought to wonder what type of tactical gear PJs bring with them on search and rescue missions. They were curious about what type of landscape PJs most often have to rescue people from, and the methods used to make rescues in Alaska."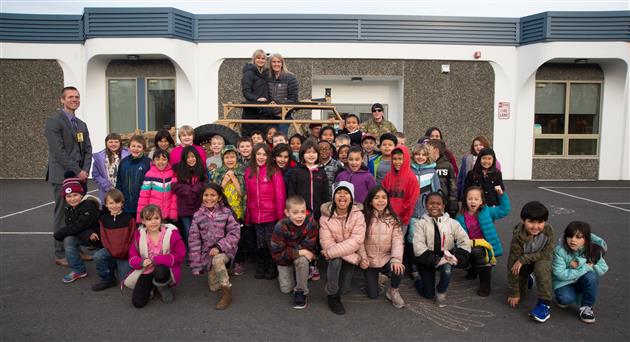 The Pararescuemen brought a tactical military vehicle for the second-graders to explore.
Inspired by the visit, students rushed to their desks to begin their letters, which included drawings, thank you's, and personal information like what sports they play, what their favorite movie is, or that they have a family member who is also serving in the military.
A card a student prepared for service members deployed overseas.
"We write letters to military personnel each year," Weaver said. "It marks off a language arts and handwriting piece while also being a really encouraging project for the students. They put more thought and appreciation into a letter they know will make someone's day while they're deployed away from their families."
This is the 55 anniversary for the program Mail for Our Military. The program collects cards from all over the country and mails them to service members serving world-wide, helping connect us all through handwritten letters in support of our American troops. The cards will go to the Persian Gulf, Afghanistan, Iraq, and other parts of the world by Christmas and then through the coming year.