Return to Headlines
Family Partnership Students Give Back at Thanksgiving Blessing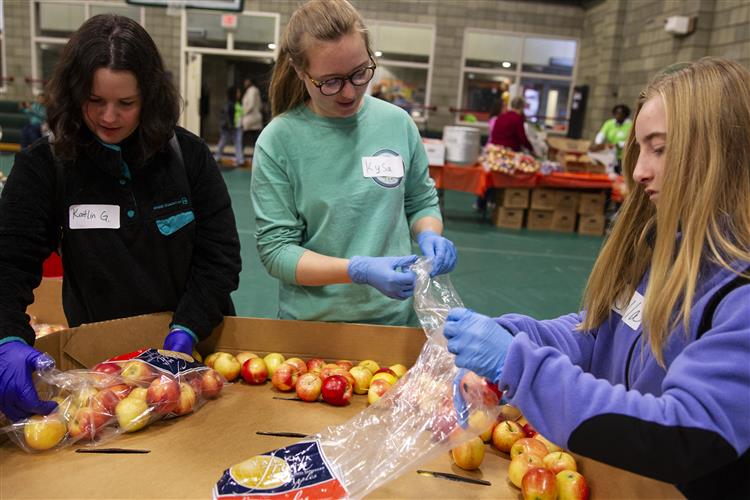 Students from Family Partnership Charter School sort apples at the Food Bank of Alaska's Thanksgiving Blessing Monday, November 25, 2019. (Robert DeBerry/ASD)
Students and families from The Anchorage School District's Family Partnership Charter School stepped up to volunteer during the 15th Annual Food Bank of Alaska's Thanksgiving Blessing Monday, November 25, at the Spenard Recreation Center in Anchorage.
According to Family Partnership teacher expert Heather Hintze-DeBerry the students have been participating in Thanksgiving Blessing every year since at least 2014.
"I know we have been volunteering with this event for more than five years," said Hintze-DeBerry. "We do a lot with the food bank, it's one of our favorites to help with."
Hintze-DeBerry said when it comes to different service projects the staff, students and families at Family Partnership are always willing to help.
"We invited all the Family Partnership families to join us in the service and we had more than 30 students, staff and family members come out to help those in our community," she said. "We have many National Honor Society and Junior Honor Society kids here, but we also have many parents and other family members from Family Partnership as well."
National Honor Society member Kysa Barber said the Thanksgiving Blessing is a great way to give back to those in the community that might need a little extra help.
"There are a lot of people that are in need, and I'm really glad that we get to come and do something like this," said Barber. "It's really important to me. It takes a lot of work to help and I really enjoy coming in and volunteering my time."
Barber said she thinks it is great to see people from Family Partnership and especially National Honor Society volunteering. It is really important, she said, and learning how to serve and be better members of the community is a big part of National Honor Society.
Hintze-DeBerry echoes that sentiment. She said for a charter school in ASD that has just surpassed 700 students enrolled, it is reassuring and heartwarming to see such involvement.
Hintze-DeBerry said for a lot of the students at Family Partnership volunteering throughout the community is not only rewarding but also a learning experience.
"It's really eye opening when they come to these events and see how so many people in their own community are struggling," said Hintze-DeBerry. "They always leave feeling really good about what they did, feel more in-tune with their community and also are able to give back. These students are hardworking, so they are the perfect people for this job."