Frontier Charter School Homepage
Return to Headlines
Information Technology Department at the Forefront of Distance Learning for ASD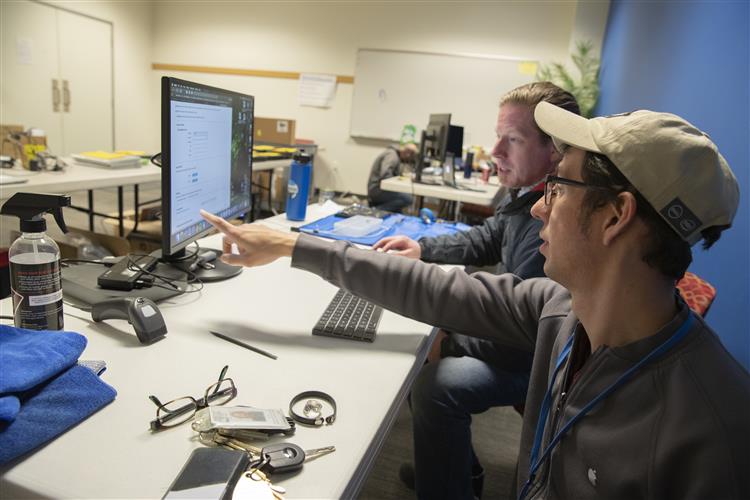 Information Technology Supervisor Calvin Ross works with IT team member Eric Bork at the Anchorage School District Education Center Tuesday, March 24, 2020. (Robert DeBerry/ASD)
The Anchorage School District's Information Technology (IT) Department sits at the forefront of change for the more than 46,000 students moving from brick and mortar buildings and face to face education to distance learning.
In order for ASD students to continue with their school year, they will need computers and access to the internet. District teachers have reached out to families and asked about their technology needs. The goal is to make sure that all the District's existing computers that students normally use within the classroom are ready, and that they can be distributed out to students safely.
At the top of the list are the high school seniors who are scheduled to graduate in May. There is a short amount of time left for these graduating seniors to finish their core credits, stay on a graduation path, and continue their academic progress for the remainder of the year.
According to IT Supervisor Calvin Ross, that need equates to roughly 2,000 high school students who require computers in order to access distance learning. Those 2,000 computers, or Chromebooks, need to be configured for off-site students use before they can be delivered.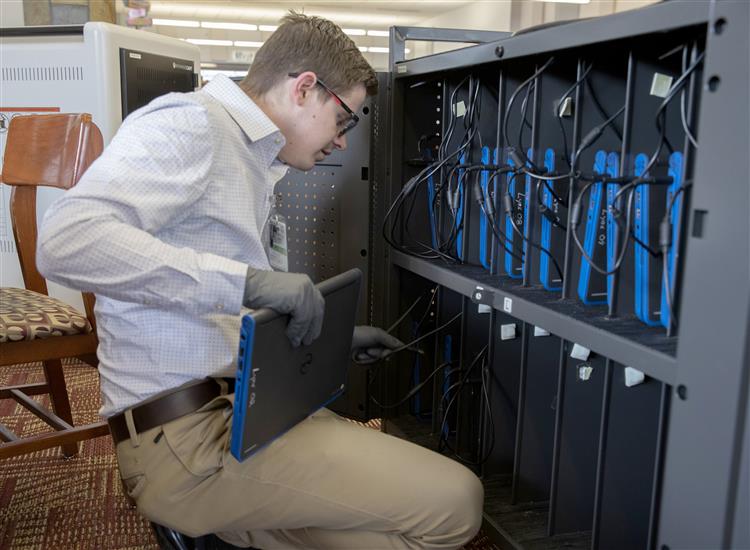 IT professional Benjamin Fitzgerald works on computers at East High School on Wednesday, March 25, 2020. (Robert DeBerry/ASD)
"The District is using Chromebook devices, those devicesare really nice in regard to their low-cost point for the District to purchase in mass," said Ross.
Ross says because they are already in the schools and students are using them daily it makes sense to distribute them to students so they have access to the educational resources that they need, but before that can happen each one has to have certain safeguards put in place. "We have some higher-level structural safeguards to put in place that prevents students from visiting websites that are questionable," said Ross.
Currently, those Chromebooks are at different high schools where IT employees have been working to ready the devices for distribution. That Chromebook distribution to high school students is only a fraction of what the IT Department is working on.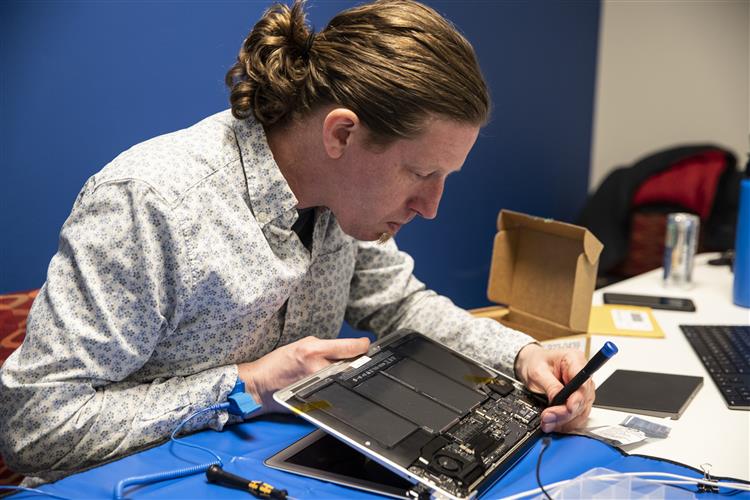 IT team member Eric Bork works on a computer at the Education Center on Tuesday, March 24, 2020. (Robert DeBerry/ASD)
At the ASD Education Center, equipment repair is in full force. Ross said the team assembled in the empty Education Center is primarily focused on two things. First, is making sure that the physical devices are repaired and in a "ready to deploy" state.
"They're responsible for fixing staff computers that break, Chromebooks as well, and then support staff computers, any of our consumer-grade computing hardware," said Ross.
Secondly, the team is preparing the District's current inventory of Chromebook devices that have yet to be deployed. Ross said the District has equipment that was tentatively slated to deploy to substitute teachers but now need to be redeployed to other staff members and support staff presently in need of a computing device.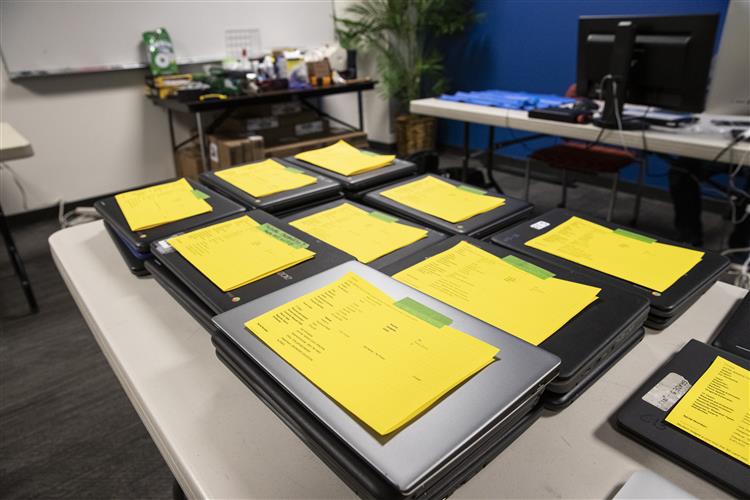 Computers sit ready for distribution after being configured by the ASD IT Department. (Robert DeBerry/ASD)
Ross said that the IT staff also is available to help teachers and other staff that are having issues with their current computers. "They can make a reservation via their service desk to actually come in and get a zero-touch setup of a new computer. They simply enter in a vacant conference room, we have another technician via zoom on a second laptop, remotely guiding them through the setup process."
"Half of the team that normally is out in schools repairing devices, they've actually switched to remote support' said Ross. "So, they're backfilling and adding to our existing service desk team to really make sure we are able to meet the new demand for support across the district."
Ross said this is only week one of deployment. Numbers for the need at the elementary and middle school level for computer needs are still coming in, but he says the District and the IT team is ready and there are enough devices to ensure ASD students can continue with distance learnng.
"Our IT department works really hard to make the district successful and I see the team members really putting students above themselves on a daily basis," said Ross.