Frontier Charter School Homepage
Return to Headlines
ASD Deploys Thousands of Chromebooks to Elementary Students
Chromebooks sit in the gymnasium at Muldoon Elementary ready for distribution to students. (Robert DeBerry/ASD)
The morning of Thursday, April 16, about 170 Chromebooks lined the gymnasium floor at Muldoon Elementary School. Each machine individually cleaned, reconfigured for software and security, bagged, and matched to a student. They lay in alphabetical order by student name, ready for pick-up.
In rolling out its distance learning plan, the District is mindful that not all students have access to computers or internet. To help ensure equity for all students, ASD has made several efforts to try and narrow this gap.
On Thursday and Friday, 4,539 Chromebooks went out to elementary students. The District anticipates delivering a total of 6,763 devices to elementary, enough to meet the needs of students, according to student needs assessments. Over 5,300 devices have already been distributed to secondary students since the call was made to switch to distance learning.
Tawnya Simpson, School Secretary at Muldoon Elementary was one of the key players in coordinating the distribution efforts in her school.
"As front office staff, we are very attuned to the circumstances our families are in," Simpson said. We are definitely a middle person between the parents and teachers."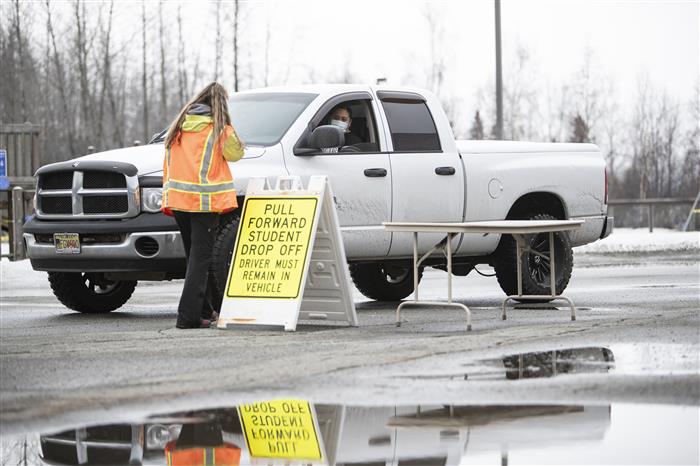 Counselor Diana Carter greets a parent during the Chromebook handout last week at Muldoon Elementary. (Robert DeBerry/ASD)
The close relationships she has with families made it easy for her catch outdated information in data dashboards when the school began outreach to families.
As one of the busier food distribution sites, Simpson also helped plan device pick up in the back of the school, to not disrupt Student Nutrition on the opposite site of the building.
Signage and cones were set up to help direct families to the pick-up area through the back gate. Once a vehicle pulled in, a staff member would radio in the student's name to another employee inside the building. The device was then placed on the pick-up table where the family member could safely take the device.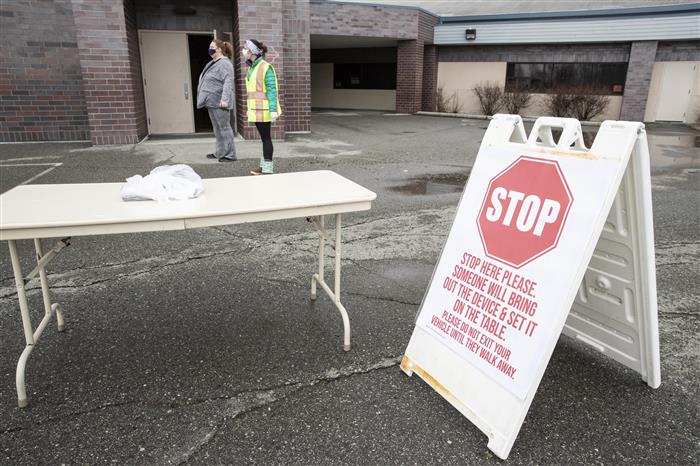 A sign directs parents to the protocal for picking up student Chromebooks at Muldoon Elementary. (Robert DeBerry/ASD)
All device pick-ups were scheduled. Family members were given a specific time window to come pick up their issued device.
Simpson said the best part of distribution was seeing the students. "I was behind the scenes, but when I was able to hear some of the kids names, I went running out to wave hi," she explained. "You could tell they wanted to run up and hug you, but they know they are not supposed to. Even from a distance, it was heartwarming."
The District also has a delivery service in place where ASD staff safely drop devices off to student homes if they are unable to pick up.
Students are eager to put the devices to use.
Teachers can view student logins and active time on the various learning platforms. "One student, as soon as he picked up the Chromebook, has been online completing his work," said Fayedra Cole, a third-grade teacher at Muldoon Elementary.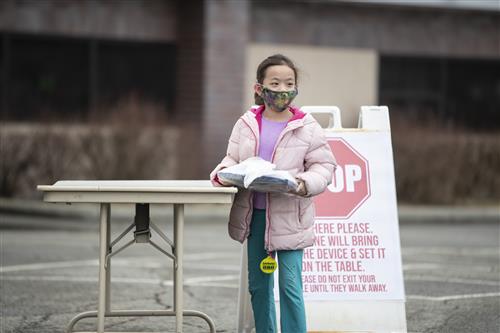 A Muldoon Elementary student picks up her Chromebook during the school's distribution last week. (Robert DeBerry/ASD)
In addition to giving students the tools they need to learn, Cole is excited to use technology as a way to stay connected with students' well-being.
"It's an indicator they are doing well if they have the time to work on Math-Whizz and Alexia, their basic needs are probably being met," said Cole.
Internet providers GCI, ACS, and MTA are generously offering free and/or upgraded internet to ASD students and staff. Details can be found by calling these providers directly or by visiting the ASD website.
Paper/pencil packets are still the preferred method for some families. Families with printer capabilities will be able to print the coursework from home and for the families who are unable to print, ASD will be periodically mailing paper/pencil packets to these homes.
Translated documents are available to students and families who may need other language support as they access online learning.
For families needing ASD support services, like technical or tutoring assistance or information on family wellness resources in our community, ASD recently launched a dial in support service, 742-HELP. Simply dial 742-HELP (4357) and follow the prompts for assistance.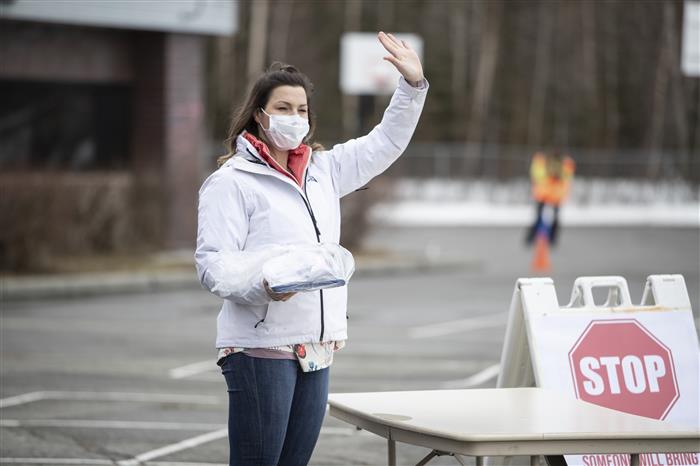 Muldoon Elementary teacher Kassie Tippey waves to a parent picking up a Chromebook last week during the school's distribution. (Robert DeBerry/ASD)