Frontier Charter School Homepage
Return to Headlines
Romig Middle School Students Excel in ExploraVision Competition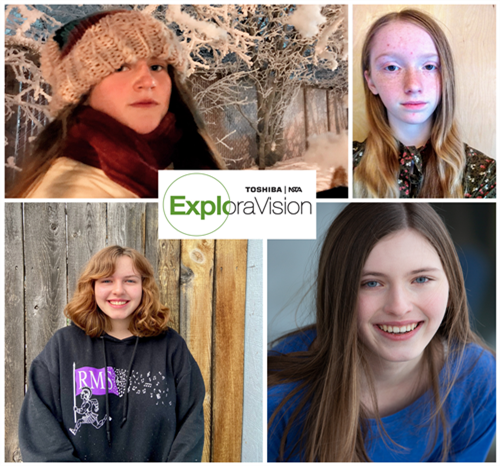 Romig Middle School students and Regional winners of the Toshiba/NSTA ExploraVision science competition in the Middle School Level (grades 7-9) project category for their project: Nuclear Digestive Organism." Top left: Mariah Block, Top Right: Heike Fischbach, Bottom left: Ella Johanknect Bottom Right: Nicky Widdis
A group of four students from Romig Middle School placed first in the Toshiba/NSTA (National Science Teacher Association) Regional ExploraVision science competition in the Middle School Level (grades 7-9) project category for their "Nuclear Digestive Organism" submission.
The team from Romig will be one of 24 regional winning teams from across the country who will move on to national judging.
Honorable mention awards were given to 16 teams from Romig Middle School.
ExploraVision challenges students to envision and communicate new technology 20 years in the future through collaborative brainstorming and research of current science and technology. Beyond engaging students in problem solving, team-based learning, critical thinking, and communication skills, ExploraVision aligns with the Next Generation Science Standards.
Romig Middle School teacher Heather Bascom was the teacher/coach for the regional winners and all 16 honorable mention teams.
Bascom has taught gifted and highly gifted learners for 17 years and believes ExploraVision aligns well with the Middle School Gifted Opportunities goal to provide opportunities for accelerated learners in science.
"They choose what to learn about, and groups become very self-driven," said Bascom. "They learn how to do research and technical writing as well as the scientific process."
Bascom explained that the program challenges her gifted learners to figure out problems they can't simply look up the answer to. "There is no answer," she said. "They learn how to do actual research into things that don't have a fixed answer. They learn science as a process, oppose to vocabulary memorization."
Bascom has about 85 gifted students in her classes. She has never had a student group receive the regional award, and never has any school in the country ever received this many honorable mentions.
The Romig Middle School students worked over three quarters to create the required project components that included an abstract, a description that reviews the present technology, history of the technology, the team's vision for the future technology, breakthroughs, the design process, consequences, bibliography, and five sample web pages that communicate and promote their future technology.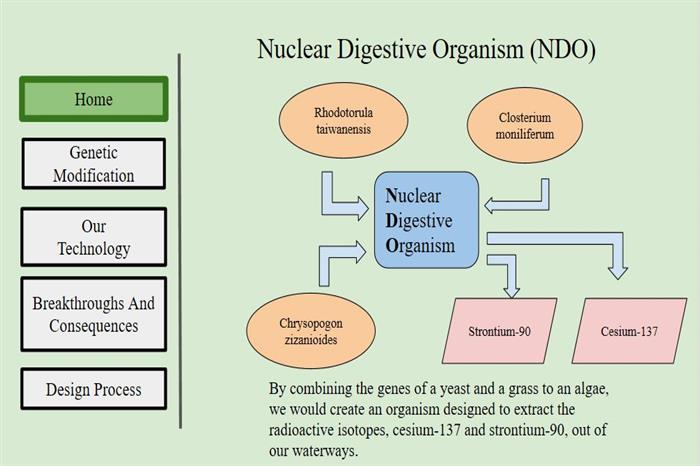 One of the five sample web pages from the regional winning project, titled Nuclear Digestive Organism.
The process of compiling such a large project requires a lot of peer mediation, according to Bascom. "The group that won had some fantastic arguments," she said. "The clash of ideas usually makes them all much better, developing social and reasoning skills," she added.
Using CRISPR (Clustered regularly interspaced short palindromic repeats), the winning project genetically engineered an organism to remove radioactive isotopes from water systems near nuclear disasters such as Fukushima.
Romig Middle School Principal Carrie Sumner was planning a surprise ceremony to honor the winning students after they returned from spring break, however due to the COVID-19 pandemic, the ceremony never took place. Instead, winners have been announced and recognized on the Romig Middle School website.
"We are thrilled to recognize their accomplishment in this very rigorous competition," said Sumner. "I am proud of all of our students who participated in the contest."
During these times of uncertainty, Sumner said she is proud of the next generation of thinkers.
"Encouraging students to explore their creativity and the possibility of their dreams is how we continue to move forward during this technological revolution," said Summer. "I love that our winning group focused on how to use science and technology to clean up nuclear waste. They are the types of guardians we need to take care of our planet now and in the future."
Congratulations to the four students who won the regional award for their "Nuclear Digestive Organism" submission:
Nicky Widdis (blue background)
Mariah Block (outside in hat)
Ella Johanknect (fence background)
Heike Fischbach (white background)
Congratulations to the 16 honorable mention teams, listed below, along with their project name:
Adler Eyes: Drew Smith, Henry Hase, Sam Porter, Vien Shin
Burning Our Way to the Future: Sebastian Miller, Noah Bemben
CO2 Renewal Chamber: Meredith Duhrsen, Ruth Green, Kiana Feldis
CRISPR-Cas-X: Marc Snelling, Sayeed Mahmood, Max Dosik
Currus Magneticus 6: Forrest Rodgers, Finley Bold, Trenten Calugan and Cameron Sonneborn
Dexamethasone Nano-Injectors: Aaron (AJ) Tanner, Samuel Vartan, Bjorn Skinner-Reed, Garrett Heath
OGEMDD: Ari Fleck, Edwing Matos, Jersey Graham
Parva: Vaishnavi Gornale, Iris Ostman, Madeleine Cannon
Premier PDT: Jack Beltzer, Elijah McLellan, Nicholas Schnell, Nolan Thibodeau
SEABA Drones: Piper Ogilvie, Dalin Lena, Rania White
Solar Wind Collection: Ruben Rhodes, Raman Marti, Wesley Beck, Jake Worthington
Stable Basal: Kathryn Unger, Madeline McCowan, Fiona Witty-Daughtery, Stella Woodward
Synthetic Growth Medium: Errol Greenhalgh-Adam, Elijah Hase, Matthias Kerschbaum, Evan Fitzgerald
The Kerberos Nuclear Fusion Engine: Jonathan Moore, Alex Fretello, Alessandra Lucero
The Hydroglide: Riley Conti, Laya Fedele, Hodaka Madea
The Sleep No More​: Suleyman Guliyev, Karsten Mock, Kyler, Mock, and one additional teammate
The first-place regional team from Romig won a laptop, a plaque, an Echo Dot, and the chance to go on to Nationals. National winners will be judged in May. A $10,000 savings bond will be awarded to each first-place team and a $5,000 savings bond for each second-place team member. Prizes for the regional winners includes a technology/science-related gift for each regional winning student. There is also a unique prize for all students in the 500 Honorable Mention winning teams. A certificate of participation and an entry gift is provided to every student who submits a complete project.