Frontier Charter School Homepage
Return to Headlines
The Student Equation Helps with Learning Math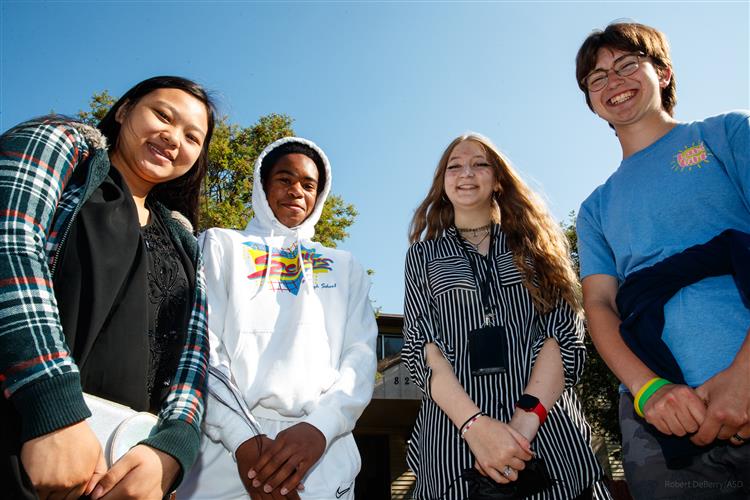 From left, Yuna Yang, Josiah Pollard, Hope Spooner Meyer and Joanna Fish are four Bartlett students volunteering for the Anchorage School District Summer Math Program. (Robert DeBerry/ASD)
One of the things that all four Bartlett High School students agree on when asked about volunteering for an Anchorage School District summer math program is that giving back to the community and kids is rewarding and a good thing to do.
The idea of involving high school students with a summer math program, according to ASD principal Likka McCauley, has been a year in the making between herself and Bartlett High School Principal Sean Prince. They were looking for ways to get high school students interested in teaching and wanted to try and reduce anxiety and fear associated with learning math.
"Clearly, we have a teacher recruitment issue," said McCauley. "I started thinking about how to get students interested in working with younger kids."
She said her and Prince began looking for ways to get high school students to participate with younger students. Prince reached out to several math teachers asking for student volunteers that would be willing to work with younger kids, get an elective credit and a letter of appreciation for their college entrance application.
She said that going into teaching isn't a direct outcome for the four Bartlett students but more of a "planting the seed because maybe…"
The second part of the equation said McCauley is on the learning side for the younger students.
Younger kids learn from other kids, the same age or older, says McCauley. They learn differently from each other than they do from teachers, and they inherently look up to high schoolers.
McCauley said that math comes with a lot of anxiety and discomfort. Students, especially younger students, can and do have a hard time with math. When asked how they feel about it, the answers are usually negative and center around not being good at math or not being smart enough to do math. Sometimes, said McCauley they can't even give an answer about how they feel about math.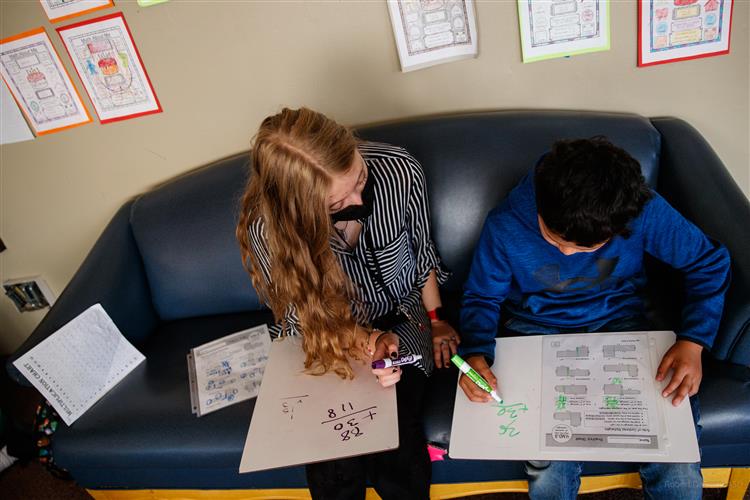 Hope Spooner Meyer works with a student during the Anchorage School District Summer Math Program. (Robert DeBerry/ASD)
"One of the key parts of this program is how we decrease anxiety and increase comfort and excitement about math," she said. We want to promote it as a natural comfort thing, so having teenagers with a positive attitude toward math will hopefully rub off on our younger students."
Bartlett High School senior Joanna Fish said she sees the importance of this program because math isn't everyone's favorite subject.
"I think this program is important and there are a lot of kids that don't get this opportunity," said Fish. A lot of them don't like math, and math is important. I didn't like math when I was their age either."
Fish said despite the students not liking math, a lot of the kids are having fun and meeting new people and playing the games centered around math. She also said it has been great for her because it "brings out her inner child."
Bartlett Junior Josiah Pollard sees this as an opportunity to step outside his comfort zone, experience and learn new things and get to spend time with some kids. Pollard said he likes math and is good at it and is planning on taking calculus next year.
Senior Yuna Yang agrees with Pollard in that she wanted the experience and wanted to learn something new. Yang said at times it is hard because the kids don't understand what you are trying to explain to them, or they are just not listening, and you have to repeat a lot.
Yuna Yang watches as students in the summer math program play a math related game. (Robert DeBerry/ASD)
Hope Spooner Meyer, who is starting her sophomore year at Bartlett, looked at the program to fill her summer and gain some volunteer service hours as well as an elective credit.
"I am trying hard to get into a certain university and this will look good on my college application," she said. "Besides, math is fun."
But Spooner Meyer also recognizes the importance. "The kids are here because they need help with math, so it is really important that we are able to provide that help, so they don't fall behind or need special help in their next year of school."
She said she sees the value that teachers bring to the program but thinks high school students can offer a different learning experience that a teacher might not be able to do.
"Teachers are here to teach, but I think the high school students are here to teach as well," said Spooner Meyer. "But I also think the way we interact with the younger students can make it more fun for them. It gives them someone they can relate to a little easier and talk to about video games or their hobbies and interests."
She said working with the students gives her the chance to see the world and math through the eyes of somebody younger who doesn't have as much knowledge of it. "That's been an interesting thing I've been experiencing. Watching somebody struggle with something that seemed so simple and easy to me but so complex to them."
McCauley said so far the program has been a win win for both sets of students. The younger students are gaining valuable math skills and having fun and the older students are gaining confidence and learning to navigate life at a higher level.
She said they are getting to interact with us, the adults, and teachers in the program and that gives them the opportunity to behave and work on a professional level. It also helps the students with confidence because now they have to stand in front of a bunch of younger students and talk and teach and mentor to some extent.