King Tech High School Homepage
Return to Headlines
King Tech Students Sign Up for Future Careers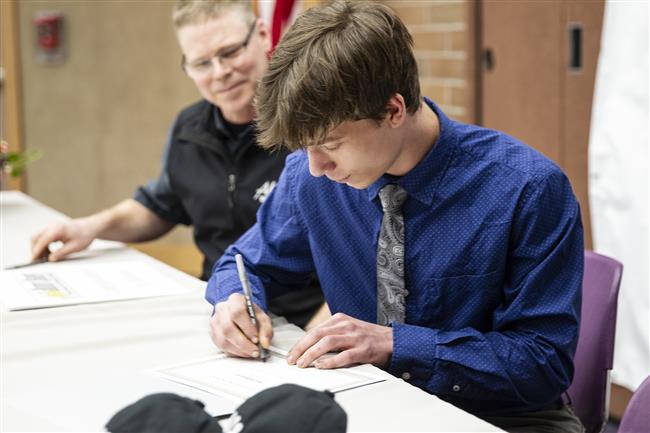 King Tech High School student Avi Johnson signs his letter of acceptance into the apprenticeship program with Able Body Shop in Anchorage. (Robert DeBerry/ASD)
Similar to the Division I college athlete that sits in front of teachers, peers, and coaches to proudly sign a letter of intent, eight soon-to-be graduates from King Tech High School signed letters of acceptance into the Direct Entry Apprenticeship Program in front of King Tech High School staff, family, friends, and business partners Friday afternoon May 3, during a signing ceremony.
The eight students—Jonathan Vanderhooven, Walter Platt, Trenton Kilingbeil, Avi Johnson, Axl Burns, James Garrison, Caleb Tabios, and Skyla Ketchel—will leave King Tech High School and move right into their chosen career path where they will be getting paid as apprentices while furthering their education.
King Tech High School counselor Julie Vincek explains that the program has been around for almost 20 years and is a great partnership between the various unions, industry leaders, and the Anchorage School District. She said the signing event is a wonderful way to celebrate and highlight those partnerships.
The Direct Entry Program is a competitive one according to Vincek. Usually only one or two of the top students are able to go into the program.
"We have them out doing some type of on the job training so that the employer can kind of get a handle on what type of employee they would be or whether or not they have the skill level," said Vincek.
Vincek said that if the student is declaring a certain career path then they have the opportunity to meet with the different unions and non-unions. "They have to meet a certain criteria, so it's very competitive," explains Vincek, "If our students perform well, and they like what they see, then they'll take that student into the Direct Entry Program."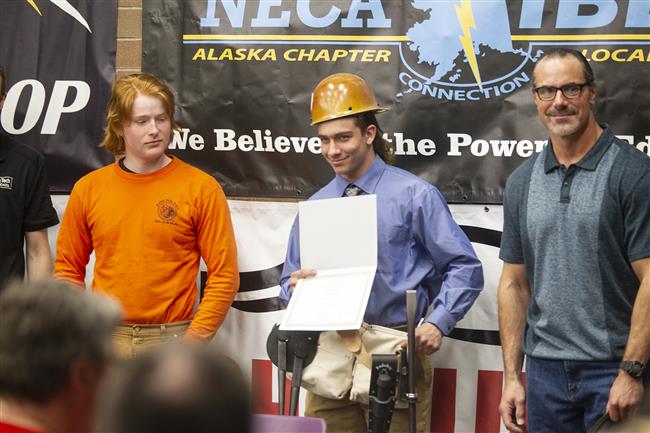 King Tech High School student Axl Burns holds his acceptance letter during Friday's event at King Tech High School. (Robert DeBerry/ASD)
Able Body Shop Team Coordinator Geoff Erwin spoke highly of the program and said it is what the industry needs. He said, "As vehicles continue to get more technically demanding, it is nice to see the quality of the young people coming into the trade. They are coming in with the technical skills, the electrical skills, the computer skills, and the metallurgical skills that they need just to start understanding the trade."
"People need to get their cars repaired and the number of people qualified to do that is diminished," said Erwin. "To see interested, motivated, and determined young people coming in is invigorating for me as I come to the end of my career to hand that off to the to the next generation I know that they're coming into work for the challenge that's in front of them and they can make it into whatever they want."
Irwin said that the students they take from King Tech come into the workforce with the right attitude—ready to work and learn. He said no training program could equip you for a job or career but King Tech and the Direct Entry Program gives the students the tools they need to get started.
Those tool and help are exactly what Axl Burns said helped him get to this point, "I had a lot of help along the way. And I took every hand that was offered to me, and I appreciate the offers, and I've given back and I'm going do my best."
Burns said the partnership and Direct Entry Apprenticeship Program is very important for those coming up through the education process. He said the program is not for everybody. Some people like to go to college, but for him, it was a good move.
"I have a good history and good work ethic. So it'll be good for me to just get right to work and start giving it my best and build a good career with the ironworkers," said Burns.
Colleen LaRue Apprentice Coordinator for the Iron Workers Local 751 said, "This program gives those students a feeling of accomplishment when they enter the program as students and transform to proud working men and women, that feeling "is second to none."