Return to Headlines
Chevron Fuels Campbell STEM Elementary
Fuel Your School Program helps buy materials for young scientists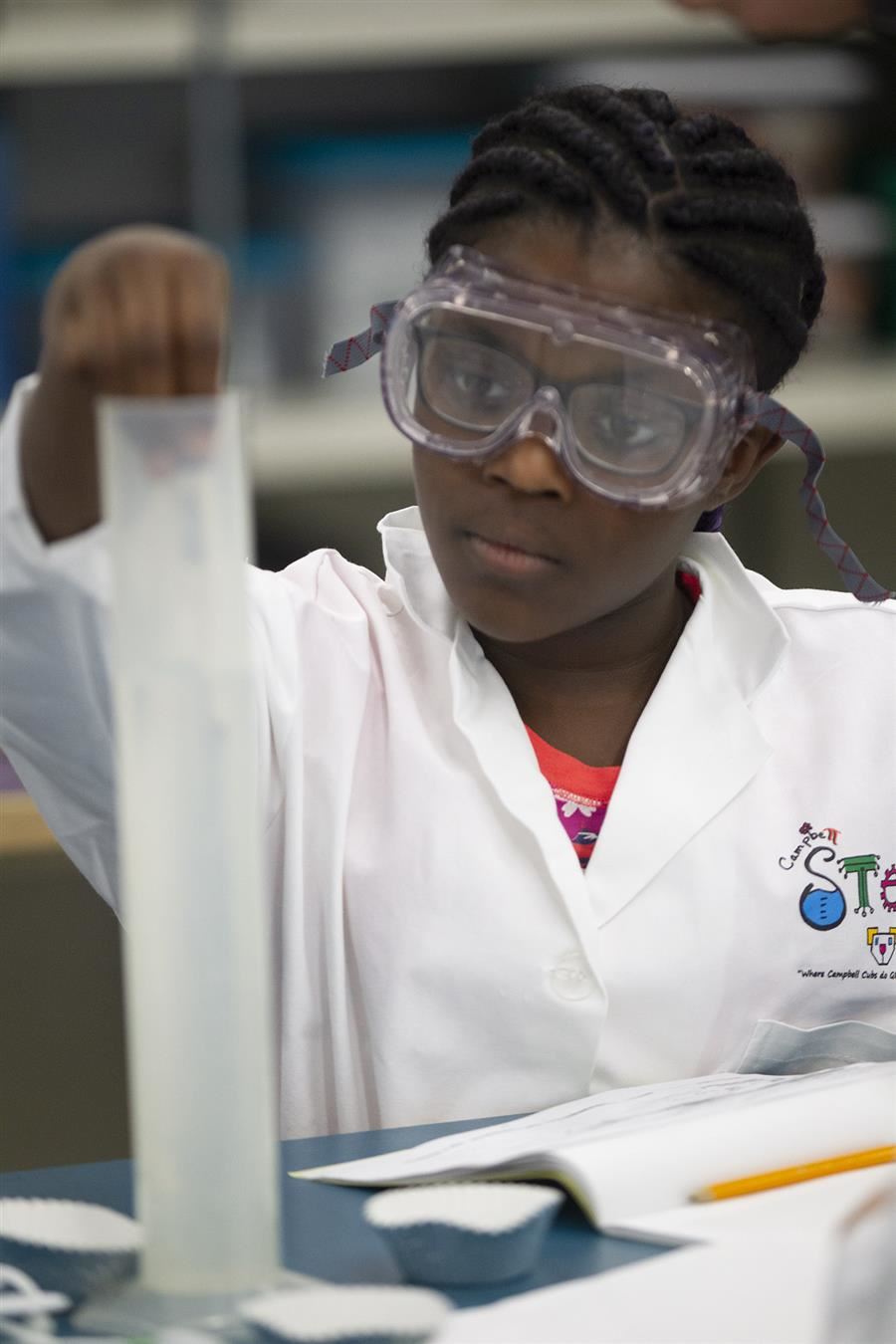 Students at Campbell STEM Elementary will not only play the part of scientists but will now look the part thanks to Campbell STEM science teacher Cameron Hoyer and Chevron Fuel Your School.
Friday, Nov. 2, The Chevron Fuel Your School program delivered lab coats, thermometers, binoculars, student timers, and a testing wastewater lab to an excited sixth-grade class. The new supplies will help complete the STEM lab and will motivate the students to learn.
According to Hoyer, making sure the students look and feel like scientists and ensuring they have the proper tools will help make them more productive.
"When the students are performing experiments and participating in science explorations, I want them to look and feel like adult scientists. Lab coats will keep my students safer, cleaner, and give them a feeling of empowerment. Our lab coats will become our super suits. You can do amazing things if you feel super. A single scientific spark may change a child's life forever," said Hoyer.
One of Hoyer's goals is to construct a learning environment that provides an authentic scientific feeling. He said he hopes to create and conduct experiments that are engaging and tactile.
"Our Lab is taking shape, we have stools, tables, wall tables, a Lego wall board, and a new projection system that works in tandem with our current technology," said Hoyer.
The materials provided by the Chevron Fuel Your School Program will move Campbell Stem Elementary one step closer. According to Hoyer, the new materials will help students acquire crucial data that may prove or disprove a student's hypothesis. "My students are young scientists in the making," says Hoyer, "they are full of questions and curiosities."
The Fuel Your School program is an innovative collaboration between Chevron and DonorsChoose.org to support teachers and help fund classroom materials at public schools in the Municipality of Anchorage. From October 1 through October 31, 2018, for every fill-up of eight or more gallons at local Chevron stations, $1 was donated to the Fuel Your School program to help fund materials and supplies for local public schools through the program.
According to Michelle Engelke, General Manager for Denali Express Chevron, the community knocked it out of the park this year. "We raised $100,000 and we funded a $100,000 worth of projects."
Engelke said this funding helps buy materials and supplies that otherwise would not be in the classroom unless teachers chose to purchase them with their own money. "We all know there have been budget cuts so hopefully this is a ray of sunshine in the educational community."