Government Hill Elementary Homepage
Return to Headlines
Government Hill Elementary selected for Empower Humanity Project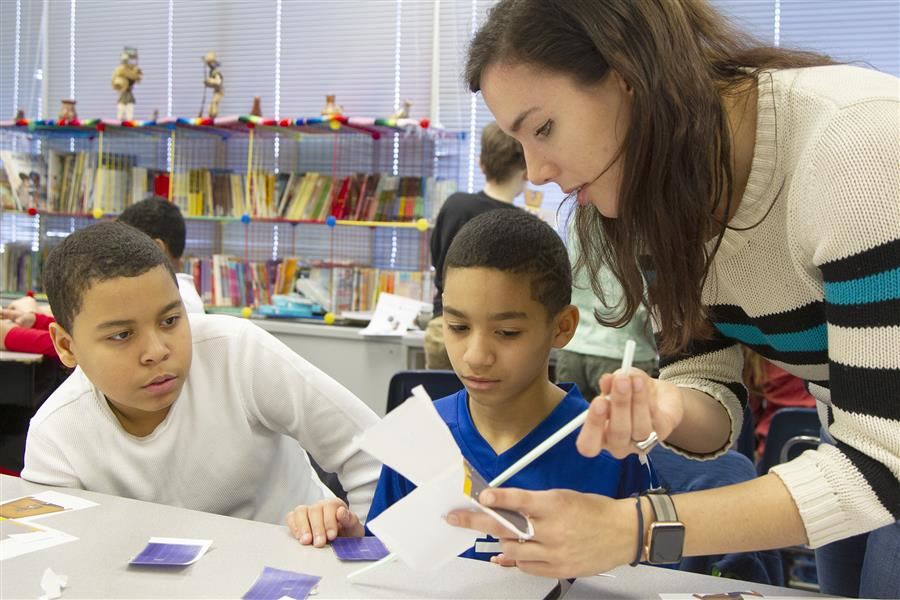 OneWeb Engineer, Katelyn Sweeney, helps students make a model of a satellite in Mrs. Liranzo's fifth-grade Spanish immersion class at Government Hill Elementary Thursday, February 21.
(Robert DeBerry/Anchorage School District)
Anchorage – Government Hill Elementary is one of six schools chosen, worldwide, to participate in OneWeb's Empower Humanity campaign. The other five schools chosen to participate are from Nepal, Kyrgyzstan, Rwanda, Ecuador, and Honduras.
According to engineer Katelyn Sweeney, OneWeb's mission is to bridge the digital divide by 2027 and connect every school to the internet by 2022 no matter where they are in the world.
The launch of the first satellite will be February 27, 2019 and will be live streamed at oneweb.net Government Hill Principal Mandy Clark said her 479 students will definitely be watching the live stream.
Clark said the process for the school's involvement started in the fall when former Alaska State Senator Lesil McGuire approached the school about putting their name in for the opportunity to participate.
"I thought it would be an amazing opportunity for our students, and it would be an educational opportunity that would open up doors that they wouldn't have otherwise," Clark said.
Sweeney said OneWeb wanted to find six schools, one for each satellite, in the most remote places in the world. The other schools, she said, may be a more remote in terms of geography and have less connectivity than Government Hill but the school's diversity is why they were chosen. "Anchorage is certainly the most connected of those but the diversity of Government Hill School is why we chose it," Sweeney expressed, "It really represents the idea of unity and connectivity."
Sweeney and OneWeb engineer Kevin Macko are spending Thursday and Friday in the classrooms at Government Hill Elementary teaching the students about space, satellites, and communication in advance of the launch on February 27.
"We had the kids do a fun brainstorming activity just to get them warmed up then we taught them a little bit about how satellites work and why they are important. Then we had them all build model paper satellites," Sweeney said.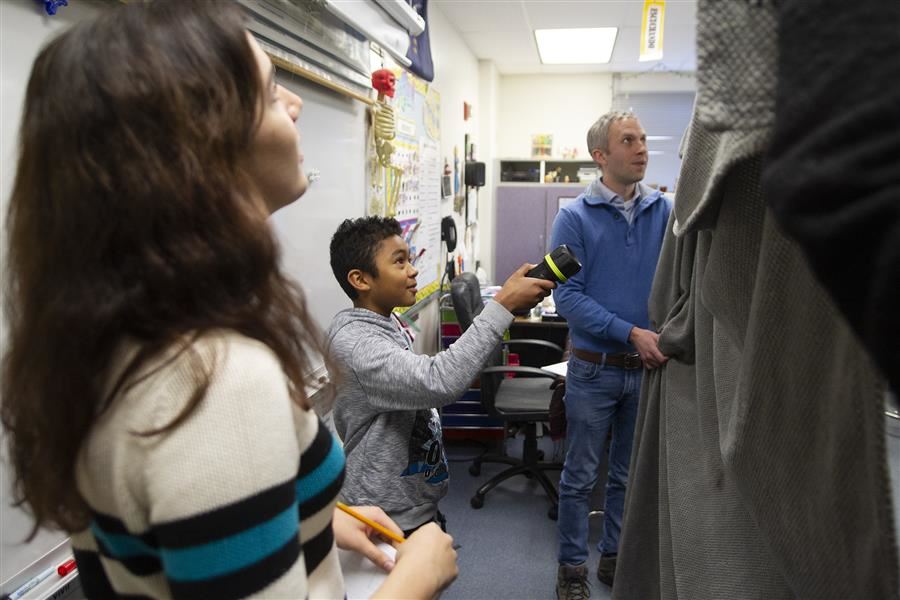 A student helps demonstrate ways to communicate during OneWeb's presentation at Government Hill Elementary.
(Robert DeBerry/Anchorage School District)
Sweeney said she couldn't be more thrilled with the response, "They asked so many good questions and for her that is the key." She said it is less about how much they already know but more about what they ask and their curiosity.
"You could see it whenever we asked a question or gave them a fact, almost every hand in the room would shoot up and they just wanted to learn more and participate and that is awesome."
That excitement spilled over to the naming of their satellite. The fifth graders in Mrs. Liranzo's Spanish immersion class named the satellite "The Nanua, oso polar," which is polar bear, polar bear spelled in Yupik to represent the state of Alaska and in Spanish to represent the Spanish immersion program.
Sweeney said that the thirst for knowledge and desire to learn has been a connecting factor throughout all six schools. "No matter how remote they are, if they are in Anchorage or in rural Nepal, all these kids just really want to learn and that is at the core of what we really want to support."
According to OneWeb's website, OneWeb is on the cusp of bringing about a new era of space, launching the world's first Low Earth Orbit global broadband satellite constellation that will provide connectivity for everyone, everywhere.
OneWeb's approach to satellite internet is different from those in current use. They utilize lower orbits in the North and South pole regions. Typically around 1,200 kilometers which differs from the 36,000 kilometers of other internet satellites.That shorter distance mean faster speeds of communication.
On February 27th at 9:37 p.m. GMT, OneWeb will begin its 21-rocket launch campaign to build the world's largest space network, launching its first six satellites on the Europeanized Soyuz rocket from the European Space Port in Kourou, French Guiana.
Principal Clark said the students are "super excited" and are looking forward to the launch date. She said this project is providing an amazing opportunity for the students to see the purpose of satellites and OneWeb and how it directly relates back to the school and their learning opportunities. For their part for being chosen as one of the six schools, Government Hill will receive free internet from OneWeb.