Homestead Elementary School Homepage
Return to Headlines
Eagle River Educator Uses Art and Research to Engage and Excite Students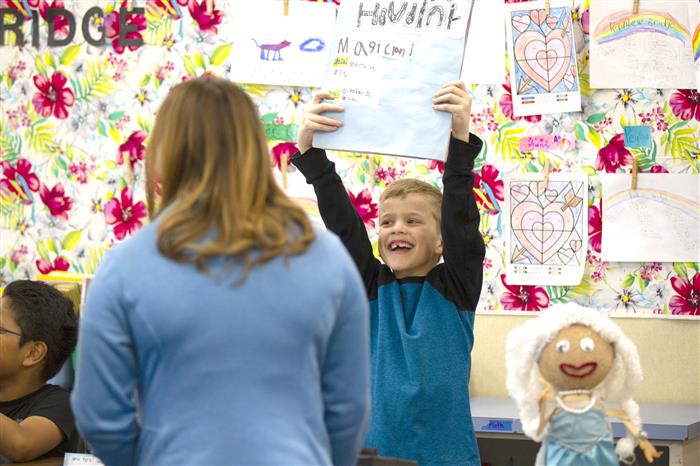 Eagle River Elementary third-grader Jensen Phelps holds up his Harry Houdini newspaper during the presentation Wednesday, April 3, 2019. (Robert DeBerry/ASD)
What do Marie Curie, Dr. Seuss, Barak Obama, J.K. Rowling, and George Washington Carver have in common? They all made appearances in Mrs. Ashley Otwell-Walters' third-grade classroom.
The Eagle River Elementary class has spent the past couple of months preparing for their presentations to parents and students at Homestead Elementary, where they have been based since the November 2018 earthquake.
The project focused on researching a famous person, creating a newspaper about that person, and then crafting what Otwell-Walters calls a "biography bottle."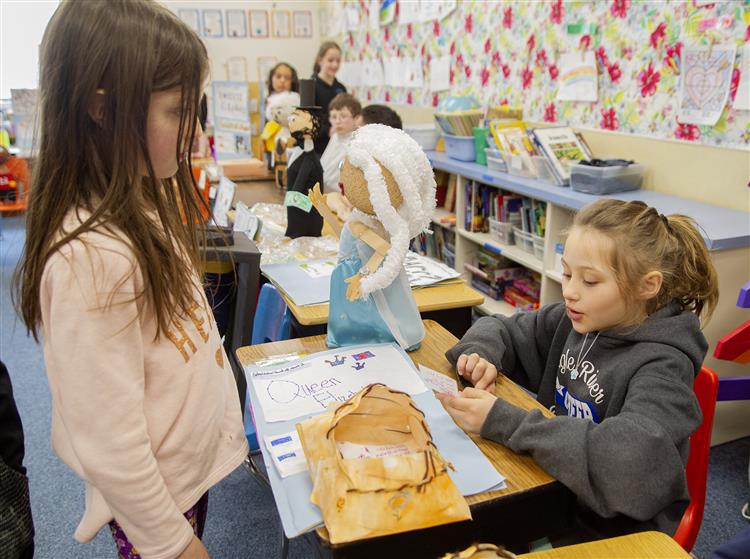 Peyton Whitherwax-Towne answers questions about Queen Elizabeth during the presentation Wednesday, April 3, 2019. (Robert DeBerry/ASD)
According to Otwell-Walters, the incorporation of art and research was the perfect mixture to engage the students and parents.
"They're super intrigued and involved with their person, they're very invested," Otwell-Walters said. "They know a lot of things about them and they did a little side research. A lot of their parents took them to the public library, and it was just a great way for the teacher, the kids, and the parents to all connect together."
Parent Nichole Ambacher agrees. For her and her daughter the project was a great way to include art with learning and get the family involved. Ambacher said getting to spend time with her daughter on the project was great, "Time together is important, you know? Sometimes you need that extra time to do art so this was a good project."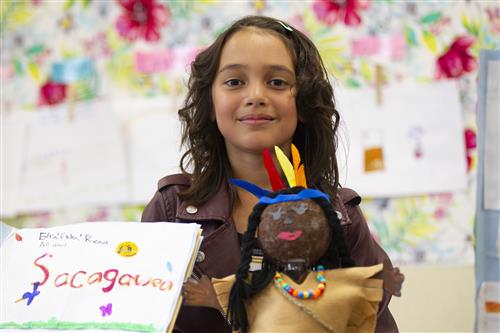 Third-Grader Audrey Peplow stands with her Sacagawea Biography Bottle during the presentation Wednesday, April 3, 2019. (Robert DeBerry/ASD
As parents and students funneled through the classroom to hear the student reports, one student, Jensen Phelps, worked his magic with the crowd as he discussed his famous person, Harry Houdini.
Jensen said he loved the project for a couple different reasons but mostly because it combined three of his favorite things, "I do a little magic, I like learning about history, and one of my favorite things to do is to read books—I love reading."
For Jensen that was the trifecta of learning. Not to mention the art part of the project. Jensen's Houdini featured a biography bottle upside down with chains, which Jensen states is Houdini's most famous underwater trick.
Jensen said that Houdini was famous for that trick and a lot of people think that is what killed him but in fact it was not, "Most people think he died from a magic trick but he actually died from stomach pain."
Otwell-Walters said they used the Who is and Who Was books for their primary research and then the library as their secondary source. The project culminated with an open house in the classroom for parents and students to walk through and learn about each person through asking questions and listening to what the third-grade students had learned.
The enthusiasm the students had for the project is what Otwell-Walters loves and strives for in every lesson, "I think my favorite part is how excited they are. They've been excited since we started in January."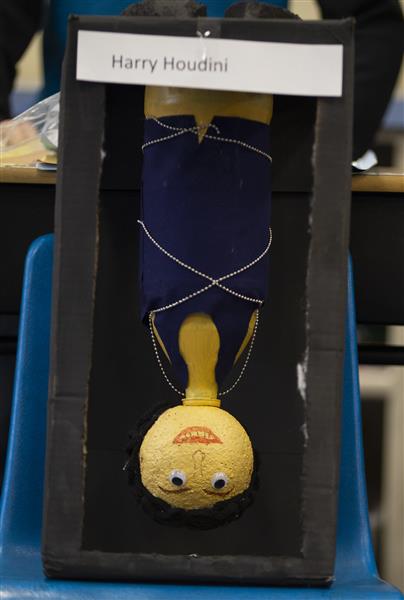 Jensen Phelps' Harry Houdini Biography Bottle sits on display during the presentation Wednesday, April 3, 2019. (Robert DeBerry/ASD)