O'Malley Elementary School Homepage
Return to Headlines
O'Malley Elementary starts French Immersion Program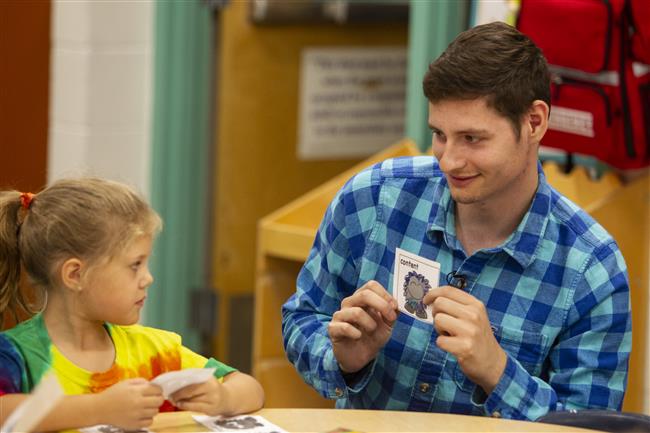 French Immersion teacher Kane Neubauer works with a student during the French immersion portion of the school day. (Robert DeBerry/ASD)
Bienvenue à O'Malley Elementary, c'est l'immersion Français.
O'Malley Elementary has begun the first year of their French Immersion program and according to kindergarten teacher, Monsieur Kane Neubauer, the first week is off to an amazing start.
"I'm really starting to build relationships with the kids and open up into my own teaching style," said Neubauer. "Working with younger children, there's a lot of playing, singing, and dancing so they're going to be going home singing all the songs."
Neubauer points out that children at this age are at the sensitive period of language acquisition and they pick language up quickly. He explains, "They kind of just chunk it and even if they don't know exactly what is being said, they just repeat it. In the right context, they're able to pick it up really quick.
As with all Anchorage School District immersion programs, the students spend half the day in immersion and the other half in English. At O'Malley, this first-year immersion program has 50 students divided into two classes of 25.
Half of the day is taught in English by an English-speaking teacher, said Brandon Locke, Director of World Languages and Immersion Programs for the Anchorage School District. "That teacher teaches the English language arts and math. The other half of the day is taught by the language teacher, in this case, French. The French teacher will be teaching French language arts, science, and social studies."
The Anchorage School District has a long-standing history with immersion programs starting back in 1989 with the Japanese Immersion Program. Locke said there's been a lot of community interest in French in the past couple years but like with any program funding needs to be considered.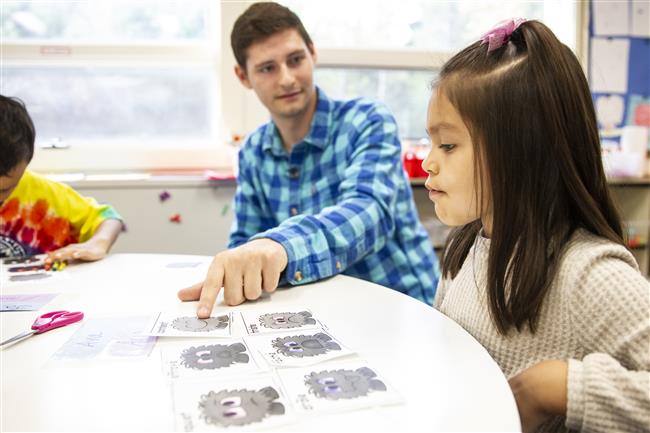 A student works with kindergarten teacher Kane Neubauer in the O'Malley Elementary French Immersion Program. (Robert DeBerry/ASD)
"This program, similar to some of the other startups, began with a grassroots effort from parents," said Locke.
He said a parent and community group put together a proposal for the school board and knowing board approval would come easier with funding, they started doing some fundraising and grant writing.
"They actually came to the table with $30,000 to $40,000 just in startup funds to get the program going," said Locke.
Locke also said grant funding from the French Embassy was instrumental in getting this program started. "We've actually received about $20,000 in startup funds from the French government to purchase materials and to do some significant professional development for the staff," he said.
The French program has been a long time coming said O'Malley Elementary Principal Kelly Eagleton, "This program has been in the works for 10 plus years."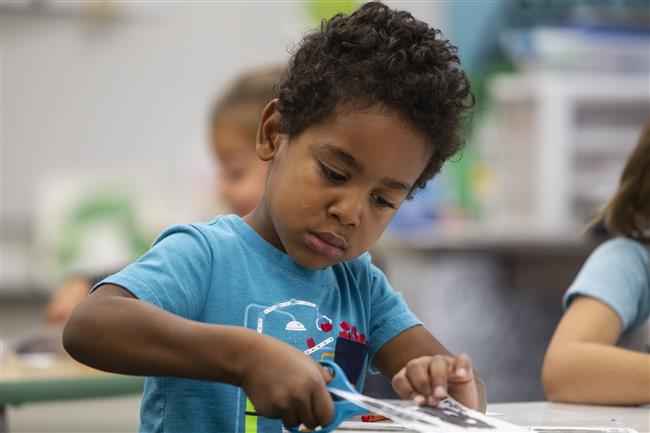 A student cuts out a picture during his French immersion class at O'Malley Elementary. (Robert DeBerry/ASD)
According to Eagleton, there were several after-school French programs, including a French club, but it was the foreign language advocates' encouragement that really got it going. In the last several years, the foreign language advocates were crucial in fundraising efforts and working with parents and the community. "They were very instrumental in getting it going and O'Malley thanks them. We're excited."
Locke said the feeder school for the French program will more than likely be Goldenview Middle School and then South High School. "We are trying to balance out the immersion programs throughout the city overall.
Locke said with Rilke Schule feeding the German program into Service High School, South High School will more than likely get French Immersion.
For the kindergarten students at O'Malley Elementary they are beginning a new chapter in offerings in the Anchorage School District and are very excited.
"They're very anxious and willing to learn," said Eagleton.