Anchorage School District Homepage
Return to Headlines
East High Hosts International Women's Day Panel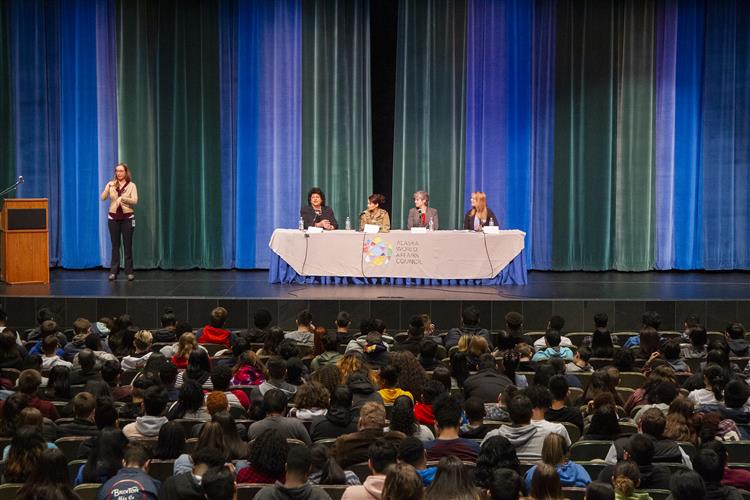 Diane Kaplan, President and CEO of Rasmuson Foundation, Col. Patricia Csánk, Commander, JBER and 673rd Air Base Wing, Alaska and Janet Weiss, President BP Alaska speak to East High School students Wednesday, March 6, 2019. (Robert DeBerry/ASD)
Whenever you make a commitment to something bigger than yourself, that is the priority. That was part of the message that Col. Patricia Csánk, Commander, JBER and 673rd Air Base Wing, Alaska, had for a group of East High School students during the International Women's Day Panel, Alaska Leaders: Celebrating Women at the Helm of Alaska's Future.
Csánk along with Janet Weiss, President BP Alaska and Diane Kaplan, President and CEO of the Rasmuson Foundation took part in the hour-long question and answer session moderated by Lise Falskow, President and CEO of the Alaska World Affairs Council, as part of a lead up to International Women's Day.
Falskow said because International Women's Day falls on March 8 this year and there is no school, they wanted to make sure that students had a chance to participate in the Women's Day Panel. A second panel is being held on March 8, from 12 to 1 p.m. at Bear Tooth Theater. That event is free.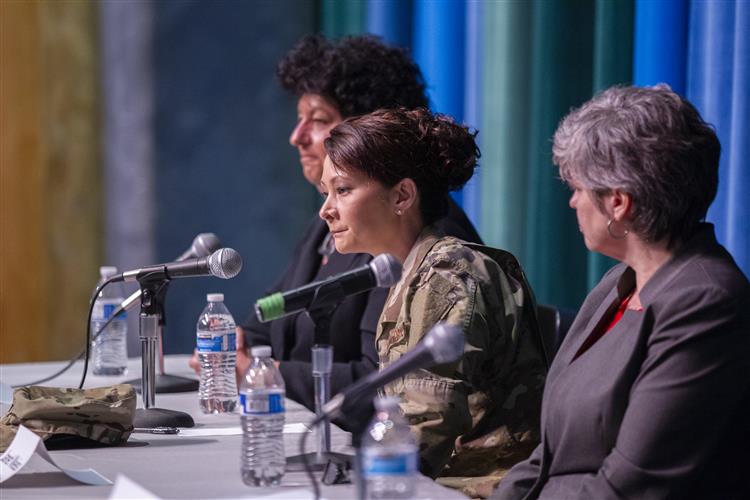 Col. Patricia Csánk, Commander, JBER and 673rd Air Base Wing, Alaska, answers questions from students at East High School during the International Women's Day Panel Wednesday, March 6, 2019. (Robert DeBerry/ASD)
Falskow said Wednesday's event was a great opportunity for the East High students to hear from different community leaders.
"There are so many opportunities out there, and I think that as students are getting ready to transition to college, it's a little overwhelming," Falskow said. "So, to have people that they can talk to and ask questions of and learn about their journey, hopefully will inspire them to get on that path that will make their next journey something that's meaningful."
That journey and the process to achieving goals was at the heart of the conversation for President BP Alaska, Janet Weiss. Weiss used the opportunity to talk about her journey and what it was that helped her achieve her success.
"At the heart of it all, there is something about being courageous enough to really figure out what you're passionate about, and to dream. Don't lose your dreams," Weiss told the audience in the East High School auditorium. "Set time aside in high school to figure out how you're wired, what you were meant to do. Take the time to do that. Don't lose the dream."
She also touched on the importance of education to the success of Alaska. "We have to continue to be a state that values learning and education, building the capability of our folks. Building a community that really is more proactive and involved."
Weiss pointed to the students as the next generation, telling them that they can make a difference in the community that cares about the people, the economy and a better quality of life.
Weiss used her experience in the oil and gas industry as an example of change for the better. "When I take a look at the gas industry in the state of Alaska, I see it's not going away. It is on the verge of an energy Renaissance, and it's really on the verge of doing things better," she said. "Because that's the world that you all deserve and your kids deserve. We need cleaner energy. We need to make sure that we're doing this in the right way, which preserves and takes us generations beyond in a kinder way to planet Earth."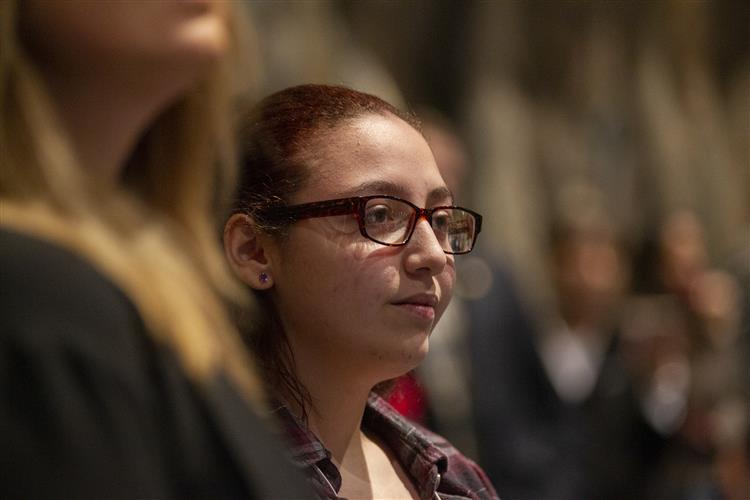 An East High School student listens to the International Women's Day Panel Wednesday, March 6, 2019 at East High School. (Robert DeBerry/ASD)
Being a woman in a position of leadership helps lend a voice to the younger generation of women coming up through the world. Col. Csánk said she sees that change all around and especially in the military and that is important in moving forward in a positive way.
"I think what's changed socially is that there is an expectation that women will use their voice. It's not that we have to find our voice, we have a voice, we have always had one," she said. "But now at least the culture in the military has shifted to the point where you're expected to use your voice to contribute to move forward. And I think that once we really start to do that, where we started to create environments where women felt empowered to do that, that it was expected."
Col Csánk said that by giving everyone a voice and an opportunity to speak creates unique diversity, experience, thought training, impulses and put ideas out there that move us forward. She said that is what started to make things a little better. "We started to shift the conversation and we're getting some new avenues of innovation, new ways of solving problems, new perspectives, and it really is about breaking through"
Csánk said when she came into the military about nine percent of the Air Force was women. Today those numbers are about 21 percent.
"It is still not enough," Csánk said. "I think we have some more work to do with empowering not just women but everybody to use their voice and to create an environment where it is ok to be different. It is ok to have different thoughts. It is okay to disagree. It is ok to be young. It is ok to have your face right down in your phone right now, because you relate to the world a little differently. And so, I think that at least for leaders, the thing that we can really do to foster that is to listen to people and hear what it is that they have to offer."