Anchorage School District Homepage
Return to Headlines
Romig Middle School partners with UAA for 4th annual Model United Nations Conference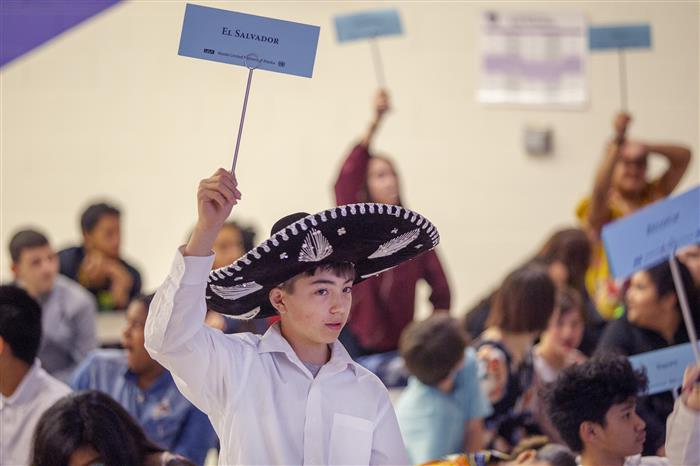 A Romig Middle School student raises a placard during a vote on a resolution at Romig Middle School during the 4th annual Model United Nations Conference Friday, April 12, 2019. (Robert DeBerry/ASD)
More than 300 Romig Middle School students participated in the 4th Annual Model United Nations Conference, supported and administrated by UAA Model United Nations Secretariat members. This year's topic was equality.
The conference focused on a set of issues, allowing students to gain a greater appreciation for nation-state dynamics and the U.N.'s role in the international system.
According to Romig social studies and Spanish immersion teacher Anaeley Leon-Hernandez, every single country in the world was represented as well as some of the bigger issues facing those countries.
Leon-Hernandez said for the few weeks prior to the event students researched a country in order to see what issues they were facing.
"For example," said Leon-Hernandez, "conflicts in Yemen. How we can help Yemen, fix this huge issue with children? Could we send them food? Can we give them anything for education?"
Once the problems are decided, the students—who are divided into the different countries—start negotiating and debating the problems and how they can be fixed.
One hot topic for the students was Venezuela. Leon-Hernandez said the students jumped right into ways of helping or not helping that country. "We've got countries that are for helping Venezuela and we have other countries that are not for helping Venezuela, but at the end of the day, we're just trying to unite the whole world to fix one common problem," she explained.
Leon-Hernandez said that she and co-organizer Amber Myers hoped the students walked away with a better understanding of what it means to be global citizens.
"I want them to know that the world is not just at Romig Middle School, I want them to know that the world is big, and we can all help," said Leon-Hernandez.
Leon-Hernandez was amazed to see what ideas her students thought of, "These kids come up with some solutions that will blow our minds away. And they're not using money. They're not using military power. They're using their imagination and their creativity to come up with these solutions."
Leon-Hernandez explained that students were also learning about human rights. She was surprised to hear some students did not know that we are all born with rights and that the reason why it may seem some people do not have the same rights as us, is because rights are being taken away by governments and by political decisions.
Leon-Hernandez said the students are finding ways to get those rights back, "They'll find a way to get them back to these countries. And that's the beauty of it."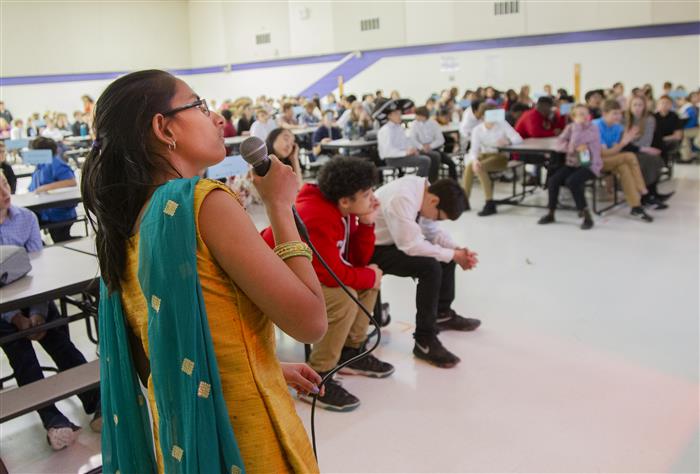 A Romig Middle School student reads a resolution at Romig Middle School during the 4th annual Model United Nations Conference Friday, April 12, 2019. (Robert DeBerry/ASD)