Anchorage School District Homepage
Return to Headlines
Whaley School Gets Students on Track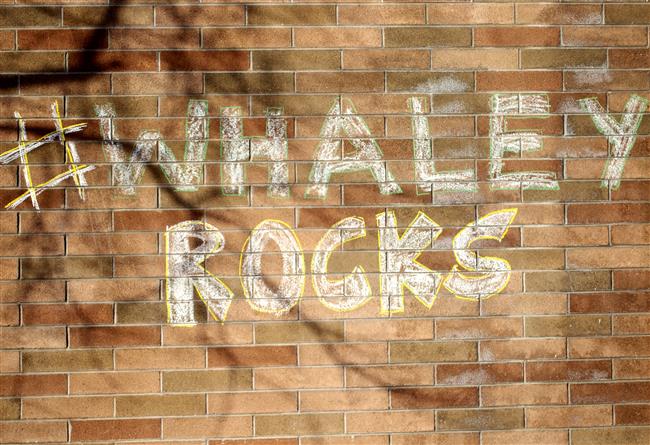 #Whaley Rocks is written in chalk on the side of the school to welcome students back after a break. (Robert DeBerry/ASD)
Perception
The Anchorage School District's Whaley School is perceived as the last stop for problem students, the throw away kids, criminals. That perception has been years in the making.
According to Principal Robyn Harris, Whaley Center was brought together when a lot of different programs combined. Those programs/schools were Whaley School, the eight hospital programs, the Adult Community Transition Program and Outreach programs, therefore, Whaley Center became the umbrella for all these different programs.
Harris said that due to the nature of Whaley school, a school for students exhibiting profound behaviors, a negative stigma was put upon students at Whaley School. "They started being seen as those kids, those bad kids and the perception is that those kids are criminals, and they're not."
Harris jokes that a change of name could help but won't fully change the perception. "A name change is not the cure all for everything. But I think that it would help. If we had a different, more welcoming name, it would be amazing."
Harris came on as principal in 2012 and she knew in order to change the way students behave and the public's perception of Whaley School she was going to have to create a better environment.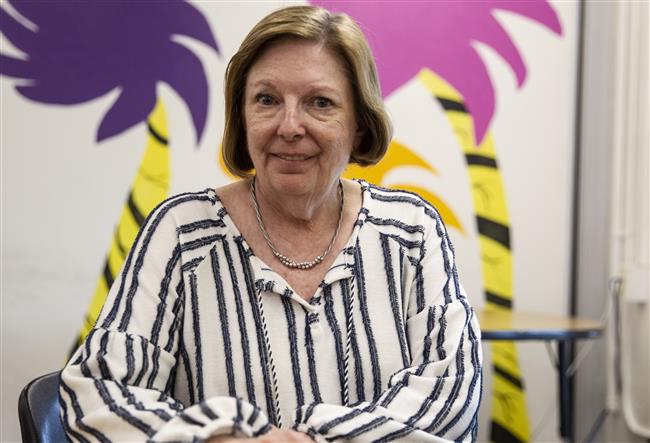 K-6 special education teacher Karen Orfitelli has been at Whaley School 23 years. She has seen a lot of changes. (Robert DeBerry/ASD)
Karen Orfitelli teaches K-6 special education. She teaches in the level one self-contained classroom. She has been at Whaley School for 23 years and has seen the changes.
"Every principal has brought something new," said Orfitelli. "Ed Shear, the principal beforehand brought us a long way and now Robyn has taken us leap and bounds to where we are now."
Orfitelli said a big change was not restraining children. "We're not using these lockdown rooms. Unless it is just the absolute last resort," she said. "We always ask ourselves; do I need to do this? Or can I clear the room? Or can I just let the student deescalate on the floor? And, you know, kind of surround him? That's okay. It works, and students learn that we're not going to be reactive."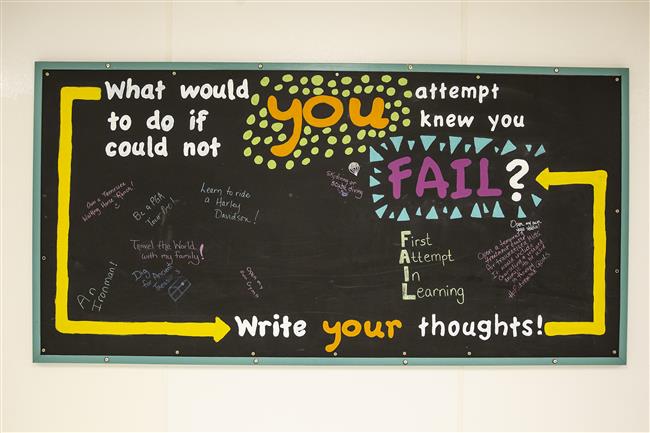 One of the many bulletin boards throughout Whaley School. (Robert DeBerry/ASD)
Harris' philosophical difference and open dialogue brought about change, but still more is needed to be done. The hallways and classrooms had a medical feel in the early days of her tenure at Whaley School. There was no warmth or sense of community and family within the walls.
Harris says the transformation that has been made from white stark walls that looked institutional to now looking like a school with pictures done by students, positive sayings all over the walls, social contracts in every classroom and artwork inside and out of the classrooms has really helped.
"At the beginning of my tenure, we went to painting our bulletin boards because students used to rip everything off the walls," said Harris. "That was the biggest thing they could do."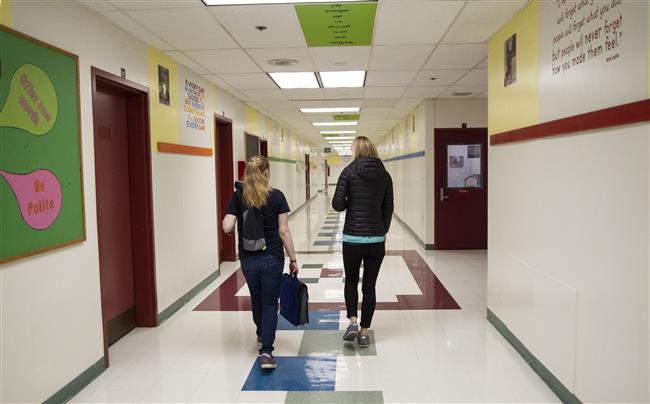 The hallways at Whaley School are bright and colorful and the school now looks like a school not a medical facility. (Robert DeBerry/ASD)
Now the students really take pride in our school she said. They won't rip things off the walls, they have other skills they've learned to help regulate themselves.
She has also started inviting the community in by having a Gala and Silent Auction over the last three years. She knows if the community can come into the school and see they are not the same school they were five years ago maybe the public perception can change.
Harris and the Whaley School staff know that change starts within. Within the walls of the school and within oneself.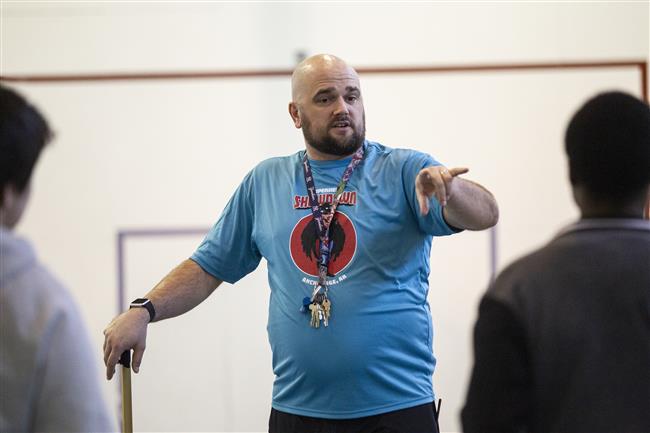 Whaley School P.E. teacher Dustin Rowland explains the rules of floor hockey to students.The adition of P.E. to Whaley School has been a great outlet for the students. (Robert DeBerry/ASD)
Student Behavior
Harris doesn't hide the fact that students at Whaley School have disabilities and behavior issues. She is the first to admit that they can and do get into trouble, but she also points out it is because they are not thinking reasonably or logically during those times; there are tools and strategies they need to learn.
She will tell you they are not bad kids they just have severe behaviors that are unable to be managed at their neighborhood school and Whaley School is a place to give students the support and strategies they need.
"Students that have profound behaviors are unable to successfully make it in the neighborhood school; their behaviors are so outstanding and need to be managed in such a way that they need to be supported more, once they've learned appropriate strategies and tools, they go back to their neighborhood school," said Harris.
Harris said Whaley School is considered a separate day school for a reason. "It's a school for students that exhibit such severe behaviors that it affects their performance and academic success within the neighborhood school. At Whaley School, students come here, learn how to regulate their behavior, and hopefully, go back into their neighborhood school successfully."
She says she does not want to see them graduate from Whaley School; she wants to see them walk down the aisle with their classmates at their neighborhood school. "I will happily give them a diploma," said Harris, "but I would prefer to go to their graduation and watch them walk the stage at their neighborhood schools."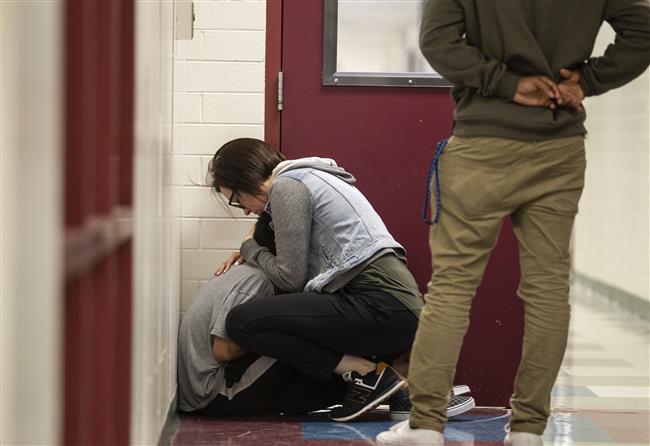 K-6 special education teacher Katherine Fox comforts a student in the hallway at Whaley School. (Robert DeBerry/ASD)
K-6 Special Education Teacher Katherine Fox works with a class size anywhere between eight and 12 students and the behavioral issues she sees daily can range from mild to severe.
"The students are typically students who have gone through a lot in their life more than I could ever imagine going through in my 28 years of life," said Fox. "Honestly, I don't know how they're still with us with all the stuff that they've gone through in their life and the stress that it does to them. These kids have gone through some unspeakable stresses in their life."
The district has a wide continuum of behavior supports said Fox. "We have some school-based behavior support classrooms, and at Whaley School the classrooms here are designed for those kids who just need a little bit more support."
Keeping class sizes small and an amazing staff really helps prevent behaviors said Fox. "But as we know, behaviors do happen, and then the staff and I are there to help work through that."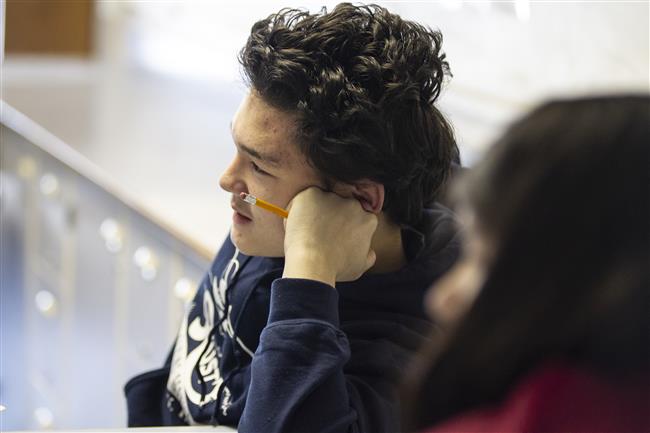 Whaley School students listen during science class. (Robert DeBerry/ASD)
Fox believes creating a calm environment is key to success.
"I try to just share that peace, that calmness in me, when the student is going through these huge emotional outbursts. Sometimes we know exactly where it stems from, other times, we have no idea what happened and all of a sudden, they are upset."
You have to be sensitive said Fox. "We have to do a lot of modifying and adjusting. They're learning how to do the difficult things in life.
"There's a stress hierarchy," said Fox. "We first work through the less stressor and then work our way up to the high stressor. I'm able to, for the most part, work one on one with them."
The advantage Whaley School has over neighborhood schools is that the classrooms are supported with a teacher assistant in every class and intervention coaches, which are both huge advocates for helping to de-escalate students verbally and physically, if necessary. That's our last resort, says Harris, but there are times when a behavioral problem escalates beyond a verbal level. When that happens the safety of the students and staff becomes paramount.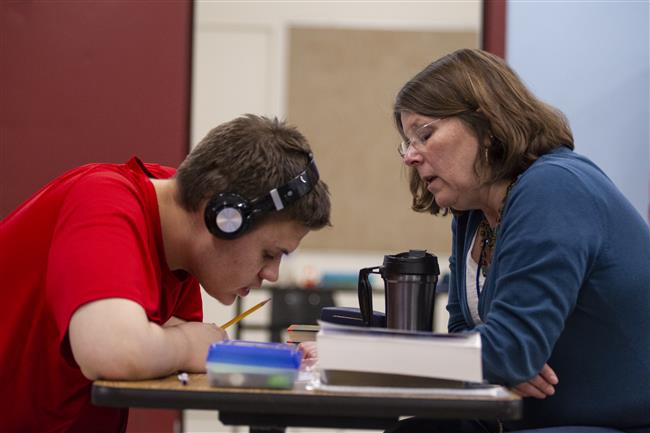 Special education teacher Vicki Price works with a student in her classroom at Whaley School. (Robert DeBerry/ASD)
Academics
Behavior problems and academics is a balancing act but something Harris and the staff really focus on.
"A focus area for us is that academic piece because we don't want our students feeling like they are behind when they go back to their neighborhood schools," said Harris. "We want to make sure that they know they need to be working and learning instead of walking out of class."
Harris knows the hardest thing is when the students have frustration with learning, especially in subjects like math or reading. She says some high school kids have a difficult time reading which makes it hard to move forward with the lesson. That frustration can quickly turn to behavior.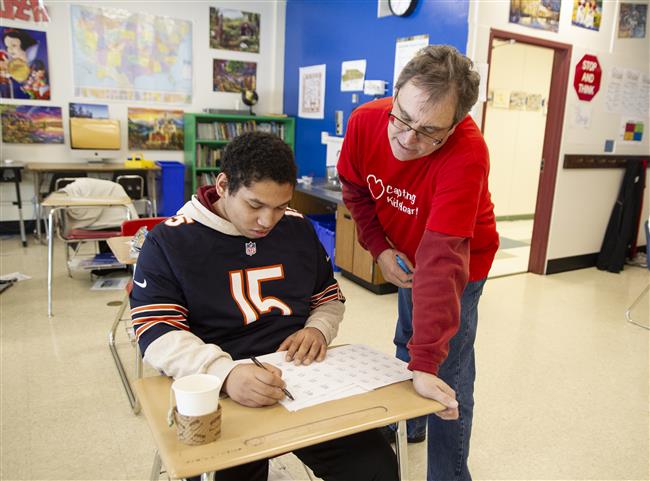 Special education teacher Tony Bickert helps a student with math at Whaley School. (Robert DeBerry/ASD)
But luckily, says Harris, Whaley School has phenomenal high school teachers and middle school teachers that are really starting to raise the bar for students and get them interested and engaged.
Harris says engagement between the teachers and the students is paramount to the academic success at Whaley School. She said in order to ensure that students are progressing, "we have to figure out where they are in the learning process and how they are learning so that we can engage them in a way that they understand and accept."
"Those are the most important pieces, because they all learn so differently," said Harris.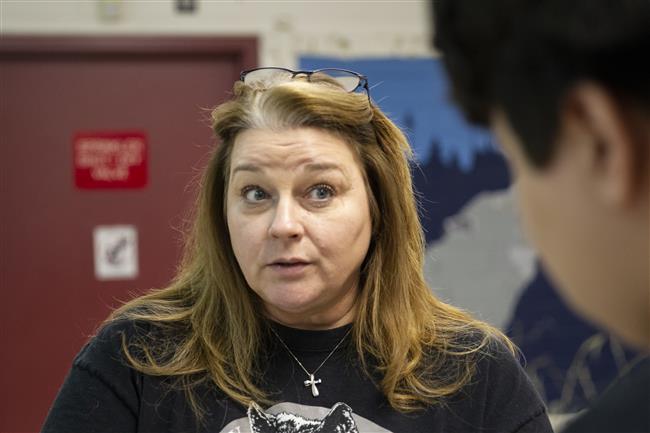 Whaley School Principal Robyn Harris talks with a student in the hallway. (Robert DeBerry/ASD)
Harris said that the staff is always looking at what they are doing and ask, "Are we moving forward"? "We're always looking for something that works, and if it's not working, let's figure out what we need to do and try something different," she said. "If it is working, let's continue it and expand on whatever we're doing so that we can continue the positive movement forward."
Harris' favorite quote that hangs in her office above her door as a constant reminder, "The kids who need the most love will show it in the most unloving ways."