Anchorage School District Homepage
Return to Headlines
Alaska Association for Career & Technical Education Winners
East High Teacher and ASD Community Partner are Awarded at Alaska Association for Career & Technical Education (AK ACTE) Conference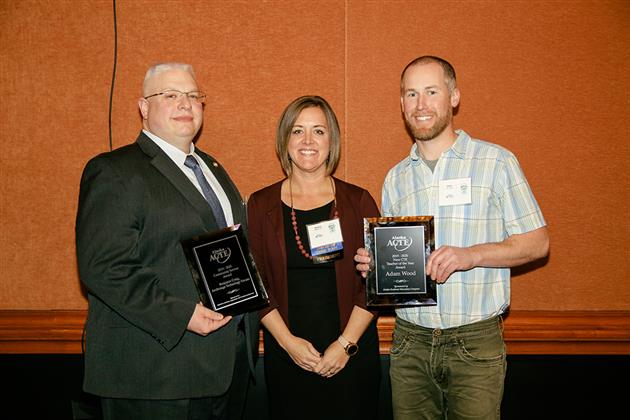 Community Partner Ben Craig, ASD's Career Technical Education Director Missy Fraze, and East High School teacher Adam Wood at the Alaska Association for Career & Technical Education (AK ACTE) Conference.
The Anchorage School District (ASD) Career Technical Education (CTE) Department is pleased to announce that two of their nominees for Alaska Association for Career & Technical Education (AK ACTE) were selected as winners. One teacher, Adam Wood, and one of ASD's community partners, Ben Craig (VP CIO at Northrim Bank), and the Anchorage Technology Forum.
Alaska New CTE Teacher of the Year: Adam Wood
Adam Wood, East High School, Anchorage SD
First hired as a teacher for the newly developed metal fabrication program at East High School, Adam Wood has since enriched the program with technology including 3D printing, CNC milling, and plasma cutting. His passion for sharing his craft with students comes through in the meticulous details of his program organization and production. With his conscientious efforts in curriculum development and ability to relate well with his students, he has established a very viable program for students to find success. Each year, he has seen increased enrollment and matriculation. In addition, 65 percent of his advanced students are from special populations. He works alongside the curriculum team to refine and expand metal fabrication to include welding, sheet metal, mechanical systems, and computer aided design (CAD). He seeks out and stays current with professional development, is passionate about what he teaches, and in a short period of time has grown the sheet metal lab at East High School into a fully functioning metal shop. His commitment to a high-quality program and rigorous, engaging instruction is opening opportunities for students to learn valuable in demand skills and careers in Alaska. Congratulations to the New CTE Teacher of the Year, Adam Wood!
Alaska Community Service Award
Benjamin Craig, Anchorage Technology Forum
This community service award is going to an organization with strong leadership that has done so much for the Information Technology program and students at King Tech High School. In addition to nurturing their own community of technology professionals, the Anchorage Technology Forum has gone above and beyond the usual scope of their network to emphasize the value of developing stronger educational programs and opportunities within the community. Members have collaborated with educators to develop and revise courses in IT, Telecommunications, and Electronics at King Tech, participated in roundtable discussions, provided guest speakers, teacher training, field trips, job opportunities, and mentorships for students forging stronger connections between industry professionals and educators. The organization experiences even greater success due to a leader who is passionate about improving educational opportunities for Anchorage area students. Congratulations Benjamin Craig and the Anchorage Technology Forum!
AK ACTE is dedicated to providing leadership to ensure all students have access to quality Career & Technical Education. The organization provides leadership and professional development across the state. Each year at the annual Professional Development Conference, AK CTE holds an Awards Luncheon to recognize outstanding leaders in CTE. More information on the association can be found: https://www.acteonline.org/alaska/.