Anchorage School District Homepage
Return to Headlines
Gifted Mentorship at the Newborn Intensive Care Unit (NICU)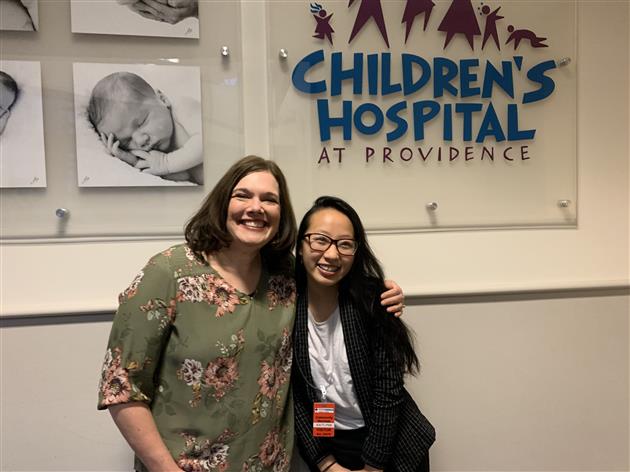 Kaitlynn Yang at the Newborn Intensive Care Unit (NICU) with registered nurse Stefani Teeples.
Kaitlynn Yang uses her compassion and dedication, with the help of a great program within ASD, to guide her through the possibilities of her future to focus on what she believes matters most—helping others.
Yang, a senior at Bartlett High School, is completing a nursing mentorship at Providence Hospital in the Newborn Intensive Care Unit (NICU) with registered nurse Stefani Teeples.
"I heard about the Gifted Mentorship program through my teachers in my sophomore year," Yang explains, "The teachers at Bartlett High School have always promoted higher success and have encouraged students to join the program."
Yang expanded to say that taking anatomy and physiology in her junior year helped her to find more of an interest in the medical field. This year, she says, she is expanding her knowledge of the human body by taking Advanced Placement Biology. "I love the class," she says, "I feel this liking towards the class because biology relates with all things medical, tying in with anatomy because it is the study of living organisms divided into specialized fields covering origin, behavior, anatomy, physiology, and distribution."
Even as a child, Yang was interested in a future in the medical field. "I've always been told that I had a bright soul and a kind heart which had me thinking, nurses are the most loving, kind and helpful people," she says, "Helping people and giving has become a part of who I am. It is one of my greatest quality gifts to the world; the generosity in sharing kindness and love."
Yang's passion stems from a great support system. She explains that neither of her parents were afforded the opportunity to continue their education and pursue their dreams, something she is grateful to be able to do with their encouragement. Yang says, "Education is very important to me because it will take me somewhere, providing me the opportunity to educate others. Nurses are always learning and becoming a nurse will make my parents proud. I won't only be filling the dreams they could never achieve but do the things I do every day: give and love. I will use my qualities to help make our world a better place, just as all nurses do."
After graduating from high school, Yang plans on going to college in North Carolina. "I'm going to go to school for nursing and may possible follow through with a master's degree program in the becoming of a Nurse Practitioner or Nurse Anesthetist," she explains. "My mentorship will help me because again, I will be introduced to the setting nurses are surrounded by and get a real feel of working as a nurse."
"I am excited to explore different specialties in nursing and very grateful for all the people who have helped me get here," Yang says, "My mentorship is a stepping stool to my career and a peek into a possible life-long specialty."
The application window is currently open and the deadline to apply is Friday, April 24. For more information, visit the Gifted Mentorship page.