Anchorage School District Homepage
Return to Headlines
Romig Middle School and Office Max Team Up for Attendance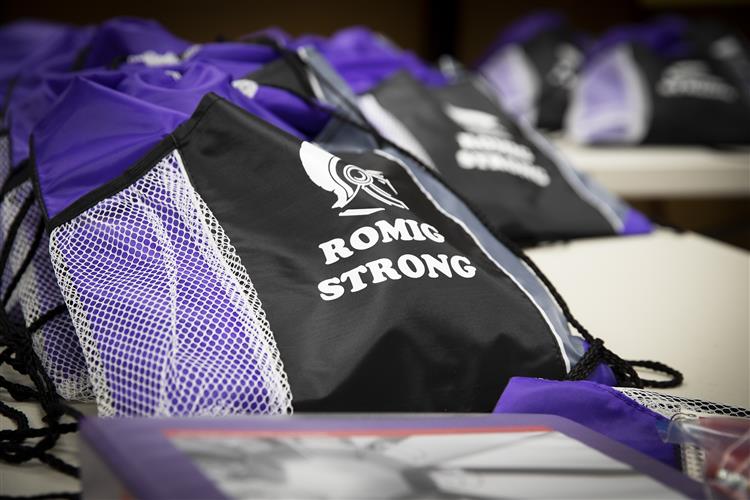 Romig Strong backpacks filled with school supplies sit ready for distribution to students that show perfect attendance in grades 7-8 at Romig Middle School. (Robert DeBerry/ASD)
The Romig Middle School counseling, teaching, and administration staff have adopted the mantra of an attitude of gratitude and appreciation as a way to increase attendance, student engagement, focus and acknowledge the positives they are seeing in school.
It is really two-fold, said Romig Middle School Principal Carrie Sumner. "Yes, we want to incentivize our students to attend their class, show up on time, stay engaged and focused, but we also want to acknowledge the students that are already doing that to keep them motivated."
Sumner said each teacher does a "student of the month" recognition, but they wanted to add to that momentum of recognizing student perseverance. She said because the school received a very generous donation from Office Max on Tudor Road this year, they were able to launch the new program.
When you make a purchase at Office Max you can choose to make a donation to a particular school, and they have always been amazing at helping out when asked she said.
"We often get supplies to help our students, but this year the store manager went above and beyond," said Sumner. "We got so much great stuff."
Because of the Office Max donation, Romig will be able to give out school supplies to students that are in need, and have some leftover for the new incentive/acknowledgment program, said Sumner. "It really is amazing. We got enough three-ring binders for any student that wants one."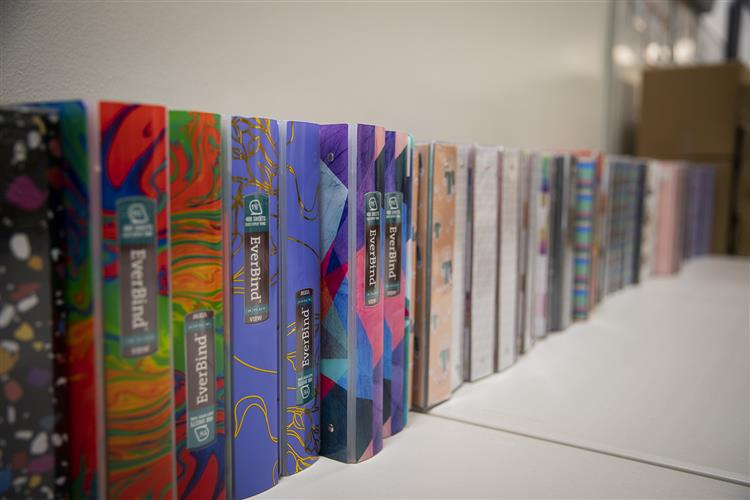 A row of three-ring binders sit ready for distribution. Office Max on Tudor Road donated enough binders for any student at Romig Middle School that would want one. (Robert DeBerry/ASD)
She said about 90 percent of the supplies will go out directly to students. Some of the supplies, like dry erase markers, will be used in classrooms. The rest, she said, will be used for goody backpacks.
The way the program works is each week a student's name will be drawn from each grade, 7th and 8th, that have demonstrated perfect attendance in the week prior. That perfect attendance consists of logging in and showing up on time, staying for the whole class period, and staying engaged and focused.
The students that have their names drawn will receive a Romig Middle School backpack filled with school supplies.
"The backpacks have 'Romig Strong' printed on them because perseverance is our focus right now," said Sumner. "We fill the bags with the fun interesting goodies that Office Max donated, swag, and some treats."
The goal is to increase not only attendance but active engagement and participation by rewarding those who are setting a good example she said.
Sumner said one of Romig's big focus is ways to keep kids engaged. It is something they have been addressing since moving to online learning and the staff is focused on continuing to add more strategies to their delivery. "Our teachers are very innovative and dedicated."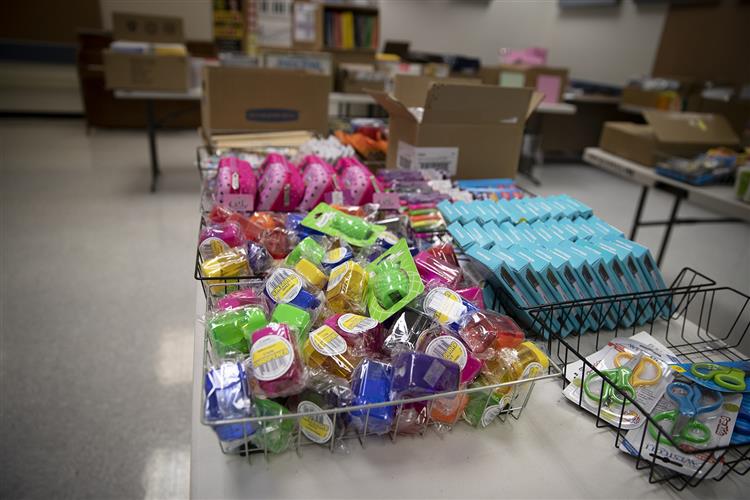 Office Max on Tudor donated school supplies to Romig Middle School which helped the school start a new program geared toward increasing attendance and student engagement. (Robert DeBerry/ASD)
"It's hard to keep kids engaged in an online platform. There are a lot of distractions at home," said Sumner. "We want to give them a goal, something to work towards, but we also want to make sure we are acknowledging the students that are already working hard and achieving that attendance marker."
She said it is not just enough for a student to show up and log in. "They are successful when they are engaged, focused and stay for the whole class."
Sumner added that it is natural to concentrate on what needs to be "fixed" but we have to balance our energy and resources not only on problem-solving but also on celebrating what is going well. "Success breeds success," she said.
She said that Romig always is focused on supporting students who are struggling, but there should also be "reward and recognition" for the ones that are doing things right.
We know attendance is important she said. "It's very difficult to succeed if you are not showing up. So, we want to make sure that we acknowledge attendance by rewarding the student that are setting a great example."
She said it is just another piece of the puzzle to educating our students and helping them succeed in life.