Anchorage School District Homepage
Return to Headlines
ASD Superintendent Dr. Deena Bishop to Retire June 30, 2022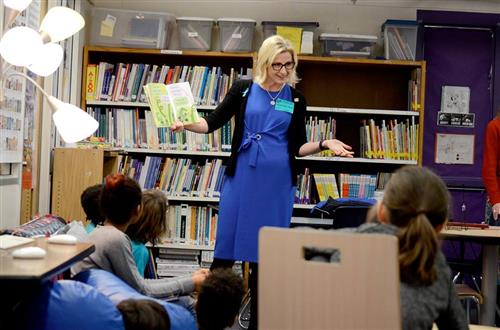 ASD Superintendent Dr. Deena Bishop reads a book to elementary students during a visit to a neighborhood school for the 2017-18 school year. Bishop will continue working to increase reading outcomes in Alaska after leaving ASD.


The Anchorage School Board announced today that the Anchorage School District superintendent, Dr. Deena Bishop, will officially retire as superintendent, effective June 30, 2022.
In her letter to the School Board, Dr. Bishop said it has been an honor to serve the Anchorage School District (ASD) and wants to thank the community for being present and sharing priorities for its school district in the creation of the Board's new goals and guardrails.
"After much reflection, I've made the decision to complete my term as the Anchorage School District superintendent. From the most tragic times as evidenced by the 7.1 earthquake in 2018 to the continuing global pandemic, our community has overcome obstacles, learned, and grown," Bishop said.
"The spotlight I would like to shine is the heightened conversations on ASD's strong focus on students' academic achievement in literacy. I am grateful for the opportunity to serve our community in the capacity of superintendent and look to work with the Anchorage School Board in transitioning to new leadership. The Anchorage School District has many talented and committed employees with whom I enjoy serving."
During her six years as ASD superintendent, Dr. Bishop has invested in new and innovative programs such as the Alaska Middle College School, the redesign of King Tech High School, and the ASD Virtual Program, to name a few. She has overseen the closure of two schools and the convergence of three programs. Each of these transitions have resulted in greater opportunities for students for generations to come. Her support of students and staff, while maximizing use of funding, is a win/win for the community during a time of scarce educational resources.
"Superintendent Bishop's priority has always been student-focused. Her leadership of ASD's journey to improve student learning and outcomes are her legacy. She is a gifted and passionate educator and she holds my highest respect. I thank Dr. Bishop for her time committed to the District and its families. We are grateful for her leadership and celebrate what the future holds for her. As a board, we will work with the Superintendent as we plan for what is next," said Anchorage School Board President, Margo Bellamy.
Dr. Bishop began her Alaska educational career in 1991. She served as superintendent of a neighboring district before being named ASD superintendent in 2016.
She holds a bachelor's degree in education, a master's degree in educational administration, and a doctorate in learning assessment and system performance. She also holds an AASA National Superintendent's certificate and is a 2021-2022 cohort of The Broad Academy Yale School of Management Fellowship for Public Education Leadership.
Dr. Bishop is active in local and civic organizations and serves on several non-profit boards in Alaska. She was a member of the University of Alaska Board of Regents and presently serves as a Commissioner on the Education Commission of the States. She was also recently appointed to the State Council on Educational Opportunity for Military Children.
Dr. Bishop enjoys many ties to the community and is the recipient of the YWCA 2016 Woman of Achievement award, the Covenant House Alaska 2019 Women Helping Women Award, the Junior Achievement of Alaska 2020 Educator of the Year Award, and is a 2020 Anchorage Athena Society inductee.
The Anchorage School Board will work with the superintendent during the time of transition.