Anchorage School District Homepage
Return to Headlines
Third Grade O'Malley Elementary School Teacher Leads Class In Outdoor Learning Space Project

Hillside Community Council members, O'Malley Elementary School Principal Cherry Galloway, O'Malley Elementary School Teacher Amanda Andersen, and Youth Employment in Parks (YEP) Trail Boss Ben Erwin, pose for a photo at O'Malley Elementary School during the bridge project on June 2, 2022.
O'Malley Elementary School Teacher Amanda Andersen and her third-grade class are building an outdoor learning space within Forsythe Park, a park in Anchorage located just southwest of the school.
Andersen applied for and received a Rasmuson Matching Funds Grant this spring. The first step of the three-part grant focuses on making the park's bridge accessible.
The third-grade class noticed the gate was not fully accessible when they were working on a project in the spring through the Anchorage Park Foundation to design a map to access the trails in the park.
"This is play space service learning at its finest," said Andersen. "My class was so motivated to work outside as a service project and not just to play. They didn't come out and mess around."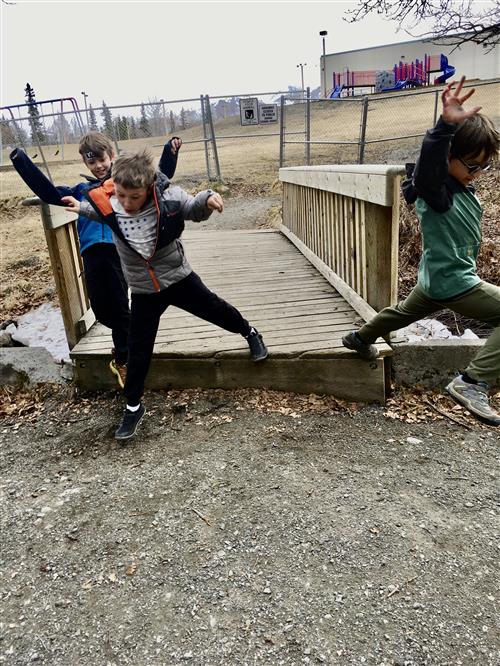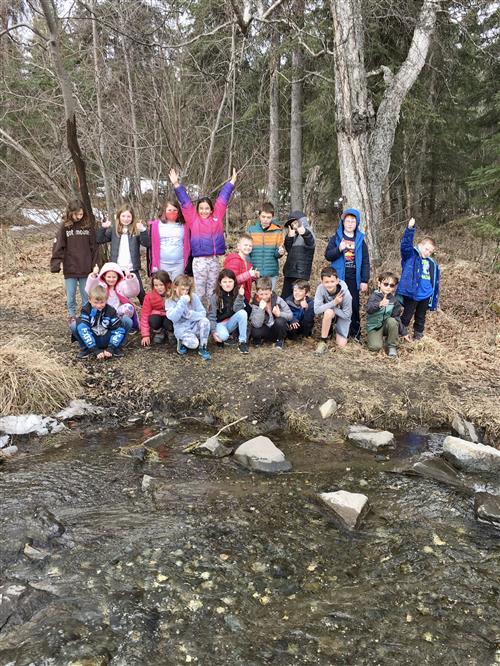 O'Malley students submitted "spoof photos" to support the grant acceptance. Photos above, titled "we need a ramp" and "perfect spot for learning", supported the request for an accessible bridge and the building of an observation platform.
Anchorage Parks Foundation, the grant administrator, sent a crew of approximately 25 Youth Employment in Parks (YEP) workers to O'Malley Elementary School on June 2, for the two-day bridge project. All YEP workers are current or prior Anchorage School District students.
O'Malley Elementary School Principal Cherry Galloway said she supports Andersen's efforts because it will help so many people in the community.
"This project is important because it creates accessibility for all," said Galloway. "It's important that everyone can access the trail and the school safely."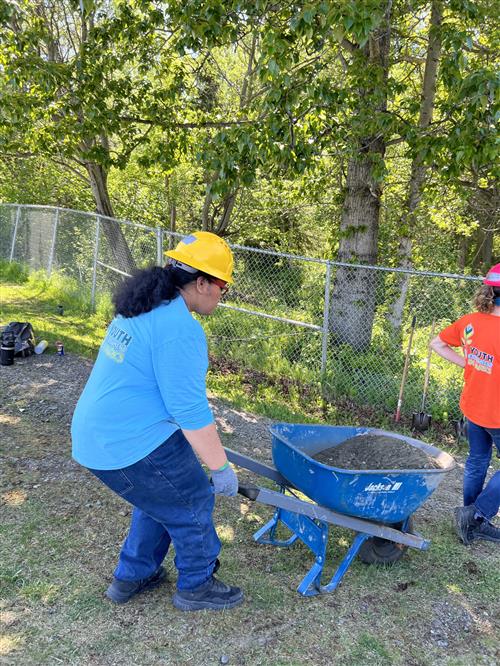 Tausaafia "Gloria" Peni, Youth Employment in Parks (YEP) worker, hauls gravel with a wheelbarrow through the gate at O'Malley Elementary School to Forsythe Park June 12, 2022

Andersen said aside from wanting the trail to be accessible, the students were motivated to find a way to get more people to the park to enjoy nature in the outdoor learning space. During a study of trees and Alaska indigenous cultures, the class created six tree identification guides that identify how the Dena'ina people use those trees as a resource. The signs will be printed in English and French and mounted within the park.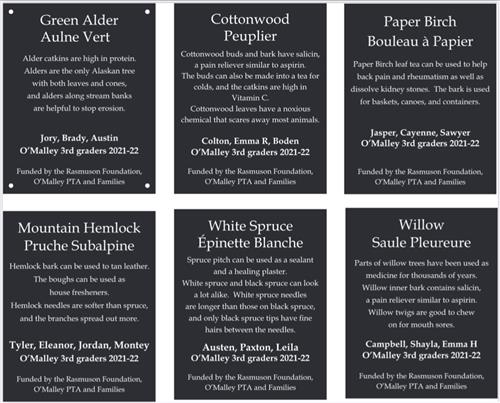 Tree identification signs created by O'Malley students will be mounted on six trees in Forsythe Park.
The last and biggest part of the grant is adding an outdoor observation platform that will be installed on the west side of South Fork Little Campbell Creek. The observation platform will be built by Treeline Construction and is expected to be completed before fall.
"The entire project is a community effort," said Andersen. "This outdoor learning space would not have been possible without donations of resources and labor."
O'Malley Elementary School thanks the following people and organizations for making the project possible:

Youth Employment in Parks

Meredith Gutierrez, Youth Engagement Manager with Anchorage Parks Foundation

Brad Muir, Anchorage Parks and Recreation

Annie DuBois, Anchorage Parks and Recreation Natural Resource Specialist

Ben Ervin, Trail Boss

Seeman Family, O'Malley second grade teacher

Galloway Family, O'Malley principal and son

Hillside Community Council Members

Jeanne Osnas, Tree identification specialist

Mike Monterusso, Alaska Botanical Gardens Executive Director
Donations:
Shippen Family- Rock and gravel transportation and delivery

Anchorage Sand and Gravel (AS&G)- Rocks and gravel material