Dimond High School Homepage
Return to Headlines
Dennis Shell celebrates 50 Years with ASD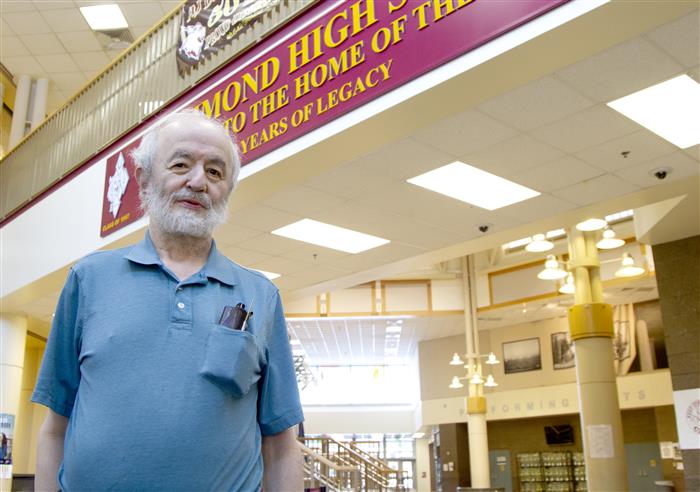 Dennis Shell has been working with the Anchorage School District for 50 years. (Robert DeBerry/ASD)
For Anchorage School District employee Dennis Shell getting a job in 1968 as a temporary custodian with the district meant he would have money in his pocket. As a senior in high school, getting $2.76 per hour was a big deal. What Shell did not realize at the time is that he would eventually be the longest continuous employee with ASD. Shell hit the 50-year mark in 2018 and he shows no signs of quitting.
Shell started with the school district as a Temporary Custodian on October 21, 1968. He was promoted to Probationary Custodian I on March 5, 1969.
Shell could have retired 20 years ago and collected his full salary said Rob Holland operations director for ASD. "He's still coming here. He reached retirement and decided he wasn't going to quit."
Holland said hitting that 50-year point is quite a feat. "It's never been done before, and none of us will ever see this again," he said.
Holland said that the work ethic and dedication Shell has is remarkable. He said because he could have retired with full salary but continued to work, he essentially is donating every hour of his work time.
"That is Dennis right there, dedication. He is a shining example." Holland said.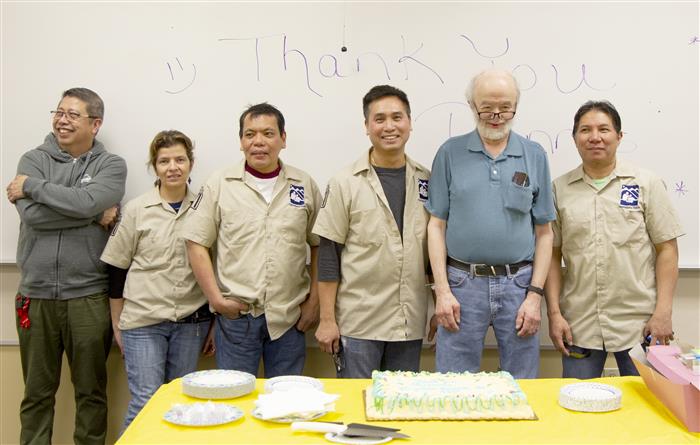 Dennis Shell, second from right, stands with his colleagues during his 50 year recognition party at Dimond High School. (Robert DeBerry/ASD)
Shell said in the beginning it was the money that kept him coming to work.
"The money at first when I was a young kid. I was making good money, so I figured I'd come in every day until they don't want me anymore," he said. "Then pretty soon it was 10 years."
Shell said he looked at other jobs but could not find one that paid as well. Minimum wage was $1.60 per hour. Shell made roughly 40% more than minimum wage.
"I couldn't find another job that made the money I was making," Shell said. "After a while we got the union and we started making better money, so I just kept coming in."
Shell has worked most of his career at Dimond High. He said over the last 50 years he has seen a lot change. Everything from the kids to the school. "A lot has changed," he said. "They have completely redone the school from when I was a student here."
Holland said another remarkable thing about Shell is that not only has he been working with the district for 50 years he has been in the district even longer.
"He has never left Anchorage schools. He has been in the district since kindergarten, Holland said. "He 68-years-old and he's never left our schools. So that's really the narrative. It's kind of amazing."
Shell said he has not really thought about retirement and plans to continue coming to work every day. When asked what the secret is to making it to the 50-year mark he smiles and says, "Just come in, get paid and enjoy yourself. Take it day by day."