Eagle River Elementary School Homepage
Return to Headlines
Eagle River Elementary wears blue to raise awareness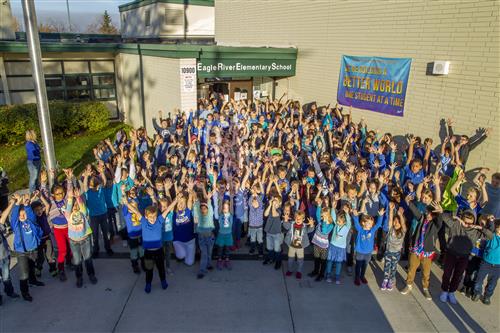 Anchorage School District Counselor, Diana Carter, leads students to Stomp Out Bullying for World Day of Bullying Prevention. For more than eight years, Carter has championed the effort to change the culture with inclusion, equality, civility and unity, and this year was no different.
Carter, who is a counselor at both Eagle River and Muldoon Elementary, said a lot of students participated in the day of awareness by wearing blue shirts. "We send out messages to students and teachers, we have the teachers talk to the students during class, I go into classes and do lessons and talk to kids about bullying. Through that we encourage teacher, staff and students to wear blue."
Carter said it is a great way to raise awareness and talk to the kids about a tough subject. One that they work on throughout the year.
Carter said bullying does happen and teaching children at the elementary level is a good way to keep in from becoming a middle and high school problem. She said although you hear that bullying happens a lot sometimes it is just one student being mean to another. She has noticed an increase in the term bullying as a catch-all for unkindness. "That is why we are doing a push, so parents understand what true bullying is."
Carter said true bullying, although present at the elementary level, is not as commonplace as unkind and the mean behavior she sees. Carter said to really address all of the issues from unkind behavior and meanness to bullying we need to make sure we are using the correct terminology. By doing so we can give students and parents skills to identify bullying and ways to cope with the issue properly.
Carter said once they identify the problem, whether it is bullying or mean behavior, they move forward to ensure the student involved feels safe and the issue gets resolved. "We get the parents involved, we get the staff involved, we do whatever we can to ensure the kids feel safe and are safe."
Carter said regardless of what type of behavior they see the students need to feel safe and know there are adults they can turn to if they need. She also said teaching students now in elementary can prevent bigger problems in the upper grades.
"I think it is a bigger push at middle and high schools just because they do see it way more than we do here," she said. "What we want to do is address it at this level and make sure kids understand the definition and understand what they can do to protect themselves and that they speak out and tell an adult."
This year's World Bullying Prevention Day was October 1st. About a third of the students at Eagle River Elementary wore blue to help raise awareness.