North Star Elementary School Homepage
Return to Headlines
North Star Elementary Teacher Captures Miss Alaska USA Title
JoEllen Walters uses her experiences to teach her students that you should never give up
What does North Star Elementary and Miss Alaska USA have in common? First-grade teacher JoEllen Walters.
Walters, who is in her second year of teaching at North Star Elementary, was named Miss Alaska USA for 2019. It is a goal she has worked toward for several years.
Walters said this win meant a lot, especially since she was returning to pageantry after leaving competition over a year ago. "I competed for the title of Miss Alaska USA four other times. I have placed second runner up, first runner up, fourth runner up and last year I did not place. This was the fifth time. It was something I wasn't sure was ever going to happen."
Walters said that after not placing on her fourth Miss Alaska Pageant she felt like maybe the universe was telling her to save a little bit of money and heartbreak and call it a day.
"Actually, I walked away from pageantry. I was getting ready to graduate from college, I knew I wanted to teach, and I knew I wanted to put everything into my students."
Walters said she was glad she had walked away from competition because her first year of teaching was hard. Not only was she a new teacher, but she also took on some responsibilities of a second classroom for part of the year.
"There were two first-grade classrooms and unfortunately the other teacher had to take a leave in Novemberand we had subs the rest of the year," said Walters. "So as the first-grade teacher I adopted the other classroom and was making lesson plans and ended up with 53 kids as a first-year teacher."
Walters said it was that hard first year that helped her realize she could give Miss Alaska another shot. "I realized they were pretty well prepared for second grade and that I could do anything as long as I worked hard. I felt I could probably handle this title of Miss Alaska and my own classroom."
But Walters is very quick to point out that her ability to juggle pageantry, hold the title of Miss Alaska and teach full time does not rest on her shoulders alone. She said if it were not for the amazing and supportive colleagues at North Star Elementary it would have been practically impossible.
She said that support comes in so many forms. From helping in the classroom and checking in when there is a substitute to encouragement and emotional support.
"I am so incredibly lucky to have a supportive staff. My teaching partners are wonderful. They are very supportive," said Walters.
Pageantry has both its advocates and detractors. Walters said she can see both sides of the argument, but for her the experience has been beneficial in a lot of ways.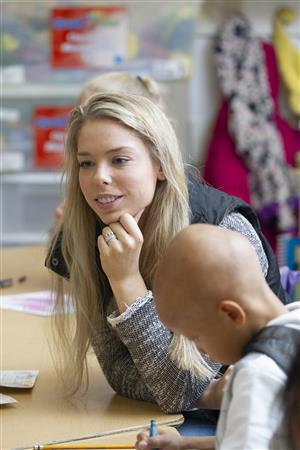 "Both my parents said they would not be paying for college for me and I would have to figure that out on my own," said Walters. "So, I started in high school. I competed in a couple of different systems. I competed in Miss America Organization, The Miss Collegiate America System, and then the Miss USA System. And between all three of those I paid for all five of my years at UAA."
Walters said paying for school and graduating without student loans is a big thing, but more important is what she has learned along the way. She said being able to take what she has learned and use that in her teaching is what matters.
"I have run into people who do or do not like pageants," said Walters. "But I will say it is hard to argue when I got all of my school paid for."
She also points to her personal platform, the proper disposal of prescription medication, which she has been involved with for the last eight years. She said through her platform she has been able to talk to people about properly disposing of medication and educate them on the dangers of prescription medication left in the bathroom cabinets or thrown in the trash. "We have come a long way with that and it has evolved with the opioid crises."
Walters said that as a teacher you see the effects of that in the classroom and these kids have no control over what is going on. A big part of her platform consists of trying to be on the defense helping to prevent prescription drug abuse before it starts. "Just having those conversations of you don't take medication unless a doctor gives it to you can go toward prevention."
Walters is excited about her platform and wanting to share her message with people, but she is passionate when it comes to her students and school. She said winning the title of Miss Alaska USA gives her the opportunity to talk about her school and kids.
"North Star is one of the most diverse schools in the nation. So, I want to talk about our kids. I want to talk about our school being a trauma-informed school and what that looks like in the classroom," she said. "These kids, while they might have different upbringing than some other kids they still have as much drive and purpose in our community as other kids."
"The competition," said Walters, "has also taught me a lot about not giving up, and that I am always growing and learning."
That message is one she takes to the classroom and shares with her students every day.
"It does not matter what environment what circumstances you grown up in. You can grow, you can overcome whatever obstacle you have been given," she said. "Whether it's not winning Miss Alaska four times or growing up in a low-income community and then being our next president. It is possible, you just have to put in that hard work and persevere and just not accept no."