Ptarmigan Elementary School Homepage
Return to Headlines
Ptarmigan Elementary kicks off IditaRead with Iditarod mushers Anna and Kristy Berington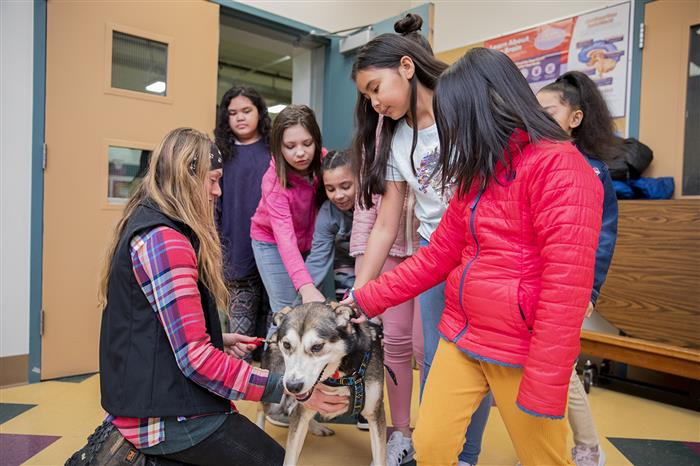 Ptarmigan Elementary School students pet one of Kristy Berington's dogs at the IditaRead™ assembly Monday morning. (Robert DeBerry/ASD)
Reading is going to the dogs for Anchorage School District students as schools across Anchorage kick off the annual IditaRead™ program Monday, February 24.
Ptarmigan Elementary School joined the program this year and to celebrate, Iditarod mushers Anna and Kristy Berington along with two of their dogs, Beatrice and Beaker, stopped by the school to help kick things off.
The IditaRead™ program is a reading project that challenges students to read and coincides with the Iditarod Trail Sled Dog Race. According to Iditarod Edu, an important aspect of an IditaRead™ is that each participating school decides upon guidelines according to the reading level and abilities of the students.
The number of pages, number of books, numbers of minutes read, or even number of books or pages read to a child are recorded during the reading race. Some IditaRead™ projects are individual challenges while others are classroom or group challenges. No matter the specific rules or guidelines set up, the purpose of an IditaRead™ is to encourage students to read. Educators involved in reading challenges such as this project have discovered that students 'racing to Nome' embrace the reading challenge and read, read, read along the Iditarod Trail.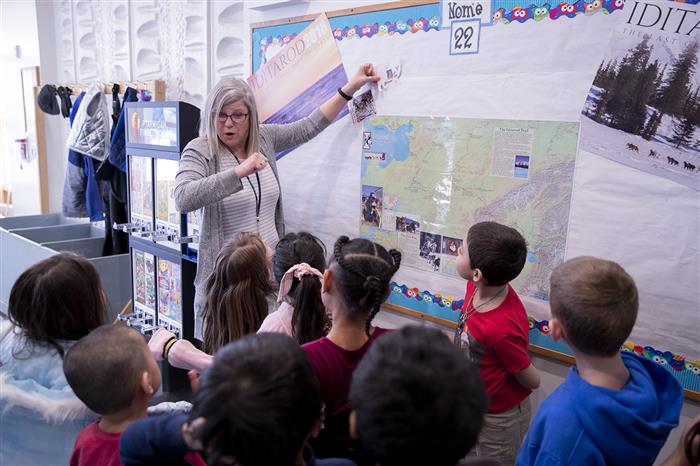 Ptarmigan teacher Denise Ray talks to her students about the Iditarod and IditaRead™ Monday morning. (Robert DeBerry/ASD)
Ptarmigan principal Kelly Ramey said having the Iditarod start right in our backyard and two amazing mushers and role models to help get the kids motivated really creates excitement around both reading and the race.
"Reading is very important. We have to create a culture of reading and it needs to be fun reading, so kids want to read on their own," Ramey said. "Having somebody they look up to, somebody that also loves reading and academics kick this thing off for our kids is amazing."
Iditarod musher Kristy Berington sees the uniqueness in the Iditarod Trail Sled Dog Race and how incorporating reading with the race can get kids excited.
"I think it's great because it's a different way to get kids interested in reading and also as a little bit of history from Alaska to the school," Berington said as she waited with her dog before the start of the kickoff assembly at Ptarmigan. "I think the dogs are something that's really interesting and unique and to have it rotating around something that is big in the sporting world to Alaska is wonderful."
Twin sister Anna Berington agrees that combining academics and the Iditarod is a great way to get kids interested. She said she loves how excited kids are about the race and this gives them a great way to be involved as the dogs and competitors race down the trail toward Nome.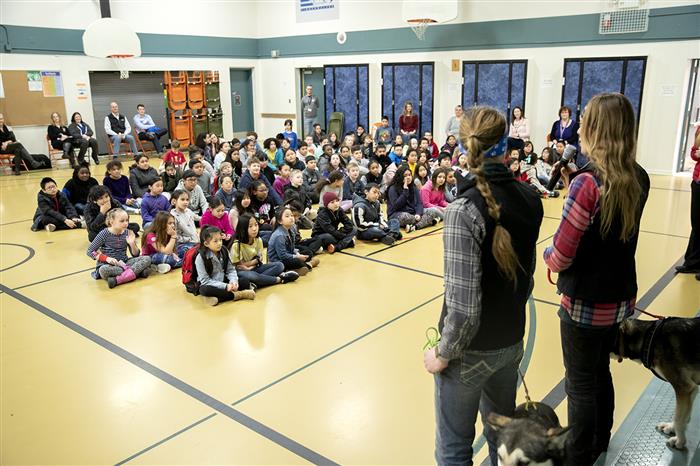 Anna and Kristy Berington talk to Ptarmigan Elementary School students. (Robert DeBerry/ASD)
"You have all these kids that are so eager and supportive to the Iditarod. IditaRead™ enables them to be a part of the race by having their little dog go down the racecourse posters as they read pages," Anna said. "I just picture the kids reading at night and thinking 'I got to get to the next checkpoint.'" Just to have that level of enthusiasm is really great and to promote something like reading and science and math is a win-win for everybody."
Iditarod sponsor ExxonMobil chose Ptarmigan Elementary as the school they are sponsoring this year for the IditaRead™ program. ExxonMobil Alaska, president Darlene Gates said there's nothing better than getting kids into reading and combining it with dogs and the race motivates them.
"Kids that are having a hard time getting into a book, and you see them go from just reading a few books and struggling with their mom and dad to reading hundreds of pages because they want to stay with the mushers and they want to support the dogs is amazing," Gates said. "It starts with the kids and getting them reading and into math and science is our future, so this is the foundation of how it all starts. This is really what we're trying to do, just invest in the next generation and the future of our state."
Principal Ramey said her students will be doing a combination of minutes read or being read to and pages read depending on the students age. The goal is to read a page or minute for every mile of the Iditarod, which is 1049 miles. Each page or minute moves them closer to the finish as the mushers move down the trail. She also said that ExxonMobil is getting them access to the Iditarod Insider which will enable the teachers to create lessons around the race and IditaRead™ program.
"We're going to do themed units about the Iditarod and so we can make it a cultural experience because our kids come from all over from Alaska and they need to realize that this is really an important part of our history," Ramey said.