Return to Headlines
Anchorage Community Celebrates the Career of Clark Middle School Principal Cessilye Williams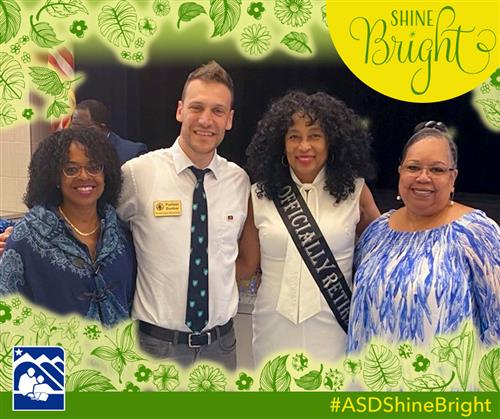 Celeste Hodge Growden, President/CEO Alaska Black Caucus, Forrest Dunbar, Anchorage Assembly Member District 5 – East Anchorage, Cessilye Williams, Clark Middle School Principal, and Margo Bellamy, Anchorage School Board President pose for a photo during Principal Clark's retirement celebration
on June 18 at Clark Middle School.
This month the community celebrated the retirement of Clark Middle School Principal Cessilye R. Williams, M Ed.,
Williams dedicated nearly 40 years to education, specifically to middle-school-aged children.
The celebration took place on June 18 at Clark Middle School.
Anchorage School Board President Margo Bellamy said Williams is an innovator in secondary education.
"Cessilye lives and breathes for her students," said Bellamy. "Before she became a middle school principal, she was an amazing middle school counselor! In both capacities, she was a unapologetic champion for students and provided the environment for excellence in personal development and learning."
Williams started her career as a teacher in Abilene, Texas in 1983 before bringing her teaching skills to Alaska in 1985, as a middle school teacher at North Pole Middle School. She joined the Anchorage School District in 1991 as a counselor at Aurora Elementary School, then a counselor at Wendler Middle School. She became an assistant principal at Hanshew Middle School in 2001 before joining Clark Middle School as principal in 2003, where she would spend the final 19 years of her career.
Bellamy said she had the privilege of hiring Cessilye as a counselor at Wendler Middle School. "We worked together for about eight years, then I convinced her she needed to become a principal, Bellamy said. "It was one of the best recommendations I ever made."
Throughout her profession, Williams maintained a commitment to professional development and built upon her leadership skills.
"Cessilye has demonstrated strength of character and expertise as an educator and as a leader, " said ASD Middle School Director Joe Zawodny. "These qualities have ensured that her students were provided a strong academic program with individual needs and interests in mind. Her staff have benefited from clear, relevant guidance and a superior support program in order to evolve with the changing educational landscape. Her community has been welcomed into the school to celebrate student success and grow in their connection to one another.
Zawodny went on to say that to highlight any one achievement over the last thirty years is to minimize the countless ways that the Clark community and the ASD as a whole have benefited from Cessilye's steadfast leadership.
"Cessilye will be missed by her students, staff, and families. Thankfully, a solid academic and social foundation has been laid so that her school will continue to thrive for years to come."
A summary of William's training, awards, and community service projects are as follows:
PROFESSIONAL DEVELOPMENT TRAININGS
National Association of Secondary Principals 2004-2022
NASSP Conference 2004 – 2017
NASBE Conference 2010-2017
Council of Great City Schools Conference – North Carolina 2015
Council of Great City Schools Conference – Denver Colorado 2014
CORE Conference – San Francisco, California 2012
RTI Conference – Anchorage Alaska 2015, 2014, 2013
CALLA Training
WIDA Trained and provided Training for Staff
Academic Conversations for ELL Students
CORE – Academic Text Dependent Questions
Language! Live / SIOP / CHAMPS
SIPPS – Systematic Instruction In Phonological Awareness Phonics and Site Words
Explicit Instruction
Effective Walk Through
Rigor and Relevance
Thematic Instructional Practices and Delivery
Reading Apprentice
Vocabulary Explicit Instructional Practices
RTI – Response to Instruction
Effective Reading Strategies – Choral Reading, Tracking, RCRC, etc..
Technology – Integration Through Curriculum
SEL- Social Emotional Learning/Integration Through Curriculum
Data Analysis Annual Training
AWARDS
Junior Achievement Educator of the Year Award 2016
Alaska State Principal of the Year 2015-2016
Alaska Region IV Principal of the Year Award 2015-2016
School Business Partnership Award from Omega Psi Phi Fraternity, Inc. 2014
Freedom Sister Award – Ford Motor Company 2012-2013
Military Recognition Award – 2014-2015
NCAAP Educator of the Year Award
Legislative Principal Service Award – Senator Betty Davis
Military Recognition Award – 2011-2012
School Business Partnership Award USAF Military 2006
COMMUNITY SERVICE / ORGANIZATION
APA – Alaska Principals Association ~ President – Contract Negotiation Year
APA – Alaska Principals Association -Vice President
UAA/Clark Junior Fellows, Pre-Medical, Teacher Academy & Programmers .CODERS 2015-2020
UAA/Clark Junior Fellows ACADEMY – 2014-2020
NASSP – National Association for Secondary School Principals
NASBE - National Association of School Black Educators
NAACP – National Association for the Advancement of Colored People
NACW - National Association for Colored Women Org.
Delta Sigma Theta Sorority, Inc. ~ Vice President 3 Terms
Delta Sigma Theta Sorority, Inc. ~ Corresponding Secretary 2 Terms
Delta Sigma Theta Sorority, Inc. ~ Committee Chairs – Various Committees
Board Member of the Mt. View Land Trust
YWCA - Committee
GEAR UP Coordinator for the State of Alaska 7 years
RCCP Certified Trainer
Congratulations on your retirement, Principal Williams!
#ASDShineBright