Return to Headlines
First Female Student Takes Flight Through King Tech Advanced Aviation Academy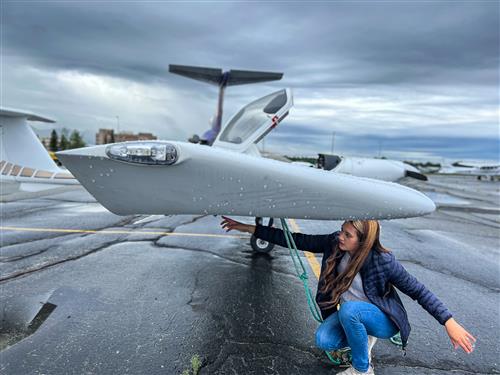 It's just past 8 a.m. on a windy and chilly morning in late July at the UAA Aviation Center at Merrill Field in Anchorage. It's too windy to fly, but cadet Lyncie Adams still has plenty to do.
Adams will start her senior year this fall as a student in the Family Partnership Charter School, with dual enrollment at King Tech High School. At age 17, Adams is one of four ASD students spending her summer at Merrill Field, taking flight each day when the weather permits through the King Tech High School Advanced Aviation Academy.
With an air of confidence, Adams enters the flight operations room and begins reaching for paperwork. Despite the windy weather conditions, Adams runs through the procedures as if she were preparing to take flight.
"I grab a canister and a paper for the airplane I am flying. Diamond 102 is the airplane that I usually fly and I'm right there on the schedule," Adams said, pointing to the flight information. She thumbs through the weight and balance form, the weather form, then grabs her canister, or "can'' as she calls it for short. "Everyone who flies keeps track of the hours, so we know how many hours are left for the maintenance."
She's now ready to head out to the airplane to complete the pre-flight checklist. "The first thing I do is turn the master switch on and I look at the lights." Adams walks around the plane, running her hand along the wing. "Now I'm looking for anything wrong with the material, like peeling," she explained.
Adams has been enrolled in the King Tech High School's Aviation Technology class for the entire 2021-22 school year. She started flying this summer and has already completed about 30 hours of logged flight time. She only needs 10 more hours to obtain her private pilot's license.
Adams said she loves being in the air. "It's kind of like being in a balloon. For me it's really peaceful."
Only five percent of airline pilots are women, according to the Pilot Institute. But the percentage of student pilots in the United States are on the rise, and the King Tech High School Aviation Technology program is providing a pathway for students to take flight before they even graduate.
Adams is the first female ASD student to participate in the Aviation Academy.
The King Tech High School Advanced Aviation Academy is in its second year of operation and provides the means for aviation technology students to attain a private pilot's license.
The program is one of the many opportunities through ASD's Career and Technical Education Department that allows students to graduate with essential life skills and be college and/or career ready.
Four of the 25 students who participated in the aviation tech class were selected to participate in the UAA's Aviation Technology Flight School program. It's a competitive process; students must meet a minimum grade requirement, pass the FAA private pilot written test, submit a resume, go through an interview process with the academy interview committee, and more.
Funding for the tuition is paid through Carl Perkins, a federal Career and Technical Education grant.
The long-range goal is to prepare students for the workforce by becoming commercial pilots, living and working in Alaska.
According to ASD Career and Technical Education Department Director Missy Fraze, there are no other school districts in Alaska that currently provide the opportunity for students to take flight and obtain their private pilot's license. Fraze said most schools that have an aviation program only offer the ground school.
For Adams, her aviation plan is to become a certified flight instructor and earn hours to eventually become a commercial pilot.
"When she moves onto her commercial, she would continue on with UAA with their flight training, if that's the path she wants," John Fick, Aviation Technology teacher at King Tech High School said. "It's a nice segue because they've already trained here, already know the instructors."
"With the dramatic demand for pilots…it's a fantastic opportunity for these students."