Return to Headlines
How does my student access Apex Learning?
What can I do from my student's Dashboard?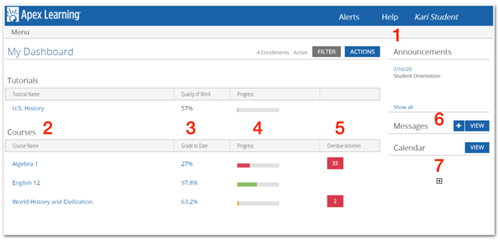 See important announcements posted by your teachers
Your course listings. To open a course click the title

Clicking on the course name will open course content with lessons and embedded assignments and tests
Select Start/Resume in the Course Navigation to begin/continue course

Average grade for all submitted work

Your GTD (Grade to Date) is your grade in the course
Missing assignments are considered a 0, which affects GTD %
Clicking the % will open a list of all assignments for the course with due dates and any entered grades.

The progress bar shows the progress in completing all of the course work

The Bar changes color based on pacing and grades

Green - On Track
Yellow - Falling Behind
Red - Struggling

Number of assignment past due, this will appear blank if the student is up to date

Clicking the number will show a list of assignments

Send messages and submit work to your teachers

You will submit your work or send messages to your teacher here

View your calendar of activity due dates
How does my student get started?
Update your profile to ensure your teacher(s) can contact you.

Click on your name in the upper right hand corner and select My Profile.
Enter your personal email address on the Contact tab and click the Save button.
On the Preference tab, select Announcements, Scoring and Communication under Alerts. Then select how you want to receive alerts (email and/or cell phone/pager). If you choose to receive alerts via cell phone/pager, enter a 10 digit phone number. Click the Save button.
Complete Student Getting Started.

Click on Help and select Getting Started.
Click the green Take Course button to review the Student Student: Getting Started Courses Video and take the quiz.
Download your completion certificate, your teacher may offer extra credit for having it.
How can my student be successful in Apex?
• It is highly recommended that you download and complete the study sheet for each unit before testing. Take notes and complete each activity in the unit.
• Students should plan on working 2-4 hours a day on each course within Apex.
• Due dates are established as a pacing guide to help you complete the course on time. Try not to fall behind.
• You can work faster than the pacing guide if you are being successful (passing assignments and quizzes).
What do I do if I need help?
To contact your teacher, send an email or send a message via the Apex Message Center.

Include your name, Apex course name, unit or assignment number, and a specific explanation of what you need.

You should contact your teacher if:


You have questions on courses or assignments
You're experiencing a hardship
The course content is difficult to understand
You need additional support

For help on course content, your grade, or to request tutoring, contact your teacher.
For scheduling issues, contact your neighborhood school front office.
For help with Apex:
For technical issues or general questions:
*Teachers will respond to emails and messages within 24 hours. If you send a message on a Friday, weekend, or holiday, expect a response by the end of next school day. If you have not received a response within 48 hours, please send a message again.
How do courses/grading work?
Read posted announcements and welcome letters from your teacher(s). Check your Apex message center every time you log in.
All assignments must be submitted via Apex.
Apex courses are mastery-based. You must successfully complete all scored activities with a 60% or better in order to move forward.

Your final grade for the course is the average of all scores for quizzes, written assignments and tests.

60% is also the minimum

overall

passing score to earn credit.
After you have completed all units in the course, talk to your teacher about retaking a quiz or test to get a better score.
How do I take quizzes in Apex?
Quizzes are computer scored activities you can start when you have completed the activities prior to the quiz.

If you score 60% or better on a quiz, you are automatically moved forward to the next lesson.

If you score less than 60% on a quiz, you have the opportunity to reset the quiz yourself for a second attempt.

Apex has multiple versions of each quiz, you

will not

get the same questions on the second attempt.

Before taking the quiz for a second time, review your notes and ensure that you have completed all the assignments prior to the quiz.

If you score less than 60% on your second attempt, you will be blocked from progressing.

Contact your teacher to have the quiz reset for a third attempt or to discuss moving forward with your best quiz score.
Before requesting your teacher reset your quiz for a third attempt, be sure you have completed all study guides and practice activities leading up to the test.
How do I take tests in Apex?
End of unit tests are locked. They are unlocked by your teacher once you have completed all unit assignments and quizzes.

For high school students, end of unit tests must be taken with a proctor via a Zoom session. Your teacher will post their Zoom office schedule when you can take tests or request help with class content.

For middle school students, you will need to coordinate with your teacher when to have the test unlocked.

If you score less than 60% on a Unit test, contact your teacher to discuss taking the test again or steps needed to move forward.

If you are

not

available to take your test during your teacher's office hours, contact your teacher to set up an alternative time to take your test.

If you get disconnected from the internet during your test, please reconnect to the Zoom session. Your teacher may need to unlock your test after you reconnect. If you get disconnected from Apex, your work will be saved and you can pick up taking the test where you left off.
Where can I find additional info?
Video Guides