Return to Headlines
How to use Q - Parent Connect
Below is a guide to help parents navigate the ParentConnection portal.
Step-by-step guide
Logging into ParentConnection
1. Navigate to the http://asdk12.org, hover over Families tab, and click Q Parentconnection.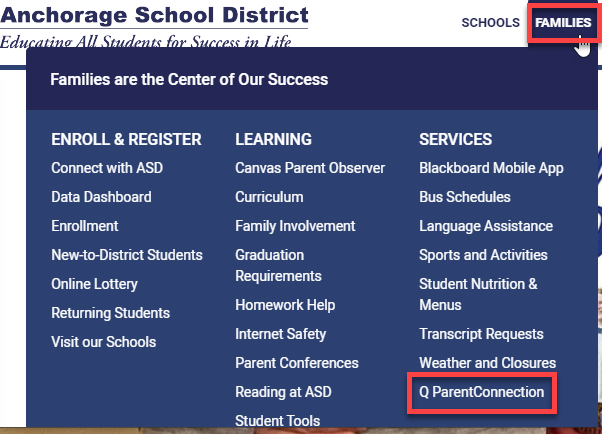 2. Click the ParentConnection button (you may need to scroll down to find it).

3. In the fields provided under ParentConnection Login section, enter your PIN and password. If you have forgotten your pin or password select the Login Reminder page link in the Anchorage School District section.

Note: If you experience any issues with your login or password, please contact your child's school or if in the summer contact Elementary Education or Secondary Education department respectively.
Available Information

My Information: View and change your contact information.
My Account: Update your login or password.
Email Notifications: Set email notification preferences.
Help: Get help information.
About: Display copyright and version information.
Sign Out: Log out of your ParentConnection account.
ASD Quick Links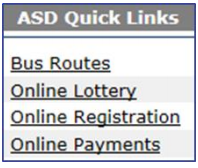 Bus Routes: View your child's bus information.
Online Lottery: Submit an application for your child to attend a charter or alternative school.
Online Registration: Register your child for the upcoming school year. This link will only be available when the Online Registration window is open.
Online Payments: Pay for your child's cafeteria meals, sports activities, and more.
Sections
To view the sections below, click on the plus sign to expand the selection.

News: View school news and important dates on the school calendar.
Demographics: View your child's personal information. If changes are required, please contact your child's school.
Enrollment: Lists enrollment history for your child.
Contacts: View the primary and emergency contacts listed for your child. If changes are required, please contact your child's school.
Schedule: View your child's schedule. Clicking on an underlined teacher's name will link to their email.
Attendance: View your child's attendance for the current school year.
Assignments: View your child's current assignments, current grade, current grade percentage, and view/print your child's progress report.
Marks: View your child's posted progress, quarter, and semester marks.
Standards: View your elementary child's standards information.
Transcript: View your child's unofficial transcript. For an official transcript, please contact your child's school.
ASD GPA: View your high school child's GPA information.
Activities: View your child activity information.
Testing Results: view your child's state testing scores.
Assessment Results: MAP Assessment reslts.
Special Education: View information on our child's Special Education Program (i.e. IEP or 504).
ASD Cafeteria: View your child's current lunch balance.
ELL Services: View the Parent Notification of Services letter for ELL students.
Special Education documents (IEP, ESER and FBA/BIP) are available to parents through ParentConnection. These documents remain confidential and secure, as they have in the past. Principals and school counselors can access IEP and FBA/BIP data for all students in their school. General education teachers can access IEP and FBA/BIP data only for students who are enrolled in the courses they teach.