Taku Elementary School Homepage
Return to Headlines
Taku Elementary Celebrates National No One Eats Alone Day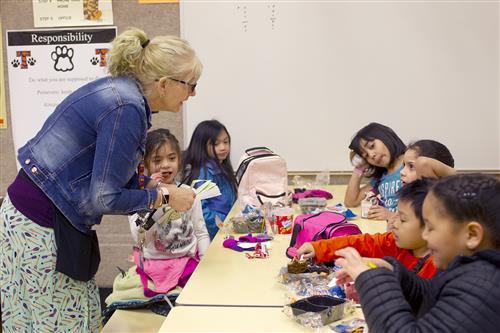 Beverly Hardesty, Certified Behavior Interventionist/Title I Teacher, talks with Taku Elementary students at lunch about the National No One Eats Alone Day. (Robert DeBerry/ASD)
TAKU Elementary — Students at Taku Elementary School spent their lunch time Friday February 15, 2019 celebrating National No One Eats Alone Day. No One Eats Alone Day teaches everyone how to make friends at lunch, often the most difficult part of the school day.
According to Beverly Hardesty, Certified Behavior Interventionist/Title I Teacher, this event has been a couple years in the making.
"I've been trying for the last couple years to get it going," Hardesty said.
She said, in the beginning it was tough to get things going because the school needed to start at the bottom and build the foundation. "We've been focusing a lot on SEL (social-emotional, learning) over the last four years, and so we're trying to make sure nobody is excluded. We are making sure that each kid always has someone, and they feel like they belong."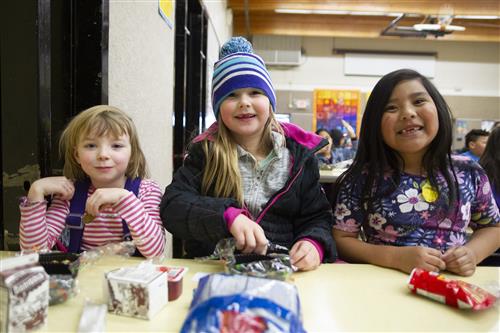 Taku Elementary Students sit together at lunch. (Robert DeBerry/ASD)
Hardesty said they started with programs like CHAMPS, which is an acronym that represents Conversation level, Help, Activity, Movement, Participation, and Success, and the Second Step program which is a program rooted in social-emotional learning that helps transform schools into supportive, successful learning environments uniquely equipped to help children thrive. These programs helped guide the school, students and staff into creating a structured environment where the kids feel comfortable and safe.
Hardesty said a lot of schools have a very transient population and Taku is no different. She also said that there are kids that have trauma and issues at home and by looking at these different programs and lessons and working together across all grades the students can come to school and feel loved and welcome.
Once the foundation was built Hardesty said it was time to take the next step and join No One Eats Alone. From there she said the work began preparing for today.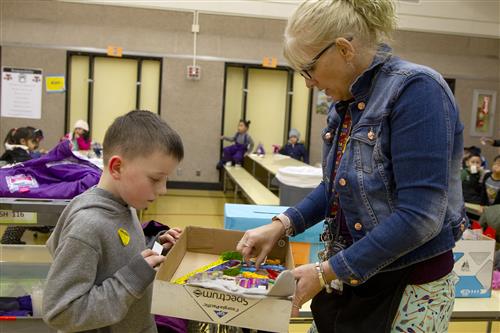 Beverly Hardesty, Certified Behavior Interventionist/Title I Teacher, helps Rylan pick out a prize after winning a raffle during the No One Eats Alone event at Taku Elementary. (Robert DeBerry/ASD)
"When you join No One Eats Alone they give you a lesson plan and I send that out to all our teachers," said Hardesty. "I went and talked to all the kids last week and told them we were doing this today to wear purple or green. Then this morning, I went to every classroom, all 14 of them and talk to the kids."
Hardesty said she asked the kids to give their word that they would not let anybody sit by themselves today.
Hardesty said having started the foundation a couple years ago and working with the younger students she has seen some success.
"Kids that were in the younger grades are doing much better in the upper grades now," Hardesty said.
Hardesty smiled as she handed out tickets for a raffle to all the students that were involved. She said today's event was a success and she would love to see other schools take part in the No One Eats Alone Day.