Steller Secondary School Homepage
Return to Headlines
Steller Band won 1st Place!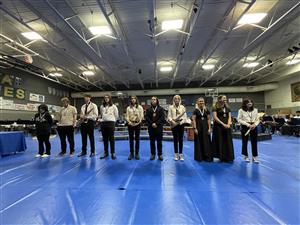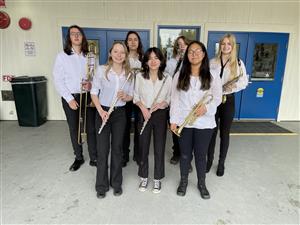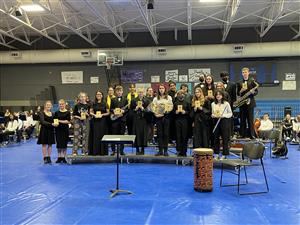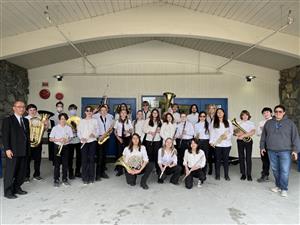 Hello Steller Jay Community,
I am so excited to talk a bit about our wonderful Band and Orchestra students. Steller participated in the Aurora Music Festival in Cordova, AK from April 6th-10th. The festival is an annual event that includes students from 15 different smaller high schools from across the state. Our Steller students did a fabulous job. Our 24 Band students got 1st place and our 10 Orchestra students got 2nd place in the ensemble. We also have 14 students that qualified going to state.


I know we are a small school of only 240 students, but we are very excited to have so many students going to the state level. During the festival, there were many moments where we were left in awe of the talent we got to experience. One of our flautists made many of the audience members cry. Band got a standing ovation. Our solo cello player, who is only an 8th grader, left the judges and audience speechless. You could hear many people in the audience comment on how much talent Steller has. Mr. Toba (Band teacher) and Mrs. Sterkel (Orchestra teacher) are also so proud of their students. They worked tirelessly to bring out the potential of our students. Thank you all for the support you provide our school and making trips like this happen.


I also want to add that Steller is supposed to host the festival next year. Cordova set a HIGH bar so hopefully we can meet expectations for next year. Pressure is on and when the time comes, I will be reaching out to the Steller Community to assist with these efforts. If you get a chance, please congratulate the students, and thank our wonderful teachers, Mr. Toba and Mrs. Sterkel.


You can watch their performance on Youtube! https://www.youtube.com/channel/UCeBuGEZS6eb8pT_j_WXDaKg/videos?view=2&live_view=502
MASS BAND:
Ishmael Belay
Amelia Brooks
Shepherd Brown
Duncan Brabec
Riley Cottrell
Mason Deano
Paige Hays
Zane Hopewell
Jojo Leonard
Marley McDonagh
Quinn Parker
Rem Porter
Joshua Reeves
Tillman Reilly
Riley Rose White


HONOR BAND:
Paige Antrobus
Johnathan Jencks
Sarah Duot-Kelley (State-Solo & Duet)
Griffin Lindsay (State)
Kamryn Lyons (State Duet)
Reagan Miller (State)
Milo Scott (State)
Riley Strodtbeck
Bjørn van der Goore (State)


ORCHESTRA:
Ezzy Allwright (8th grader so can't compete but received a 1 that would have qualified him for State)
Harris Anderson
Zoe Bashford-Blumer
Erik Dobler
Dakota Johnson (State)
Isabelle Munson (State)
Scarlett Parr (State)
Pragati Singth
Adrian Thomas (State)
Dessa Wells


STUDENTS DID NOT ATTEND AURORA BUT MADE STATE:
Xavier Libbrecht (State)
Natalie Custer (State)
Tenzin Tsering (State)
Maria Hernandez
Principal | Steller Secondary School