Clark Middle School Homepage
Return to Headlines
Clark Middle School Most Diverse School in America
According to the U.S. Census Bureau, Anchorage is about 67 percent white, 8 percent Asian or Pacific Islander, 7 percent Native, 6.8 percent multiracial, 6.7 percent Latino and 4.2 percent black.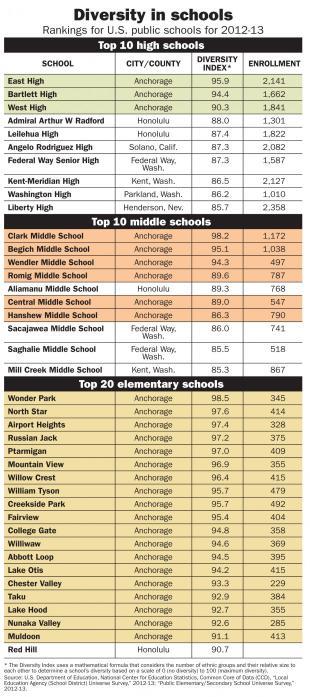 When Farrell crunched the numbers for public schools in Anchorage, he found the numbers are even more striking. Among public high schools, East, Bartlett and West are the three most diverse in the nation. Even the city's less diverse schools score in the top 1 percent nationally. "Even the schools that aren't at the top of the list, if they weren't being compared to these top three they'd have kind of a remarkable level of diversity," he said.
At the middle school level, Clark ranked first nationally, followed by Begich, Wendler, Romig and Hawaii's Aliamanu Middle School. Central and Hanshew were sixth and seventh. Perhaps the most impressive display of diversity is at the elementary school level. Farrell said the nation's 19 most diverse schools are in Anchorage, led by Wonder Park's 98.5 diversity score. That means the school's 345 students are an almost unheard of mix of all ethnic groups. "There aren't many schools that look like this," Farrell said.
Farrell said Anchorage is unique in that it has large populations of Asians (the city ranks 25th in the nation for its number of Filipino residents), Pacific Islanders and Alaska Natives. Its neighborhoods also aren't as segregated as elsewhere in the country, with large amounts of Caucasian students mixed in with other groups. "Even in our most diverse high schools, there's a significant white population, and that's not the case in many other diverse high schools in the United States," he said. Farrell said the trend in Anchorage has been toward less segregation -- at least segregation based on race. "Economic class, that's another story," he said. "The trend for economic segregation has been upward; the trend for ethnic segregation has been down." Farrell said he expects the trends to continue. "We're at the forefront of this trend toward increasing diversity in the United States," he said.
Most-diverse U.S. Middle schools, 2012-13 (with diversity index* in parenthesis)
1. Clark, Anchorage (98.2)
2. Begich, Anchorage (95.1)
3. Wendler, Anchorage (94.3)
4. Romig, Anchorage (89.6)
5. Aliamanu, Honolulu, Hawaii (89.3)
6. Central, Anchorage (89.0)
7. Hanshwew, Anchorage (86.3)
8. Sacajawea, Federal Way, Washington (86.0)
9. Saghalie, Federal Way, Washington (85.5)
10. Mill Creek, Kent, Washington (85.3)
Most-diverse U.S. high schools, 2012-13 (with diversity index* in parenthesis)
1. East, Anchorage (95.9)
2. Bartlett, Anchorage (94.4)
3. West, Anchorage (90.3)
4. Admiral Arthur W. Radford High, Honolulu (88.0)
5. Leilehua High, Honolulu (87.4)
6. Angelo Rodriguez High, Solano, California (87.3)
7. Federal Way Senior High, Federal Way, Washington (87.3)
8. Kent-Meridian High, Kent, Washington (86.5)
9. Washington High, Parkland, Washington (86.2)
10. Liberty High, Henderson, Nevada (85.7)
The Diversity Index uses a mathematical formula that takes into account the number of groups and their relative size to each other to determine a school's diversity based on a 0 (no diversity) to 100 (maximum diversity) scale. Sources: U.S. Department of Education, National Center for Education Statistics, Common Core of Data (CCD), "Local Education Agency (School District) Universe Study", 2012-13; Public Elementary/Secondary School Universe Survey", 2012-13.
Additional information can be found at:
Most Diverse Place in America? It's not where you think on CNN.com