Mears Middle School Homepage
Return to Headlines
Mears Middle School Welcomes Students From Chitose, Japan
Mears Middle School students, faculty, and family members welcomed 20 exchange students and their chaperones from Chitose, Japan, during an assembly Tuesday, January 8. The students from Chitose's Aoba Junior High will spend the week in Anchorage attending classes at Mears Middle School and touring around Anchorage as part of the exchange program.
This is the fifth year for the exchange program between the two cities according to Mears Middle School Principal Michael Perkins. Perkins said the 20 students and chaperones will spend the week in Anchorage with their host families and at the end of the school year a group of Mears Middle School students will make the trip to Chitose, Japan.
We'll go to Japan right after school's out for about two weeks," Perkins said. "We start with a five-day home stay then we tour all the way down through Japan."
Perkins said the junior high exchange program has hosted about 70 students from Chitose and sent 70 students to Japan since it started.
The 20 students started their week in Anchorage with an introduction assembly at Mears and then were paired with their host student said Perkins. "Today they will be going to all the regular classes that their host student has. Tomorrow we will be going on a field trip to the museum and their planetarium then they will meet with the mayor for a special ceremony."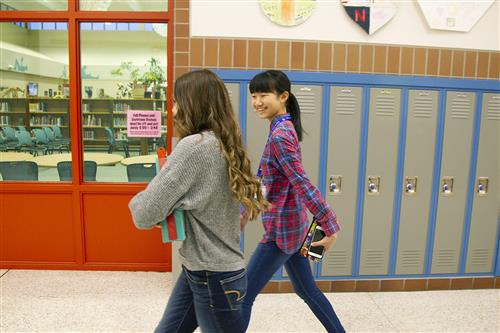 Perkins said the students will also get to visit the zoo and do some different activities with their host families in the evening.
For both the Mears Middle School students and the 20 exchange students the program provides an opportunity for learning different cultures and growing as individuals.
"We've developed special classes that our teachers have offered to do," Perkins said. "Everything from art to Native Youth Olympics, to teaching about our cultures here, to experiencing interacting with the immersion classes here. They want to practice their English and of course our kids want to practice their Japanese, so we have classes set up specifically for that."
Perkins said he sees the value of the exchange program as an opportunity to learn about other cultures and people and what it can do for the students involved. "For us to gain understanding of each other's cultures and see how much we have in common and some of the differences we have and challenges we share is important. We are a global world now and the more we understand about each other's cultures and can communicate directly is extremely important."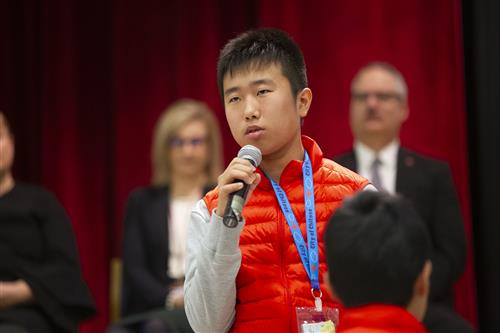 Aoba Junior High Principal Mr. Ogasawara agrees that this is an amazing opportunity for the students to learn, grow and experience other cultures.
"I know it is very important for every student to experience coming here and to grow through this experience," Ogasawara said through an interpreter as he toured Mears Middle School Tuesday morning. "I really do hope that this will bring a great experience and memory for each student."
Ogasawara said that many of the students were nervous and shy, which he said is a trait of the Japanese culture. But he said to see the politeness and to learn and follow the rituals will help them be less shy and give them a better understand of the culture and the language.
"They sound very much alive and very happy when they speak and talk and interact with the host families," said Ogasawara. "So, we are very happy to see that."
Principal Perkins likes to point out that although shy and quiet now there will be smiles and hugs and tears when the time comes for the students to leave. "You will see by the end of the week they will be less shy. Our kids really try to pull out their English, have fun with them and laugh with them. It does change by the end of the week."