Mears Middle School Homepage
Return to Headlines
Pizza with Police Program is a Conversation Starter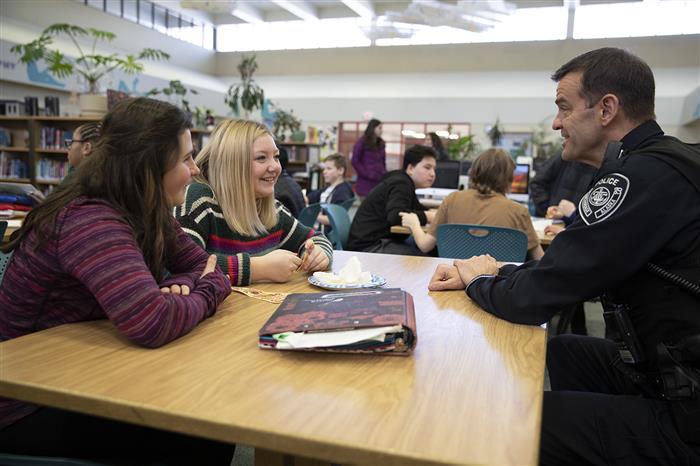 Anchorage Police Department officer Eric Pratt talks with students during the Pizza with Police lunch at Mears Middle School Wednesday, February 27, 2020. (Robert DeBerry/ASD)
Teenagers like pizza, and what better way to open a conversion between law enforcement and Anchorage School District students than through their stomach.
That is exactly what a new pilot program between the Anchorage Police Department, ASD and the Anchorage Police Citizens Academy Alumni Association, which funds the program, hopes to do.
Open up honest conversation between APD School Resource Officers and ASD students.
ASD Safety and Emergency Preparedness Coordinator, Stephen Brown, who helped organize the Pizza with Police program, said the main goal is really a grassroots effort.
"We just want ASD students to know the SROs in our schools are normal people," Brown said. "Break bread and let them know they can talk to the police whenever they need to."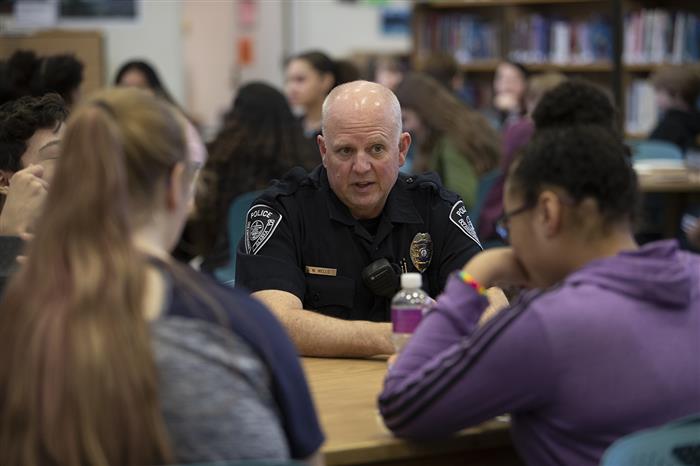 Anchorage Police Officer Mark Wells and Mears Middle School students talk during the Pizza with Police Program Wednesday, February 27, 2020. (Robert DeBerry/ASD)
APD officer Mark Wells, who was one of the SROs at Wednesday's Pizza with Police at Mears Middle School, sees the program as a great way for students and officers to talk in a non-threatening, non-stressful and non-judgmental environment.
"We want students to see us more as human beings rather than police officers that are only here to make everybody's life miserable," Wells said.
Wells said there are no requirements or parameters for who gets to attend the lunch. "It's not a reward thing for students that are just doing fantastic at school. We don't look for just good kids or bad."
According to Brown the school hands out the tickets to who they think would best benefit from it, usually between 20 and 25, but Wednesdays lunch drew 36 students.
Brown said he thinks because of some of the events that happen at school people forget that SROs are there for more than just security.
"It's good to have them understand that they're there to talk to students. They can be a friend. Maybe give some advice. A lot of times the SROs are teachers not just police."
For student Riley Lancaster Wednesday's event did just that. It provided an opportunity ask questions and learn.
"I really think it is cool," Lancaster said. "I get to learn about them and what they do."
Mears Middle School Principal Eric Backman also sees the program as a wonderful initiative.
"I think it's really important for our students to get to know police officers on a personal basis," said Backman. "They should know that they're more than just a uniform, or an official title, but active members of the community."
Backman said he wants students to be able to ask for help from adults, or assistance, guidance and mentorship and he feels the SROs can provide that.
"Besides kids love pizza," he said. "It's a nice gesture on the part of the police department give kids something they really enjoy."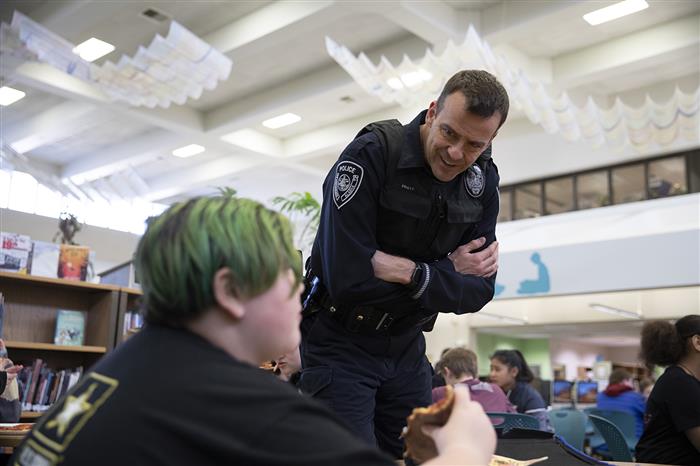 Anchorage Police Officer Eric Pratt talks with a student at the Pizza with Police lunch at Mears Middle School. (Robert DeBerry/ASD)