Romig Middle School Homepage
Return to Headlines
Generous Grant Serves Up Healthier Food Options and Reduces Waste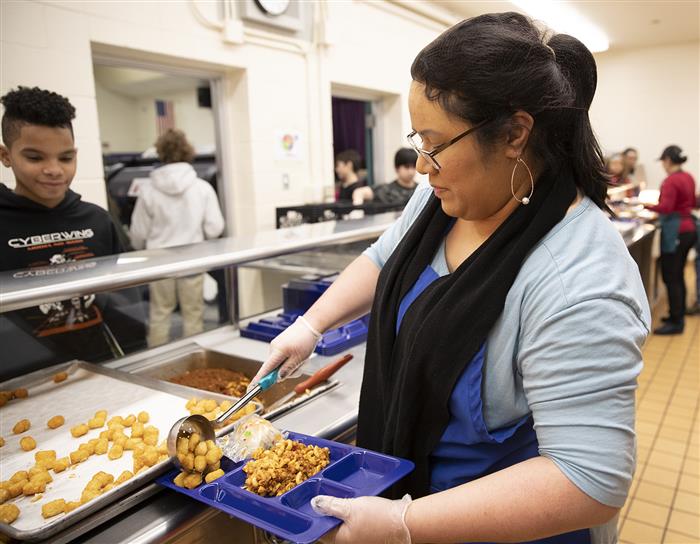 Students at Romig Middle School are served lunch on washable trays as part of the Anchorage School Distict's healthier food initiative. (Robert DeBerry/ASD)
Thanks to a grant from UnitedHealthcare, Romig Middle School will now join seven other Anchorage School District schools that are serving fresh and healthier meals and reducing waste in the process.
Monday, March 2, 2020 the Romig Middle School cafeteria kicked off their new service style with a dedication and a presentation by 2018 U.S. Olympic cross-county skier Reese Hanneman, and UnitedHealthcare's Vice President of Public Sector Labor Interest Kirsten Stack. The duo talked with Romig students about the importance of healthy eating and healthy lifestyles.
The $22,000 grant enabled the Dreambuilders Foundation, a non-profit organization that works with pro athletes across the country to help financially, physically and mentally-challenged kids receive the items, opportunities and equipment they need to reach their dreams, to renovate the kitchen and cafeteria with a dishwasher, steam tables, and purchase new service trays for students. This renovation is part of ASD's plan to advance student health and wellness.
According to the District's Senior Director of Student Nutrition Andy Mergens ASD has been in the process of transitioning schools across the district away from "heat and serve" service using TV dinner style disposable trays and paper plates. Instead, it has been moving towards a more open service style that allows for students to have more food options and are closer to how meals are served in a traditional home setting. The new style also allows for healthier menu items that are less processed and uses washable, reusable plastic trays.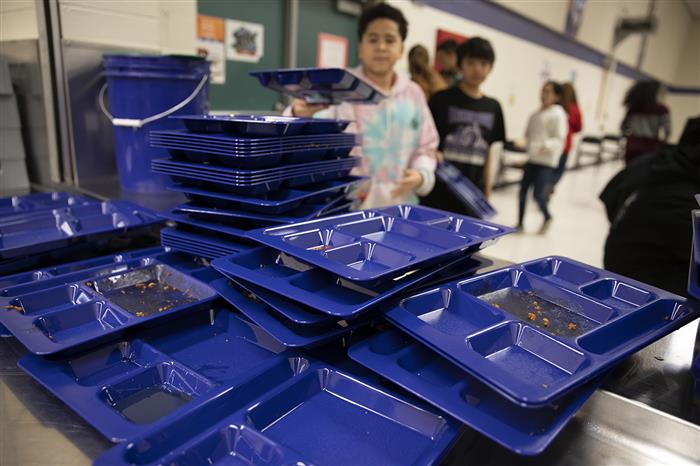 Romig Middle School students stack reusable lunch trays for washing. The new trays and kitchen equipment was made possible through a $22,000 grant from UnitedHealthcare. (Robert DeBerry/ASD)
"The importance of this grant is that it demonstrates the great partnership that we can get from an outside entity in this case it's UnitedHealthcare," said Mergens. "A little bit of extra funding to make this a reality quicker than what it could be if we did it on our own."
Mergens said that not only will ASD be able to serve healthier food but waste will be cut down dramatically for the district.
"From a district wide perspective, we add about 18 tons every year just in paper plates alone That goes into the landfill," Mergens said. "So, every paper plate that we can replace with a washable is one less plate going into the dump."
Mergens added that the trays pay for themselves in about four and a half months.
ASD hopes to have all of its schools switched over to the new service style by May 2025. The program started at Service High School in March of 2019.
Stack also sees the importance of healthier options for students within ASD. "I think that anytime kids can get excited about healthy foods, it's better for everybody, right? So, these patterns and habits start early in life. The earlier we get kids eating fresh, readily, locally sourced food, the better off we all are."
Stack said awarding the grant to ASD was a pretty easy decision. She said because Alaska doesn't always get a lot of funding and attention from the lower 48. "UnitedHealthcare wanted to make sure that we focused on Alaska, because we want these kids to have every opportunity that anyone else gets."