Return to Headlines
Robyn Harris Named Alaska Secondary Principal of the Year
Congratulations to Whaley School Principal Robyn Harris who was named the 2018 Alaska Secondary School Principal of the year by the Alaska Association of Secondary School Principals (AASSP).
The following news release was shared by AASSP:
FOR IMMEDIATE RELEASE 5/9/18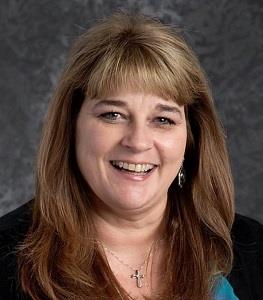 Robyn Harris, Whaley School Principal Named Alaska Principal of the Year
Anchorage, AK - The Alaska Association of Secondary School Principals (AASSP) has named Robyn Harris, Ed.S, Whaley School, ACE/ACT, and Outreach Principal as the Alaska Secondary School Principal of the Year.
When asked to tell her school's story and what reviewers needed to know to understand the context in which she leads, Principal Harris said, "Whaley School is a separate day school in the Anchorage School District serving students with acute behavioral needs. I am honored to work with such a compassionate staff that come together to help at-risk, behavioral students by modeling what's necessary to transition to their neighborhood school; they go beyond the school day and beyond the school doors to meet the students' needs. Building strong healthy relationships with one another and students is important in our culture. Whaley School offers areas of learning that encourage our students to gain the necessary skills, not only academically but for life after ASD. These opportunities have increased our graduation rate to 77% and are in direct relationship to their success!"
Principal Harris, who has been at Whaley School for 7 years, shared, "Our 'one' language comes from our robust PBIS (Positive Behavior Interventions and Supports) model. This language, coupled with how we 'meet students where are are' each day, in not only what we say but how we say it, creates a climate and culture of care." As one student said of Principal Harris, "Ms. Robyn listens to both sides of every story, is understanding, and makes you do your job. If you mess up, she doesn't hold it against you and wants you to try harder than you did before. For example, one time she told me, 'Get in there and do your work' and I did. I turned my science grade around from a B to an A. Ms. Robyn makes me think about things when I'm angry. She talks me through it and doesn't hush me off. She really listens and helps me realize it's not worth getting upset about."
Dan Carstens, AASSP President said, "We are extremely proud to name Ms. Robyn Harris as the 2018 AK Principal of the Year! Ms. Harris gives us an example of what a truly distinguished principal looks like in a vastly unique school. The culture of her school is positive and caring as a direct result of her leadership. Congratulations to Robyn Harris!"
Anchorage Superintendent Dr. Deena Bishop shared, "Robyn Harris is one of the most dedicated principals I know. She works tirelessly at Whaley/ACE/ACT to provide a welcoming and positive environment for her students so they can achieve great things beyond their high school years. When one visits her school programs, it's clear that Robyn's calm demeanor and positive interactions make a huge difference in the life of students and the greater school community. There is no stronger student advocate than Robyn Harris. She is very deserving of Alaska's State Principal of the Year award!"
Principal Harris will be honored during the 2018 Alaska Principals' Conference. The Alaska Principals' Conference will be held at the Anchorage Sheraton Hotel October 20-22, 2018. She will go on to represent the State of Alaska at the national level.
For more information, contact Dr. Lisa S. Parady, AASSP Executive Director at (907) 903-1689 or visit the Alaska Association of Secondary Principals website at hwww.alaskaprincipal.org
The Alaska Council of School Administrators (ACSA) www.alaskaacsa.org providing Leadership, Unity & Advocacy for Public Education.
#NorthToTheFuture
###