Winterberry Charter School Homepage
Return to Headlines
Teaching to the Heads, Hands and Hearts at Winterberry Charter School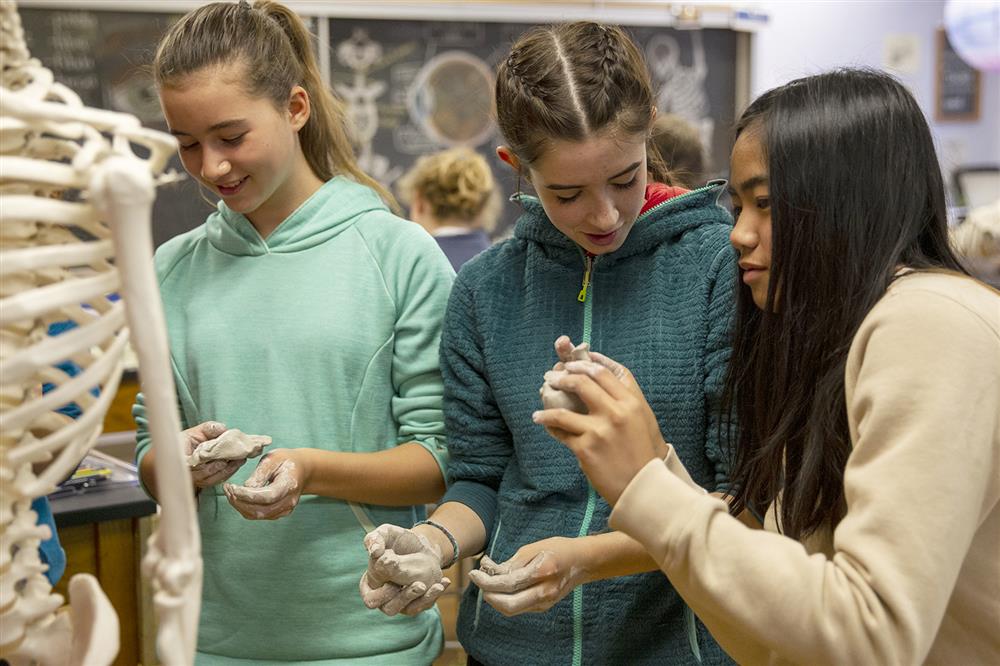 Winterberry Charter School students work with clay as they model parts of the skeleton. (Robert DeBerry/ASD)
Nature walks, knitting, yoga, art and music interwoven with core curriculum studies are just a handful of activities that you may see at Winterberry Charter School. You won't see any computers, white boards or textbooks. These are things that describe the Anchorage School District's Winterberry Charter School on the surface.
Charter schools are public schools in the ASD that offer alternative teaching methods or curriculum. They operate under a contract with the district, are governed by an elected board called an Academic Policy Committee (APC) and have more independence than neighborhood schools.
"Our school model looks like a very traditional classroom environment", says Winterberry Charter School principal Julie Pepe-Phelps.
Their ASD charter has allowed them to take the Waldorf standards and look at them side by side with common core standards to create a holistic education model that "attends to the head, heart and hands" of every student.
"We use a developmentally appropriate, academically rigorous approach to education. We teach to the individuals that are in front of us and teach to those children, for a lifetime," said Pepe-Phelps. "That is our goal, we're looking outward, taking a long view of this child's life and trying to help them build the capacities that will make them lifelong learners, enthusiastic learners. People who know themselves."
Art the students created during a lesson on the human eye hangs in the hallway at Winterberry Charter School. (Robert DeBerry/ASD)
Pepe-Phelps said when she does school tours, she tries try to make sure that people learn about what is happening behind what they are seeing, because it is a very different atmosphere.
"It's beautiful, and children look like they're happy—and they are," said Pepe-Phelps.
She says she gets the questions, 'But, can they read, can they write, can they go get a job down the road?' Pepe-Phelps has watched carefully for the past fifteen years of Winterberry's existence, with her own children as students, as well as the many others who have gone on to ASD and private high schools, colleges and vocational programs. The one comment that continues to come up from alumni when asked about their time at Winterberry, says Pepe-Phelps, is their "love of learning."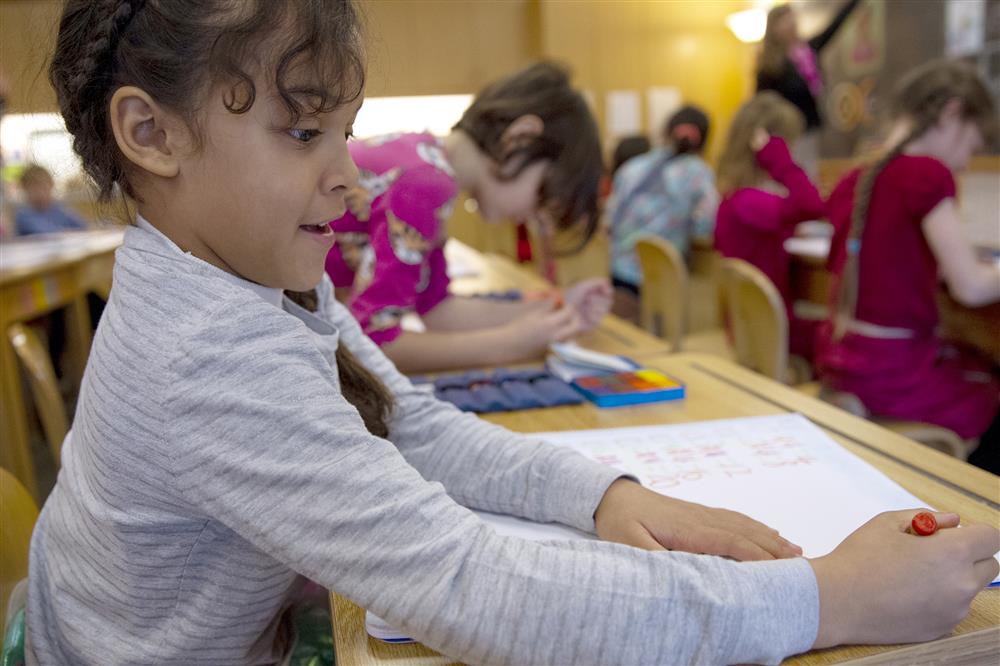 A student writes multiplication problems in her Main lesson book during math instruction at Winterberry Charter School. (Robert DeBerry/ASD)
Imagination to innovation is a guiding motto for Winterberry Charter School. They build their model around the belief that we need innovators in the world and that innovation should begin with imagination at an early age.
Winterberry kindergarten is a half-day "play-based and pre-academic program" says Pepe -Phelps. "It is fortified with all of the things that will help a child to be successful in the academic realm. We believe that, at the kindergarten level, children are often not ready developmentally for formal academics."
A central focus of Winterberry's Waldorf inspired methods is the development of human relationships in a group setting. Time is given for the young child to begin unfolding their understanding and building relationship with their teacher and classmates that will set the stage for academic success.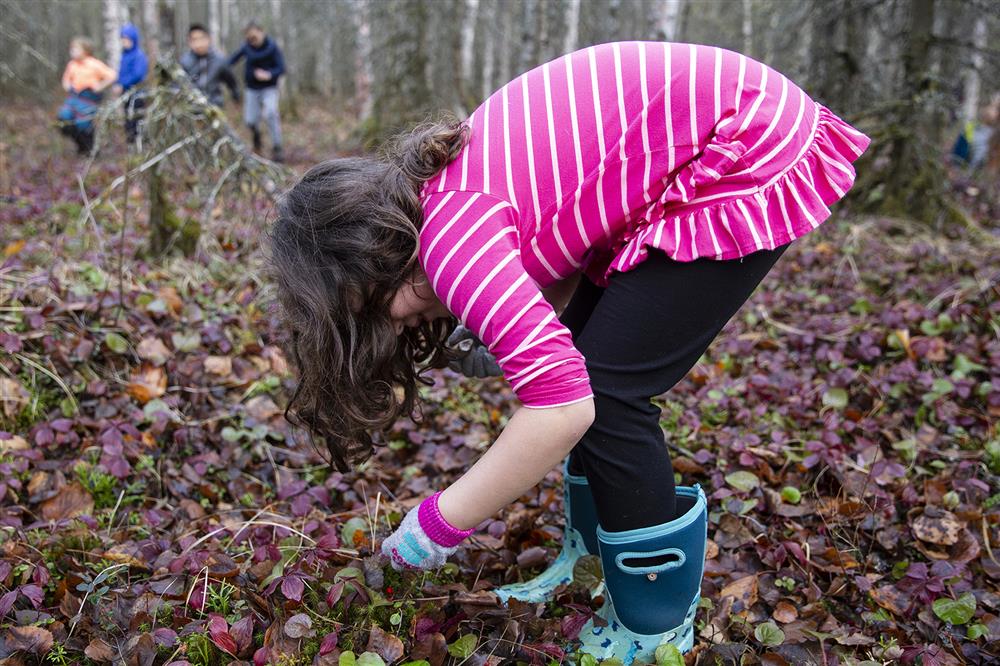 A student gathers berries for identification while on a nature walk in Cheryl Silcox's second-grade class. (Robert DeBerry/ASD)
The thoughtful, rich storytelling, well integrated with movement and rhythm provides for deep and long-lasting learning and is the cornerstone for the transmission of knowledge at Winterberry. Teachers strive to arouse interest in students aligned with the "wonder to wisdom" philosophy.
"They go deeper into things they learn, biographical information about the people and how they got there," said Pepe-Phelps. "Who's Pythagoras and why did he come up with this theorem?"
The educational model at Winterberry spans from kindergarten through eighth grade. The educational rigor is there, says Pepe-Phelps. "Fun and education can go hand in hand."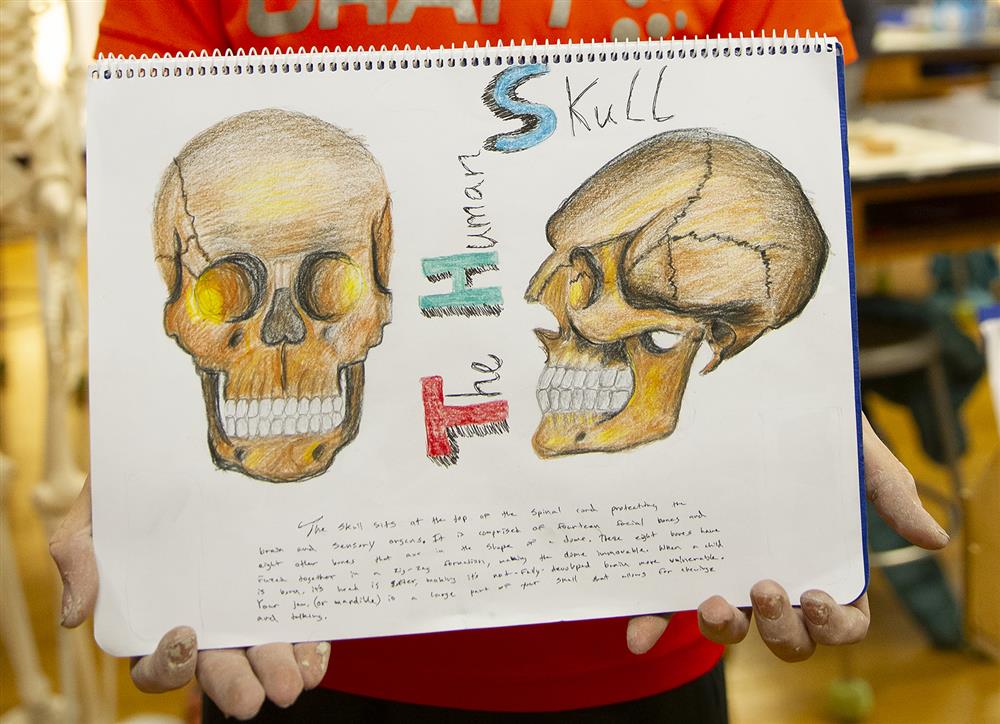 A Winterberry Charter School student holds up his Main lesson book. The page shown is from a lesson on the human skull. (Robert DeBerry/ASD)
Another difference, and one that sometimes creates misconception, is the use of "Main lesson books" and the absence of the traditional textbook. You will not find shelves or stacks of science, math and English textbooks at Winterberry Charter School because the students create their own textbooks. Teacher mentor Alicia Besh-Barber explains that because there are no textbooks, the education the student receives is a very "verbal, oral education." She says the information comes primary from the teacher who continuously studies and brings the learning to the students directly.
The first day students receive the information, often in story form and then, the next day, it's recalled or recapitulated by the students, and in that they learn how to write and organize their thoughts. It's also a test of knowledge and what they gained from that lesson. From that lesson the student begins to create their text or lesson book.
Besh-Barber said the students start their Main lesson book creation in first grade and that continues through eighth. "It serves as a collection of the students' understanding. In essence, it is the student writing the textbook."
Looking at the different lesson books produced, it is apparent that art is a major component of the Waldorf model of education at Winterberry Charter.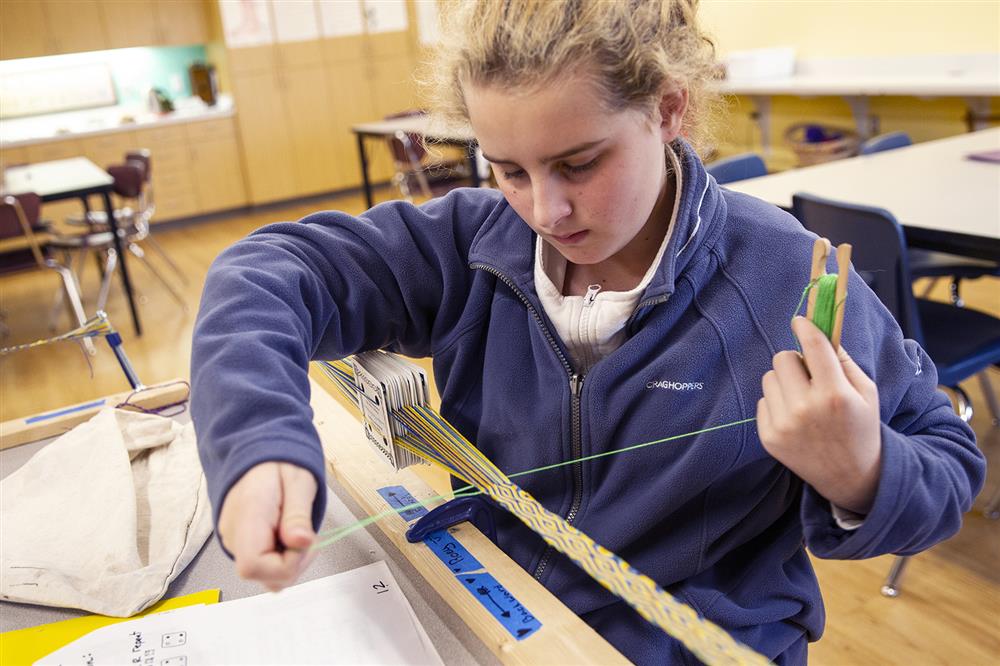 A students works on a Tablet Weaving project at Winterberry Charter School. (Robert DeBerry/ASD)
According to Pepe-Phelps the arts integrate into all disciplines. It is the 'hands' component of head, heart and hands for Winterberry. The handwork lessons, such as knitting, weaving and sewing as well as the watercolor paintings, clay and woodworking projects serve a purpose.
"In part it helps to develop the fine motor skills in young children and is very important to strengthen fingers to hold a pencil, for instance," she said. "It is also a key element in building perseverance, quiet focus and will, all important skills to be able to function well in the world.
The model at Winterberry Charter provides the students with the underpinnings of development of a human being that that will serve them for a lifetime. Each grade has one teacher that leads their students from first through eighth grade. Pepe-Phelps says this enables the teacher to get to know their students and their families. It brings that heart aspect into the head, hands and heart.
Winterberry Charter School is a K-8 school that serves 237 students, some of which are part of a Hybrid program, a blended learning program. According to Pepe-Phelps, there is eager talk of expanding into the high school grades. For more information or to schedule a visit please go to Winterberry Charter School https://www.asdk12.org/winterberry or call them at 742-0139.