Bartlett High School Homepage
Return to Headlines
Hands-On Learning at Bartlett's Medical Academy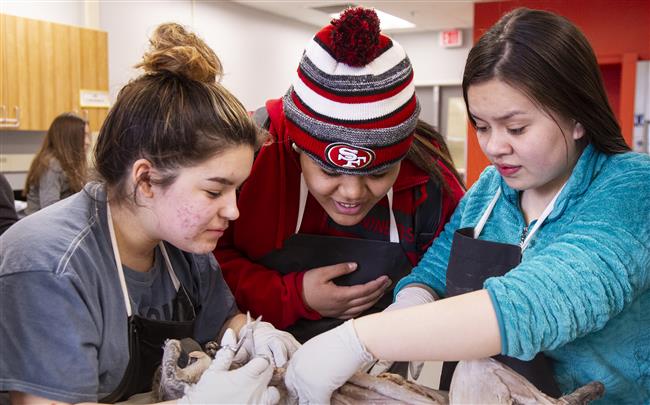 Students in Yvette Stone's Medical Academy class at Bartlett High School get their first look inside the chest cavity of a feline Tuesday, April 16, 2019. (Robert DeBerry/ASD)
Hands-on learning is par for the course in Yvette Stone's Medical Academy class at Bartlett High School and the last few weeks of the 2018-19 school year are no different. While some classes may be winding down and taking tests with computers and books, students in Stone's class are getting their hands dirty dissecting cats.
It is this hands-on learning that really get the students involved and excited said Stone as she moved from table to table Tuesday afternoon to help her students identify different parts of their cats. She said part of the dissection is their final exam and being able to see and touch the different muscles and organs will help the students learn and retain a lot more of the information.
"They were on the muscles and I would say took about four days to identify all the muscles," Stone said. "You can see some of the strings that are on there—that was part their final exam."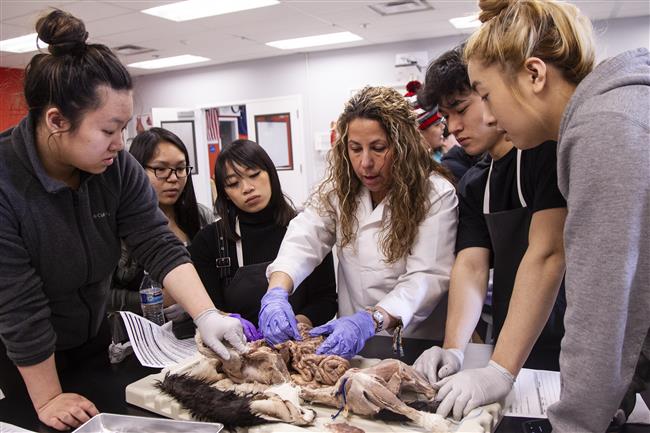 Medical Academy instructor, Yvette Stone talks about the different organs with students Tuesday, April 16, 2019 at Batlett High School. (Robert DeBerry/ASD)
Stone said they started going over digestion and on to the heart and lungs then the urinary system. She said using cats is great because their insides are like a humans and that helps the students that want to go into the medical field.
She said as students delve deeper into human anatomy they can recall the names of the muscles and organs easier than if they had done only book work.
"The nice thing about cats is they have the same organ and muscle names as humans' muscles," explained Stone, "So when they look at the anatomy and say quadriceps, and Rectus femoris, Vastus medialis and Vastus lateralis it's the same as ours."
The dissection unit also has a real life twist to it commented Stone. The students are looking at the cats as medical examiners and in the end they will try to determine the cause of death.
"They're going to be opening up the chest cavity and abdominal cavity, and then while they're doing that they have some different evidence just like a crime," Stone explained. "They'll go through and pull each of the organs out, and they're going to weigh all of the organs. Then they will record it just like you would as a medical examiner, how much they weigh, their length, and their description if they notice anything out of the ordinary."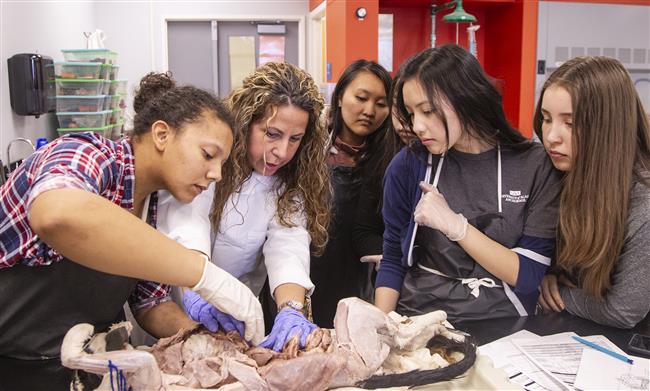 Medical Academy instructor, Yvette Stone works with students on organ indentification during class Tuesday April 16, 2019 at Bartlett High School. (Robert DeBerry/ASD)
She said the students are going to take pictures, record all their findings and in the end do a presentation. "The presentation," she pointed out, "has to include how they think their cat died."
Stone likes incorporating any kind of career choice in her lessons. According to her, it helps the students not only understand what they are learning but why. "So they can say, 'we're dissecting but why are we dissecting,' instead of just dissect it for the fun of it. That way they know what a medical examiner does."
Seniors Sarah Wilson and Angelica Becker both are in agreement as to the merits of the class and dissecting animals. Wilson, who has only been in the Medical Academy for one year, said it is a lot of hard work but she has learned a great deal too.
"It's worth it," expressed Wilson, "Especially since I want to go into the medical field after high school. Plus, I just like doing this kind of stuff it is so much fun."
Becker is finishing her second year in the Medical Academy and said that everything is coming together. She said that from where she started with Athletic Injury to Biometric Medical and now Anatomy, she has learned a lot. Becker also likes to point out how awesome Stone's class is. She explains she has dissected a lamb heart before but this was the first time she has gotten to do a full dissection. She noted it is "awesome" looking through all the different layers of the body.
"There's no other way to explain it," Becker said, "It's not every day you get to dissect a cat."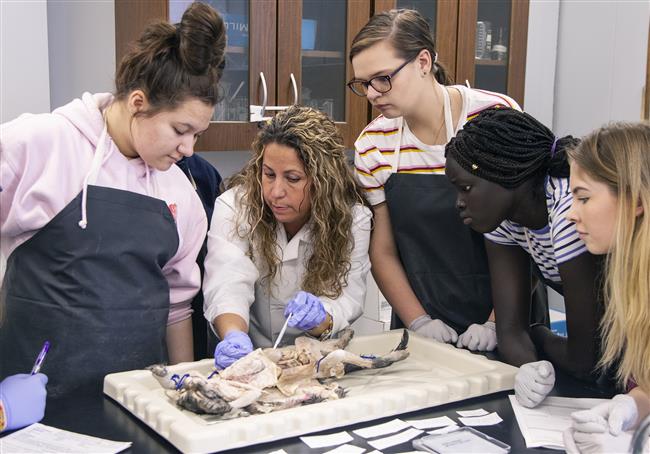 Medical Academy instructor, Yvette Stone works with students on organ indentification during class Tuesday April 16, 2019 at Bartlett High School. (Robert DeBerry/ASD)