East High School Homepage
Return to Headlines
Bank Within East helps students learn finance management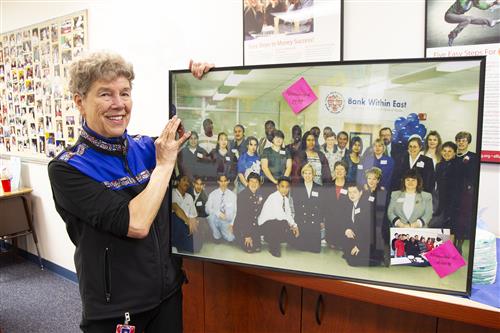 When language arts educator Trudy Keller helped start the Bank Within East High School 20 years ago, she did not even think about its longevity. "I did not even think about it. We just did it," said Keller Tuesday afternoon during the banks 20-year anniversary party.
Originally, said Keller, we were going to have the commons area at East High School filled with these student-run businesses but ran out of grant money. The Bank Within East was the only one that made it.
"It is tough because a lot of them needed a large outlay of money for inventory for selling things. This you don't need any money which sounds weird because we are a bank," said Keller.
According to Keller the idea really stemmed from the principal at the time, Cynthia Davis-Jackson. "The principal we had at the time came back from a conference. She said some other school had a bank and she asked if we could do that in East."
Keller said she called up National Bank of Alaska (NBA) and First National and asked them. "NBA came back to me first, so we set up a meeting and we have been going ever since."
Keller is quick to point out it is not really about the bank but more about the students learning and experience. She said the bank makes change for students, cashes checks and can even take loan payments, but really, she said it is about what the students learn.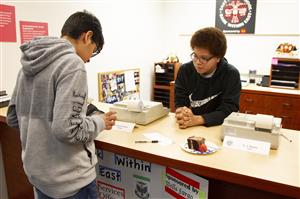 "It is the kids getting the experience of money handling, being here on time, being able to put the work experience on their resume," said Keller. "And we have a pretty good reputation so that takes them some place."
East High School student and bank teller Marquis Harper echoes that sentiment. Harper said working as a teller is a great experience. "I thought it would be a good way to put the experience on my resume."
Harper says he learned a lot about how to handle money and how the Bank Within East works as well as different aspects of financial literacy.
Wells Fargo Russian Jack Branch manager Tiffany Sconiers agrees with Keller and Harper as to the importance of the bank and learning financial literacy. She said that in the beginning the partnership served as an excellent way for students to get the experience and exposure to a career. In addition, she said, we did some interview skills and taught classes around what an interview would look like and what an interviewer would look for.
"We did group interview panels and then did individual interviews for students interested in working at the bank," said Sconiers. "Then provide them feedback on their interview."
"That aspect of the bank is still there but financial literacy has become an important aspect of the partnership," she said. Wells Fargo took over after NBA was bought out.
"Since then my biggest goal has been to educate around finance," said Sconiers. "Because I know it is not something that really does not exist as much in the schools anymore. We get so many students in the bank that are just unaware of how to manage their savings or checking accounts."
Sconiers said her and Keller's favorite lessons is about credit and purchasing a car. "It is relevant to these kids right now. It is focused on what it takes to buy and maintain a car. It is about saving prior, managing your money and the difference between the wants and the needs."
Sconiers said she likes to challenge the students to really think about their finances, "Are they buying the right car and are they going to be able to keep that car? We have a lot of budget conversations. How much money are we making? How much money are we spending? How much can we afford?"
Anthony Snider, District Manager for Anchorage Wells Fargo, said the partnership is a way for Wells Fargo to connect with the community and give back. "This isn't a Wells Fargo branch, this is a partnership where we provide the talent to come over and teach, we provide a resource for the deposits after they take care of the transactions," said Snider. "But for us it is just something that is right for the community."
The Bank Within East is open in the morning and at lunch. According to Keller that is when the students need the services the most. Currently there are five tellers, but Keller said they have had as many as 10.
"It has been a good 20 years," said Keller, "the Bank Within East has helped a lot of students. It gives the students ideas about where else they can go besides fast food when think about future work. Between 50 and 60 kids who have worked here went on to get jobs at local banks or credit unions because they have experience. I think that is amazing."