East High School Homepage
Return to Headlines
East High School Adds Biomedical and Computer Science for 2019-20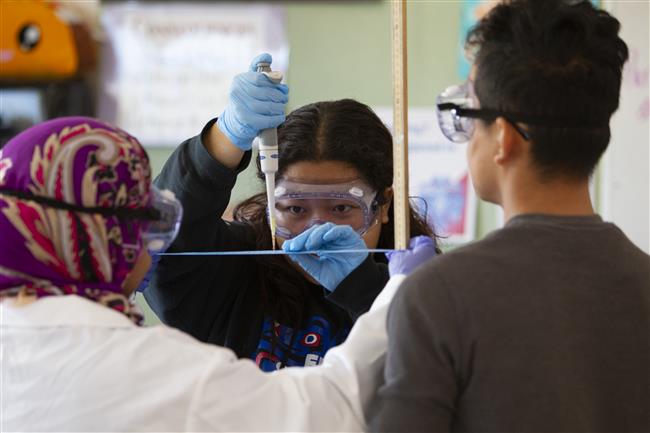 Students in Talia Wiacek's biomedical class work on a blood splatter lab at East High School. (Robert DeBerry/ASD)
East High School has joined the ranks of other Anchorage School District high schools with the addition of two Project Lead the Way (PLTW) pathways. For the 2019-20 school year East is offering a biomedical and computer science pathway.
Computer science teacher Kelly Auer said these classes have been a long time coming. "We've been wanting to do something like this for a long time. But it's thousands and thousands of dollars to get the equipment."
Auer said because it is PLTW there is a certain amount of training that needs to be done. "The teachers have to be trained in the program before they can teach. There's certain required equipment that you have to have in order to teach so that's a big outlay of money."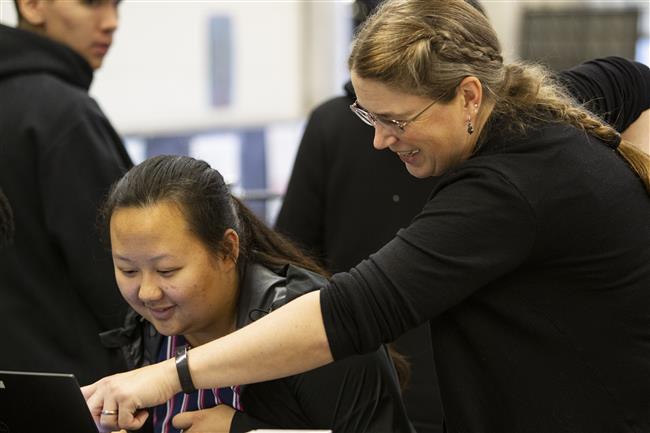 Computer Science teacher Kelly Auer works with a student on coding at East High School. (Robert DeBerry/ASD)
Schools like Service and Bartlett High School have had a biomedical program for years but getting East's off the ground proved a little harder. Auer said there were lot of moving parts that had not come together in the past like writing grants for PLTW and community involvement in pushing for the program. She also points to how tight budgets have been over the last few years as a hurdle to getting these pathways up and running.
For 2019 East decided on two different pathways for students that are open to nine through 12th grades. The first class in both biomedical and computer science is the foundation then each year another series or class will be added.
"We would love to expand it because it's a pathway," Auer said. "It's designed to be three to four years, so that kids could come in as freshmen or underclassmen and take one of these courses each year and then have this full pathway, this fully developed skills training before they leave."
In the biomedical pathway teacher Talia Wiacek said her first-year foundation class is Principles of Biomedical Science. She said having the PLTW classes set up in a series that build on one another works great for the students.
"There's four different classes in the series. You start with this one, and then it builds because we learn different things," she said. "We learn how to use different equipment which builds their skills. They learned lab skills and computer skills and each build on the other."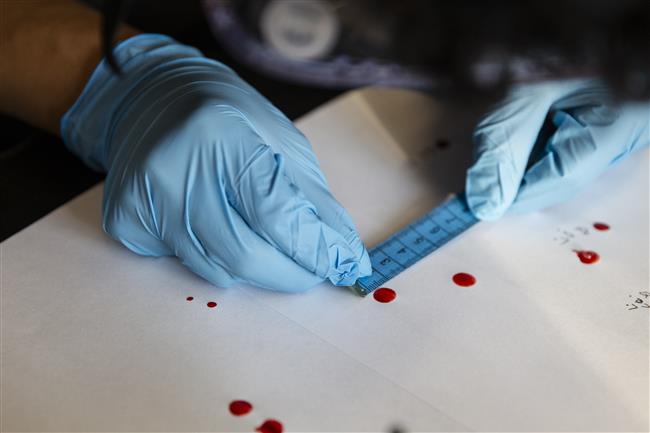 A student measures a fake drop of blood during a biomedical lab at East High School. (Robert DeBerry/ASD)
Auer and Wiacek said the students have been excited and their enrollment numbers have been good. Both pathways have close to 60 students enrolled. Auer said she has had a few students transfer out of the class in the beginning but mostly it has stayed consistent. Both agree that having a hands-on learning environment that engages the students helps.
"One of the coolest things about this class is that you're taking kids who have no programming experience, and by the end of the first week, they're making an app, which is really powerful and very, very engaging and cool," Auer said.
Wiacek said teaching the PLTW pathway has been a learning curve for her. "It really is a different way of teaching. I set it up, then I have just let them go. The hardest part is not telling them the answers."
She said not telling them the answers and pushing them to find them on their own really builds that ownership with them.
"I think it really does a good job at giving them independence, but also scaffolding. The steps to get to where they feel confident," Wiacek said.
In Wiacek's biomedical class students focus on a woman who has died under unknown circumstances. The first unit is all about crime scene analysis and trying to figure out if a cut on her head was from being hit from above or if she perhaps hit her head on the table as she passed out or fell.
"We're measuring heights and then the diameter of the blood spatter. They really have to look at their experimental design quite heavily," Wiacek said.
"Each unit we focus on something with this woman," she said. "Trying to figure out if her health problems cost her time. We delve into diabetes. We talk about different body systems within the DNA unit, trying to figure out if she has a genetic disorder. Who in her family would have it?"
Wiacek said by setting up vignettes and studying a family that has some kind of issue ties the curriculum to real life. It really forces the students to go find it the information if they don't know the answer.
"I tell them," said Wiacek, "when you go grow up, and you go to a new job, they're going give you a little intro, but you're going to have to figure it out. There's not going to be someone standing over your shoulder. It really is them having that initiative to find the resources to actually learn."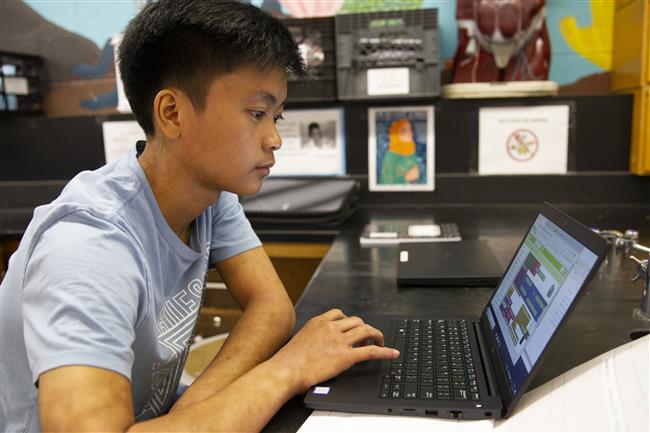 A student works on his coding project during his computer science class at East High School. (Robert DeBerry/ASD)
Auer agrees the activities are designed to learn a skill and use all those skills to solve open ended problems. Auer says in her class, the problem might be complex with multiple answers or multiple solutions, particularly in programming.
"The students right now are doing block-based coding, which is kind of introductory," Auer said.
She said the students are given a lot of guidance, and then the guidance is slowly stripped away, and the training wheels come off the bike until by second semester, they're going be doing text-based programming.
"I'm hoping they are learning skills that are going to help them in the workplace, like learning how to use computer, learning how to ask, learning how to research something," Wiacek said.
"But they're also learning about a ton of careers that are options for them and that is good."
Auer agrees that there's been more of a push to have kids have job ready skills. She says not everybody needs to go to a university to do a great career and because of that the students need to be preparing for a variety of things.
"Yes, university," Auer said. "But also leveraging their skills for other things, too. It can prep kids for both university level and career level stuff at the same time. You get a lot of bang for your buck out of a program like that, because it appeals to a broad range of students."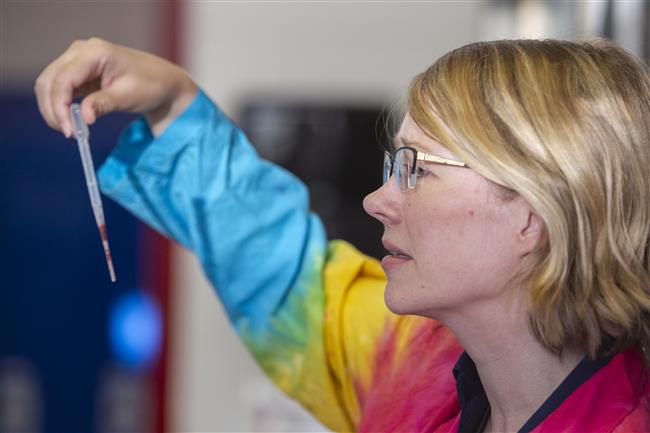 Biomedical pathway teacher Talia Wiacek explains how to do the blood splatter lab to her East High School class. (Robert DeBerry/ASD)