East High School Homepage
Return to Headlines
East High School gets National Banner Recognition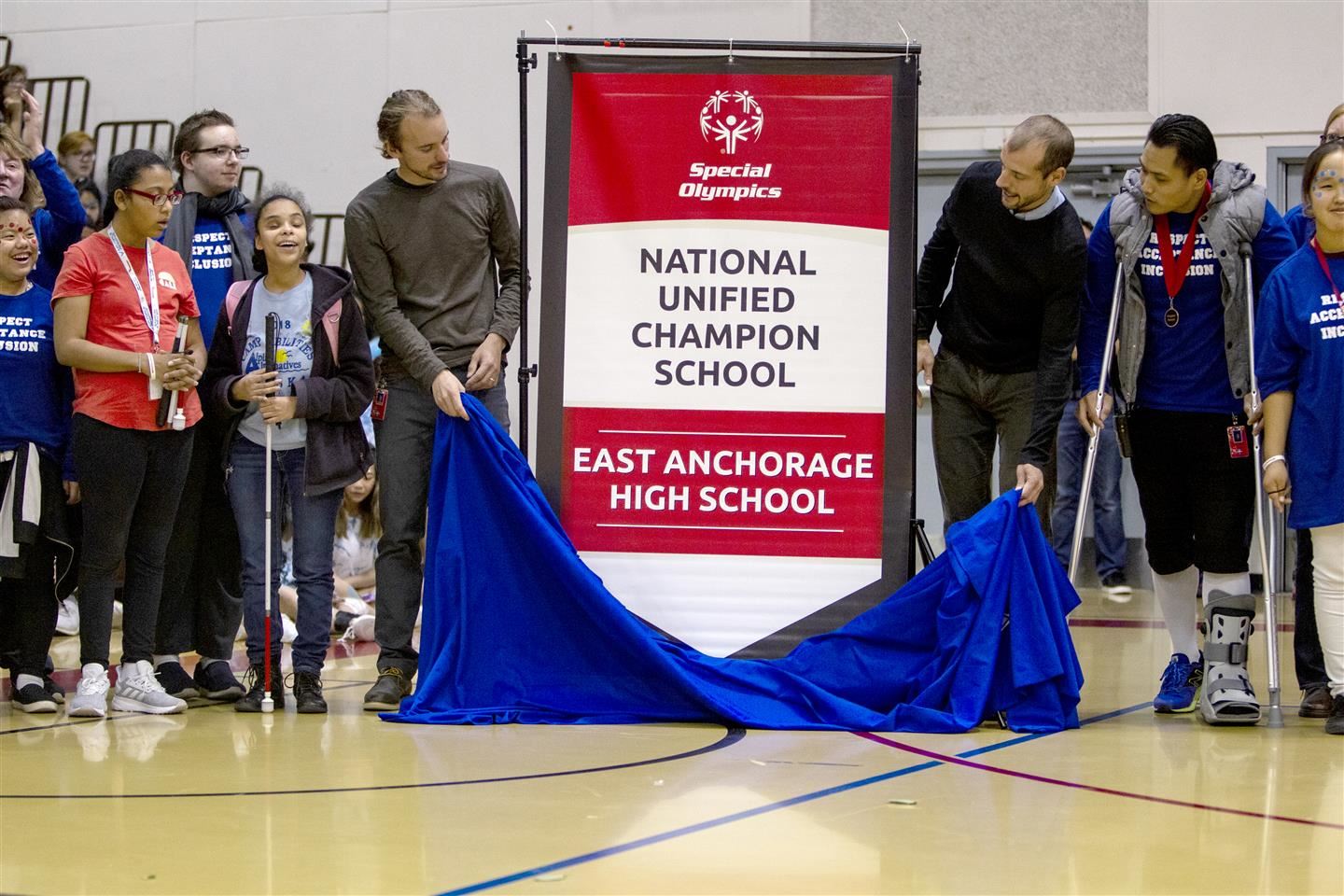 The National Unified Champion School Banner is unveiled at East High School Friday, October 4, 2019. (Robert DeBerry/ASD)
Choose to include is the mission of East Anchorage High Anchorage, for their efforts in providing inclusive sports and activities for students with and without disabilities Special Olympics has awarded the school national banner recognition.
On Friday, October 4, 2019 during the homecoming pep assembly members of East High staff, The Partners Club, and the student body unveiled the Unified Banner.
"East High School is one of the oldest Unified Champion Schools in Alaska and they have been paving the way for inclusion in their school for more than 20 years," said Special Olympics Alaska Vice President/COO Sarah Arts. "What a tremendous way to honor their hard work and dedication to provide opportunities and inclusion for people of all abilities."
East Anchorage High School is amongst four high schools in the state and 173 schools nationally to receive this distinction. The banner will hang in their school and they will be included on a list of other schools around the country who have achieved this distinguished status.
One of the overall great qualities of East Anchorage High School is the manner in which all students are intricately woven into the fabric of the culture of the school," said East high School Principal Sam Spinella."With East High being the most diverse high school in the nation ethnically, the concept of inclusion of students with special needs has become an integral part of the school standard as well. I am proud of the way East High students demonstrate inclusion for each other. To receive the recognition as a Special Olympics National Unified Champion School is a great honor."
More than 80 schools are currently participating in Special Olympics Unified Champion Schools programming in Alaska, as part of more than 6,000 schools across the country engaged in the program. Special Olympics has a global goal of creating 10,000 Unified Champion Schools by 2020.
A Special Olympics Unified Champion School has an inclusive school climate and exudes a sense of collaboration, engagement and respect for all members of the student body and staff.
A Unified Champion School receiving national banner recognition is one that has demonstrated commitment to inclusion by meeting 10 national standards of excellence. These standards were developed by a national panel of leaders from Special Olympics and the education community.
The primary activities within these standards include: Special Olympics Unified Sports®, where students with and without disabilities train and compete as teammates, Inclusive Youth Leadership and Whole-School Engagement. National banner schools should also be able to demonstrate they are self-sustainable or have a plan in place to sustain these activities into the future.