Service High School Homepage
Return to Headlines
Service High School Recognized
Robert Service High School becomes first Alaska school to be recognized as Unified Champion Banner School.
A new banner will hang in the gym at Service High School. One that no other Alaska school has.
Service High School is the first Alaska school to be recognized as a Unified Champion Banner School. Service joins 132 schools from across the nation to receive this designation in 2018. In all, there are 221 Unified Champion Banner Schools.
In a banner unveiling ceremony at Servce High School on Tuesday, Oct. 30, the theme of inclusion was apparent. Students, staff, members of Special Olympics Alaska and local representatives gathered to congratulate those at Service High for their on-going efforts in creating a "Unified Generation that Chooses to Include."
"Service High School strives to educate and empower a "unified generation" and is proud to be recognized as the first Unified Champion Banner School in the state of Alaska. Through sports and social activities, our Partners Club creates an environment of acceptance and inclusion that is shared amongst the Service community," said Service High School Principal Frank Hauser.
Life Skills and Special Education teacher Adam Ahonen, who sat flanked by members of the Service High School Partners Club, said it is so remarkable to be recognized at this level.
The Partners Club, which was created in 2001, works to develop activities that both promote awareness and inclusion of all students through educational goals, life skills activities, and community inclusion. The cornerstones of becoming a Unified Champion School.
Ahonen sees the Partners Club as an integral part of the process but said it really takes the whole school and community at large. "I think that it does represent the whole school," said Ahonen. "I think Partners Club is a catalyst for inclusion, but definitely to know the whole school is behind it and accepted it."
Ahonen said both the Partners Club and inclusion are a part of the DNA and fiber of Service High School as well as all the groups that have helped build Service into the all-inclusive school that it is, and this award points to that fact. "I think it is indicative of all the work that has been done through the years by different groups and this is a culmination of all those efforts coming together. It is a really, really neat award and recognition."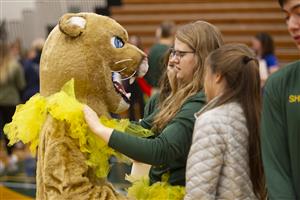 A Special Olympics Unified Champion School has an inclusive school climate and exudes a sense of collaboration, engagement and respect for all members of the student body and staff.
"Service High School is an example of youth with and without intellectual disabilities changing the world through inclusion. Special Olympics Alaska is proud to partner with schools across the state and Service High School exemplifies the power and impact of that partnership," said Special Olympics Alaska President/CEO Nicolle Egan.
The Special Olympics Unified Champion Schools program is aimed at promoting social inclusion through intentionally planned and implemented activities affecting systems-wide change. With sports as the foundation, the three-component model offers a unique combination of effective activities that equip young people with tools and training to create sports, classroom and school climates of acceptance. These are school climates where students with disabilities feel welcome and are routinely included in, and feel a part of, all activities, opportunities and functions.
In order for a Unified Championship School to receive National Banner Recognition it has to demonstrate commitment to inclusion by meeting 10 national standards.
Special Olympics Alaska School Program manager Joanna Paris said Service High School has met all 10 standards of excellence and Service High School was also recognized in August by ESPN as being in the first class for ESPN's Top 30 Honor Roll for Unified Champion Schools in the nation.
"Service High just as a whole between the student government, between the peer mentors, between the Partners Club have just done a remarkable job," said Paris. "They just exemplify everything with Unified Champion Schools. It is a remarkable program here and a remarkable atmosphere."
More than 70 schools are currently participating in Special Olympics Unified Champion School programming in Alaska, as part of more than 6000 across the country engaged in the program.
Sarah Arts, Special Olympics Alaska Vice President, said they are very excited to recognize Service High School as a Unified Champion Banner School. Arts said Service High School is a model school. Their program promotes inclusion not only in the classroom but social events, and sports as well.
"It is exciting for us," said Arts. "We hope that by being able to recognize Service High School our other seven high schools, which all have met the 10 standards, will apply in April of 2019 to be considered for banner recognition."
Anchorage School District Superintendent Dr. Deena Bishop said this award is well deserved. Service high School students and staff have built a wonderful and inclusive atmosphere she said and all the other schools in Alaska will be looking to Service High School for guidance and leadership.