From the Principal

2020 School Climate and Connectedness Survey ©

Dear Parent or Guardian,

The Anchorage School District is partnering with the Association of Alaska School Boards to conduct the School Climate and Connectedness Survey ©, a statewide survey for students, staff, and families. This survey measures their perceptions of each school's climate including the engagement of students, staff, and families.

The Student Survey will be given to students in grades 3-6 at Trailside January 17th – January 31st. Students will complete the survey online at school.

The student survey will ask questions such as how students feel about school rules, their perceptions of how students treat each other, their relationships with staff, social and emotional skills, and observed risk behaviors of other students at school and school events. There are different surveys for younger students (grades 3-5) and older students (grades 6-12).

Family Survey: We also value input from our families. You are an important partner as we work to continually improve each school's environment. Each parent/guardian is asked to complete one survey on January 20- March 31. If you have more than one child attending this school, you only need to fill out one survey. The links will be sent out to you at a later time for the family survey.

All of these surveys are voluntary, anonymous, confidential, and do not ask questions about students' families. If you do not wish for your child to participate, please notify the school in writing by January 15th.

Results from this survey will be used to identify student, staff and family perceptions of school climate issues within our school(s). School staff use the results to inform their efforts to ensure schools are safe, supportive, and caring places for all students.

Thank you for your cooperation in this year's School Climate and Connectedness Survey©.

Sincerely,

Heather Jones, principal
Monthly Highlights
Student Council Officers for 19/20 School

President- Linai Tuers

Vice President- Sydney Norris

Secretary- Sophi Jenkins

Publicity- Carley Streumpler & Hailey Daniels

Student at Arms- Keira Brandon

Student Council News

December 2-13- Lend a Helping Hand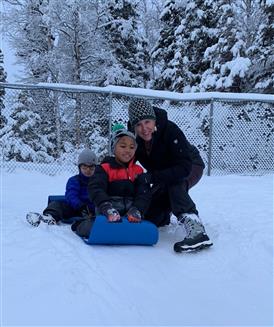 Notes from the office
If you are headed out of town on vacation please remember to notify your student's teacher and the office via email (donaldson_karen@asdk12.org).
Late/Tardy/Sick Please call the office 742-5500 to let us know your student will be out

Message from Mrs. Donaldson in the office

A small change to the way we excuse vacations.

You will see a "P" for excused Pre-Arranged Absence instead of "E", ignore any notes of unexcused when you see "P".

The "P" lets us know the student was on vacation not sick.

Also, please wait a few minutes to see if your children or teacher leave a message when calling you instead of calling the school right away.

All phone calls out show the main office number and the office does not know why your child or teacher is calling and we are trying not to interrupt classrooms during the day.

Thank you!
Notes from Nurse Donna
---

---

NURSE NEEDS EXTRA CLOTHS

We are in need of extra clothing for the closet, accidents happen and sometimes things get wet outside. If you have clothes that are in need of a new home or would like to donate leggings and T-Shirts for girls and sweat pants and t-shirts for boys, new socks and undies for girls and boys too. Trailside would be ever so grateful for these items as our stock is pretty low. We need size's from 4T to size 16.

It is COLD outside!

Please make sure your student has all 5 points, so they can enjoy the snow outside!

If your student is in need of outside gear please call the nurse for assistance.

Stay Warm!
Welcome back and happy new year! Here is an update about health class lessons for the beginning of 2020 at Trailside.

The first week back to school we will take a look at a variety of topics such as the respiratory system, how the heart works, going to the dentist and cultivating healthy habits. Here are the corresponding links:

Kindergarten- The Doctor and Dentist

Second grade- Your Heart: Small but Strong

Third grade- When Bodies Have Problems

Sixth grade- Allergies and Asthma

After our first week back, there will be two weeks of art classes and when health classes return on January 27, the focus of learning will be medicine safety and substance abuse prevention. We will learn about the effects of drugs on the body/brain and examine ways to say no to drug abuse. It is important to talk about these topics with your children and let them know your views on drugs. Many teens who take drugs say that their parents never talked to them about the dangers of tobacco, alcohol, and illegal drugs when they were younger. We will also continue to practice our refusal skills. Please refer to these links for specific content for each grade level and ideas for discussions at home:

Kindergarten- No Drugs, No Way!

First Grade- All About Medicines

Second Grade- Drugs Are Dangerous

Third Grade- Saying No to Smoking, Drinking and Drugs

Fourth Grade- Drug-Free. Asset Strong.

Fifth Grade- Danger Ahead: The Truth About Drugs

Several people have requested information about vaping, here are some helpful links:

Conversation guide on how to talk to your kids about vaping

Quick Facts on the Risks of E-cigarettes for Kids, Teens, and Young Adults
Trailside Elementary Contacts

Main Office 742-5500 | Heather Jones, Principal | Patricia Erickson, Admin. Assistant | Karen Donaldson, Secretary | 24 hour Attendance Line 742-5500 | Nurse –Donna Wilson 742-5501 | Cafeteria Manager – Tiffany Kurani- 742-5533, café_Trialside@asdk12.org