From the Principal

Dear Trailside Families,

Greetings Trailside Families,

I have determined that this cold winter season is here to stay for a while. Amazing that we are already into the month of December. Where has this school year gone? The end of the second quarter, December 20, 2019, is almost here which is our halfway mark for the school year.

December has been filled with so many great activities for our students. Swimming has been fantastic for our 3rd-6th-grade students. I want to thank Mr. Leiser for leading this. What an extraordinary program for our students. Students have been working hard to complete the MAP assessments in grades 3-6 and the FastBridge Assessments in K-2. These assessments are like checking your oil in your car. It gives us a quick look at each student in both math and reading. These assessments allow us to see if our current lessons are helping students make the progress they need to in order to be prepared for the next school year.

I hope you have a wonderful holiday season and please embrace the time you have with your friends and families. I will be looking forward to seeing you all when the second semester begins in January. The first day back to school will be January 6, 2020. I want to thank all of you for a great year so far. As always, the Trailside community is a positive place to work where both families, staff, and students work together to make this school a positive place to be each day! Seeing the students come into school smiling and ready to learn is amazing. This is one of the many reasons I enjoy coming to work each and every day!

Remember there is no school on December 20th as that is a teacher grading day. See you back in January....

Sincerely,

Heather Jones, principal
Monthly Highlights
Student Council Officers for 19/20 School

President- Linai Tuers

Vice President- Sydney Norris

Secretary- Sophi Jenkins

Publicity- Carley Streumpler & Hailey Daniels

Student at Arms- Keira Brandon

Student Council News

December 2-13- Lend a Helping Hand

December 2nd through 13th.

It's that time of year again! During the next few weeks, we will be collecting NEW and UNWRAPPED items for needy children in the Anchorage area. The Salvation Army-sponsored event collects nearly 11,000 donations each year. Your child may choose a mitten hanging up in the foyer to the school, or ask his/her teacher for one. There are tags with children's names, ages, and gender. Or you may choose to buy an item and send it in without a tag. In that case, we will match it with the appropriate child. Have your child bring their donations to their classrooms. Last year we collected over 300 items here at Trailside. We would love to reach 400 this year! Thank you for your generous donations.

Tree Assembly for Lend a Helping Hand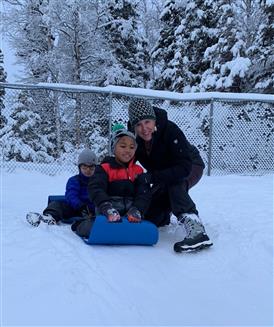 Notes from the office
If you are headed out of town on vacation please remember to notify your student's teacher and the office via email (donaldson_karen@asdk12.org).
Late/Tardy/Sick Please call the office 742-5500 to let us know your student will be out

Message from Mrs. Donaldson in the office

A small change to the way we excuse vacations.

You will see a "P" for excused Pre-Arranged Absence instead of "E", ignore any notes of unexcused when you see "P".

The "P" lets us know the student was on vacation not sick.

Also, please wait a few minutes to see if your children or teacher leave a message when calling you instead of calling the school right away.

All phone calls out show the main office number and the office does not know why your child or teacher is calling and we are trying not to interrupt classrooms during the day.

Thank you!
Notes from Nurse Donna
---

---

NURSE NEEDS EXTRA CLOTHS

We are in need of extra clothing for the closet, accidents happen and sometimes things get wet outside. If you have clothes that are in need of a new home or would like to donate leggings and T-Shirts for girls and sweat pants and t-shirts for boys, new socks and undies for girls and boys too. Trailside would be ever so grateful for these items as our stock is pretty low. We need size's from 4T to size 16.
Here is the library news for December.

Great News!!! Barnes and Nobel has extended our bookfair deadline until Sunday so families can shop through the weekend. We are at $9,200 in sales if we bump over $10,000 we get a huge jump in percentage return. I will send out a news bulletin to families. We are so close..the difference is about $500 in books.
Trailside Elementary Contacts

Main Office 742-5500 | Heather Jones, Principal | Patricia Erickson, Admin. Assistant | Karen Donaldson, Secretary | 24 hour Attendance Line 742-5500 | Nurse –Donna Wilson 742-5501 | Cafeteria Manager – Tiffany Kurani- 742-5533, café_Trialside@asdk12.org