Refrain from using your cell phone when driving on our campus.
Be Patient. Arrive early and prepare to wait your turn.
Be Patient. Driving along the left lane of the Drop Off/Pick Up lane is dangerous. Please wait for the car(s) ahead of you to unload/load and leave in order.
Be courteous. Pull as far forward as possible in the drop off/pick up area.
Asking your child to walk off campus to meet you is a safety concern. Please use our designated area or park and meet your child on campus.
Morning Drop-off:
Campus opens at 8:40 a.m. Please do not drop your child off earlier than that time. The drop off zone is only for active off loading. If your child is not ready to exit the car, please go park in the parking lot.
Please read the bullet points above. It's important that during morning drop off that cars pull all the way forward. Many parents try to drop their child close to the are their kids line up, but that only causes our morning flow to slow down and become unsafe due to cars trying to weave around cars that have not pulled all the way forward.
Note: Children are not allowed to use the cross walk between our visitor parking lot and the main campus unless they are accompanied by an adult. Please do not drop your child in our parking lot unless you are going to walk them to our main campus.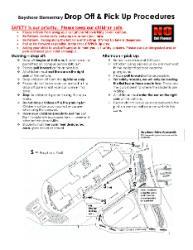 Afternoon Pick-up:
Our gate is locked during the school day. When school is dismissed at 3:30 p.m. a staff member opens the gate and mans that crosswalk. Children who are being picked up in the pick-up line must gather in a designated area near the playground fence. For safety reasons, we only load the first 3 to 4 cars in the pick-up line. Children must enter the car on the passenger side of the car. Thank you for your patience.
We have several other staff members outside after school to help with the bus pick-up and the parent pick-up lines. Children who are not picked up by about 3:45 p.m. are brought inside to call their parent. Please do not ask your child to meet you somewhere off campus after school, unless it is at the Bayshore Clubhouse where there is access to a phone. When children are meeting a parent off campus and their parent is not on time, it is a safety issue. We've seen many very upset children who did not know what to do when their parent did not show. Please use the pick-up line. You'd be suprised at how fast it goes! ‌